Posted June 12th at 12:00am.
You have questions, we have answers. Sean Ramjagsingh, producer of EA SPORTS NHL, has taken some time out of his busy schedule to answer 15 of the most common questions posed about NHL 15.
What are the major differences between NHL 15 on current gen platforms vs. next gen platforms?
Our goal is always to maximize on the power and technology available to deliver fun and entertaining gameplay experiences, regardless of the platform. The capabilities of the current gen and next gen consoles are inherently different, so there will be differences, but we are committed to capturing the sights, sounds and feel of hockey in NHL 15 no matter which console you're playing on.
Why was NHL not on next-gen last year?
Last year our team was laser-focused on delivering the greatest hockey experience to-date on the Xbox 360 and PS3. We are now in the position to benefit from the learnings that other teams in the studio have had with the next gen platforms to deliver on a brand new hockey experience that optimizes on all the added power and technology of the Xbox One and PS4, along with EA SPORTS IGNITE.
What are you most excited about for NHL 15?
I am excited about everything. With the power of the next gen consoles, we've been able to push the boundaries of every gameplay feature to achieve a level of authenticity that was never possible before. I'm also extremely excited about the new NBC broadcast package – our fans have been clamoring for a change for a long time and I believe we've been able to deliver that and more with the real world integration of Doc and Eddie in the game.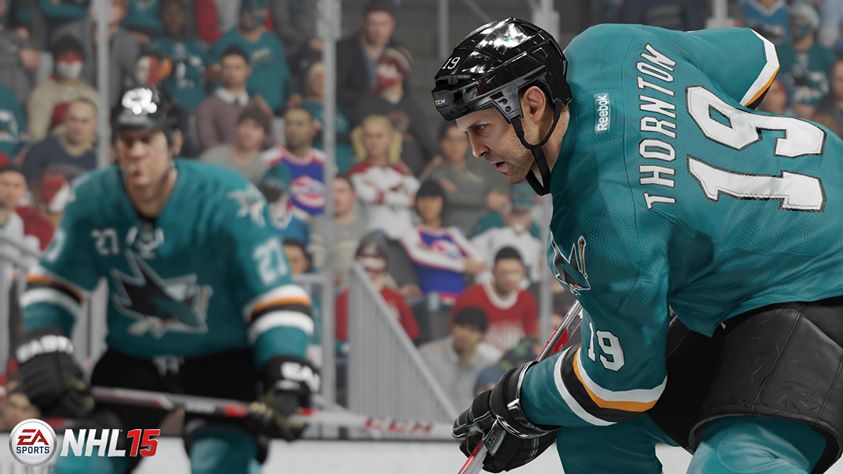 With the improved puck physics, will we no longer see the 'beach ball' effect on dump-ins - much like NHL 14?
The puck is one of the most complex objects in all of sports. It is so complex that we literally hired a physicist who worked on the hadron collider in Geneva to help rebuild our puck physics. To answer your question - the 'beach ball' dump-in is gone but you will still see unpredictable puck reactions through Real Puck Physics just like in a real NHL game.
What work has been done to the skill stick that gives us more control? Can we move the stick while making skating strides?
Our goal with the Skill Stick was to give unprecedented fidelity and control with the puck. A big part of this was upper and lower body separation so that you can now deke while turning. This allows you to maneuver through crowded areas like never before. We've also added new 'stride dekes' along with replacing virtually every animation associated with the skill stick.
Is the teammate AI better at not going offside during the breakout?
You will notice an overall improvement with your teammate's awareness through Vision AI. Vision AI ensures that teammates read and react to you, and in this case they will anticipate your decision making as you approach the opposition's blueline. That being said, our goal is always to be authentic to the sport and offsides are a part of the game. So it is still very possible for you to make an extra move at the blueline that throws your teammates offside.
Will there be group celebrations when players score goals?
Yes! You will also see new individual player celebrations.
With the new play-by-play team and system to implement it, how well will the play-by-play be in capturing the story of the game? If the flow of the play is energetic, will the play-by-play reflect the high pace, while during the duller period, isn't as intense?
One of the reasons why Doc and Eddie are the best in the business is because they have that natural ability to capture the essence of a play through the tone of their voice. As the stakes become greater you can literally feel it in their voices, and that is something we are going to bring to NHL 15. We have captured over 35,000 lines of dialogue which covers gameplay, storylines, and fun offbeat chatter.
Will Ray Ferraro actually have an in-game model of him between the benches?
Yes, Ray Ferraro will be standing in-between the benches of most arenas tracking the play throughout the game. Some arenas don't have a spot for an 'ice level' commentator so for those arenas, Ray's placement will vary. During breaks in the play, you'll hear him provide insight on game changing plays or evolving storylines.
With the high amount of different crowd models, will we see more camera shots that focus on the crowd?
We are extremely proud of our Living Crowds in NHL 15 and we will be showing off the 9,000 Crowd Models during stoppages of play. All of our fans come to the game with their own agenda, depending what team they cheer for, or how hardcore of a fan they are. Some fans have made signs for certain players or just to get on TV, while others have organized groups to cheer on their favorite team or player. You'll see fans taking selfies with their cell phones, fans razzing players in the penalty box, ushers walking up and down the aisle, or even face-painted supers fans trying to get the crowd pumped up!
The front-end menu isn't as quick and efficient as some may like. Has changes been made to streamline the time it takes to get into a game or reach a game mode?
Yes. One of the first things you'll notice when you pick up NHL15 is the new menu structure. We've overhauled every screen in the game with an emphasis on simplifying the end user's experience so that they can get to where they want to go as efficiently as possible.
Will the AHL, CHL & Elite leagues continue to be represented in NHL15?
Yes. All of the leagues from NHL 14 will be carried over to NHL 15.
What resolution and framerate will the game be on Xbox One? On PlayStation4?
Both consoles will run at 60 FPS.
Will NHL 15 incorporate the new Hybrid icing, regardless of how the Board of Governors votes on the issue this coming summer?
The rules in NHL 15 will be reflective of the official NHL rulebook during the time of the games release. There will also continue to be gameplay settings where you have the option to change the icing rules.
What's your absolute favourite aspect of the current state of NHL 15?
For me, it's coming into work, booting up the game and experiencing moments that I have ever seen before in any sports game. We are still in the process of finishing NHL 15 so as we continue to add different elements into the game, it becomes very rewarding to watch all of our features starting to take shape. Each day brings something new and watching this game continue to get closer to the finished product has been a blast.
NHL 15 is now available for pre-order. Experience True Hockey Physics, The Next Generation Hockey Player, NBC Sports™ Broadcast Package, and much more.
Stay in the conversation of all things NHL and follow us on Facebook and Twitter.