NHL 15 - Hockey Ultimate Team - Season Opener
Posted September 12th at 9:00am.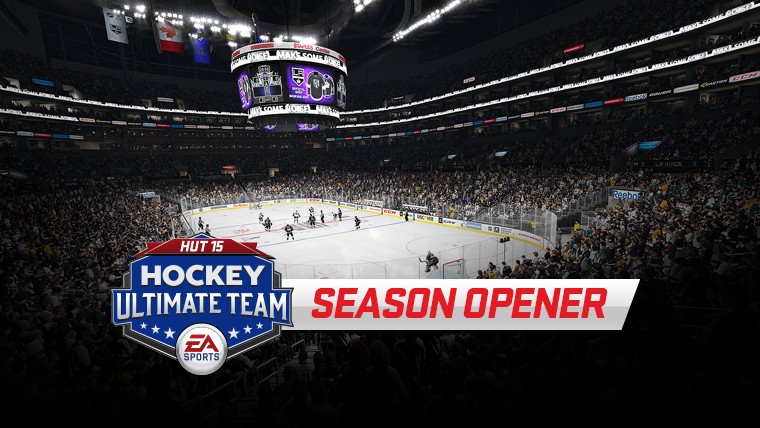 Hockey Ultimate Team:
Hockey Ultimate Team (HUT) is the most played mode in EA SPORTS NHL and it's easy to see why. Nowhere else can you build and play with a team composed of all your favorite players to create an ultimate dream team. Take your team online and face-off against other fan created teams from around the hockey world.
HUT Season Opener:
We are kicking off the NHL 15 Hockey Ultimate Team season with the annual HUT Season Opener Sweepstakes! We are giving away awesome prizes to EVERYONE and all you have to do is play (1) game of Hockey Ultimate Team.
Entry Dates:
September 12 to Sept 22 at 11:59pm PT
Prizes:
Grand Prize: 2 tickets to an NHL regular season game (incl. travel and only available to NA players)
Runner Up Prize: 10 users will receive 1 HUT Gold Premium Packs (untradeable, unsellable)
Everyone: 1 HUT Gold Pack (untradeable, unsellable) – packs awarded on or before September 27
Here is how to enter:
1) Create a HUT Team
Enter Hockey Ultimate Team from the NHL 15 main menu. Enter a team name and abbreviation and open your starter pack.
2) Play a HUT Game
Once your select BUILD TEAM you are all set up to jump into your first HUT game. Go to the PLAY tab and select ONLINE SEASONS or PLAY SOLO and complete one game of HUT.
3) That's it!
Once you finish your game you'll automatically be entered into the sweepstakes. You must play your first game from September 12 to Sept 22 at 11:59pm PT to qualify.
Here to redeem your Gold Pack:
Everyone who plays a HUT game between September 12 to Sept 22 at 11:59pm will receive a HUT Gold Pack on Sept 27. To redeem your pack go to UNOPENED PACKS on the HUT main menu.