Posted November 10th at 11:00am.
Imagine Mario Lemieux and Sidney Crosby playing together, having the speed of Pavel Bure to blow past helpless defenders, or Patrick Roy strapping on the pads and manning your goal crease. This fantasy is now a reality as we bring 13 legendary players to Hockey Ultimate Team.
Beginning today, HUT Legends can be found randomly packed in speciality marked HUT packs in NHL 15 on all consoles.
Additionally, we will be releasing special edition items to celebrate historic performances and milestones by these Legends.
Your HUT Legends Roster:
Wayne Gretzky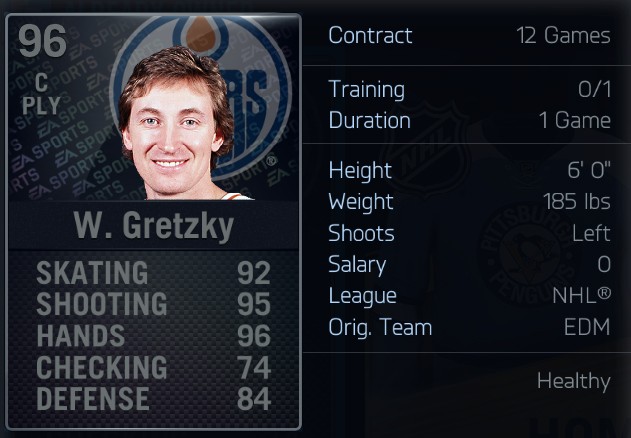 Quite simply the best player to ever lace them up. When you consider that he had more assists (1,963) than anyone had points, it really puts his offensive dominance into perspective. Take control of The Great One, only in Hockey Ultimate Team.
Mario Lemieux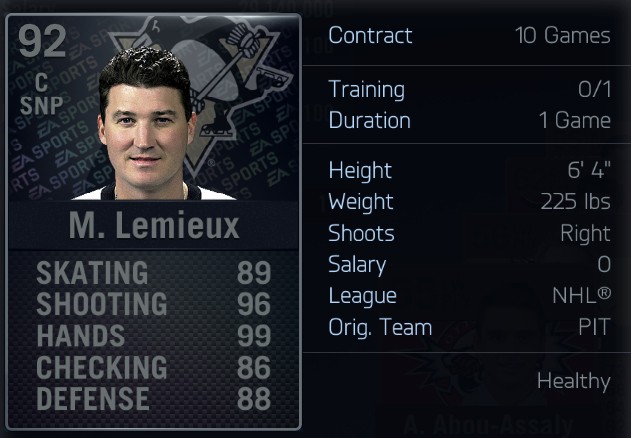 With an unparalleled combination of size, speed and skill, Lemieux was arguably the most physically talented hockey player to ever play the game. Experience why they called him Super Mario.
Patrick Roy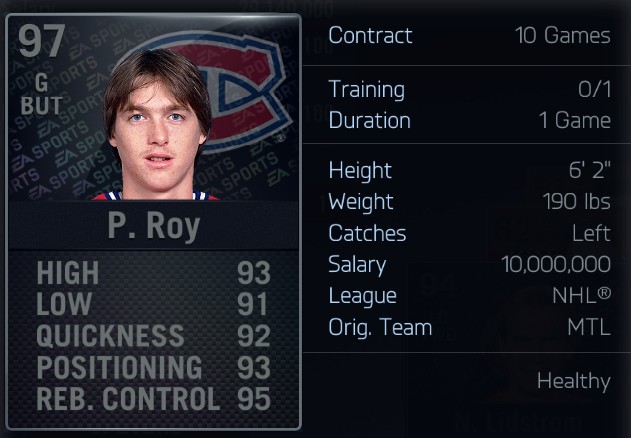 With three Conn Smythe Trophies and the most playoff wins of any goalie it's not hard to see why many consider Roy the greatest puck stopper of all-time. His impact on the goaltending world can still be felt today, as he was the one who popularized the butterfly style.
Ray Bourque
Bourque finished his illustrious career as the highest scoring defenseman of all-time and third in plus/minus with a +528 rating. There is no better player to have manning your blueline in Hockey Ultimate Team.
Joe Sakic
Burnaby Joe will go down as one of the best players and captains of this generation. He surpassed the 100 point plateau six times in his NHL career and won two Stanley Cups. Unleash Sakic's world-class wrist shot on helpless opponents in HUT.
Nicklas Lidstrom
He made it look easy. With extraordinary awareness, stick work and positioning, Lidstrom was dominant on the defensive side of the puck. The seven time Norris Trophy winner would be a perfect fit for any team.
Pavel Bure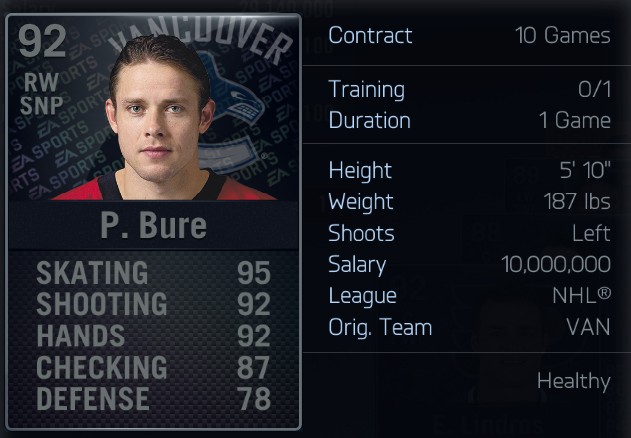 When Bure was on the ice it looked like a video game. It wasn't just his explosiveness that separated him from the rest, but it was his ability to pull off high-skill plays at that incredible speed that made him almost impossible to stop.
Eric Lindros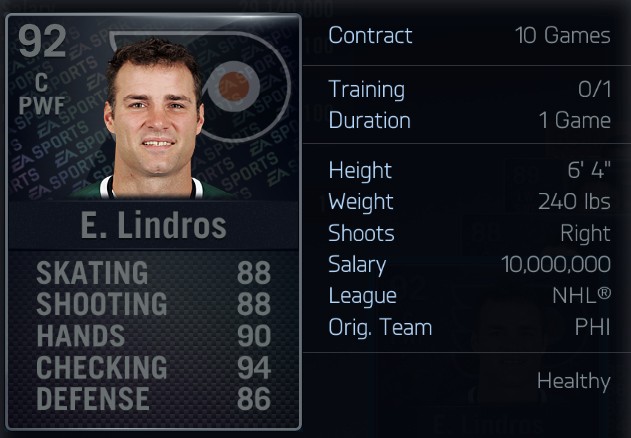 For a period of time in the 90's, Eric Lindros was the most physically dominant player in the NHL, and it wasn't even close. At 6'4 and 240 pounds, 'The Big E' could punish you on the ice and the scoreboard.
Mike Bossy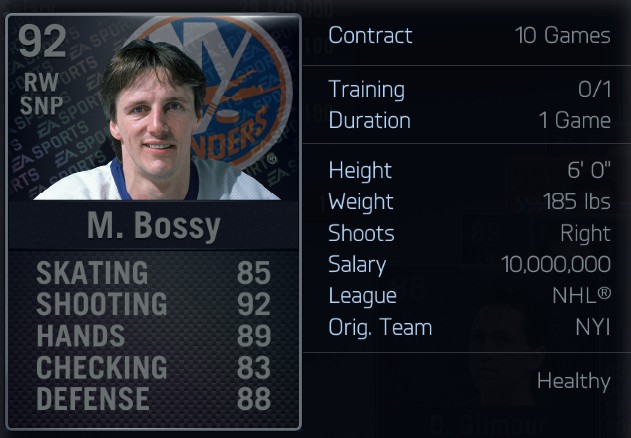 During his era, Bossy was the best pure goal scorer the NHL had ever seen. He is the fastest player to score 100 goals and is still the record holder for the highest goals-per-game average.
Luc Robitaille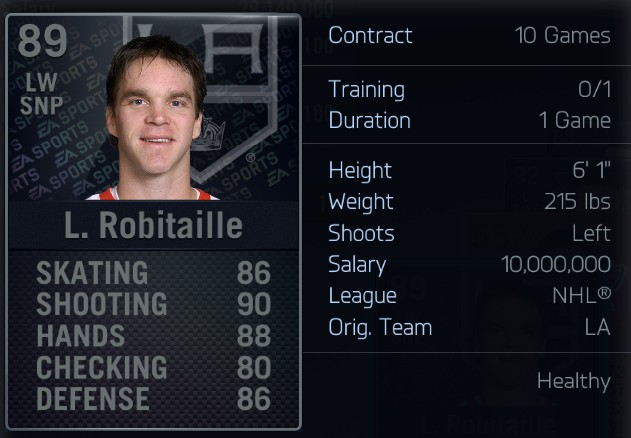 Lucky Luc wasn't the fastest skater on the ice, but he made up for that with incredible hockey sense and one of the league's most accurate shots. He was as consistent as they come and is still the NHL's highest scoring left winger.
Mike Modano
Drafted 1st overall in 1988 by the Minnesota North Stars, Modano lived up to the hype. He was one of the best skaters of his time and a prolific goal scorer – finishing his career as the highest scoring American born player in NHL history.
Jari Kurri
Kurri was an integral part of Oilers dynasty in the 80's and was known as Gretzky's right hand man. He finished his career as the highest scoring European player in NHL history with 601 goals, 797 assists, and 1,398 points.
Doug Gilmour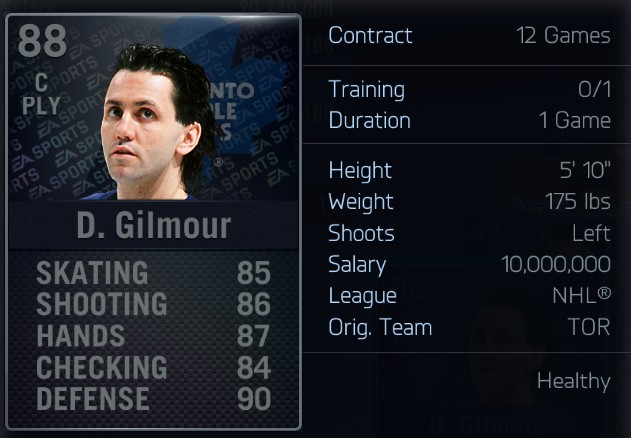 A fan favorite wherever he played, Gilmour was nicknamed 'Killer' because of his physical style of play despite his small stature. He played a complete game and is a perfect fit anywhere in your HUT lineup.
*Rated PEGI 12 for UK & Europe