NHL® 19 Hockey Ultimate Team™ – Objectives and Milestones – EA SPORTS™ Official Site
Posted September 14th at 9:00am.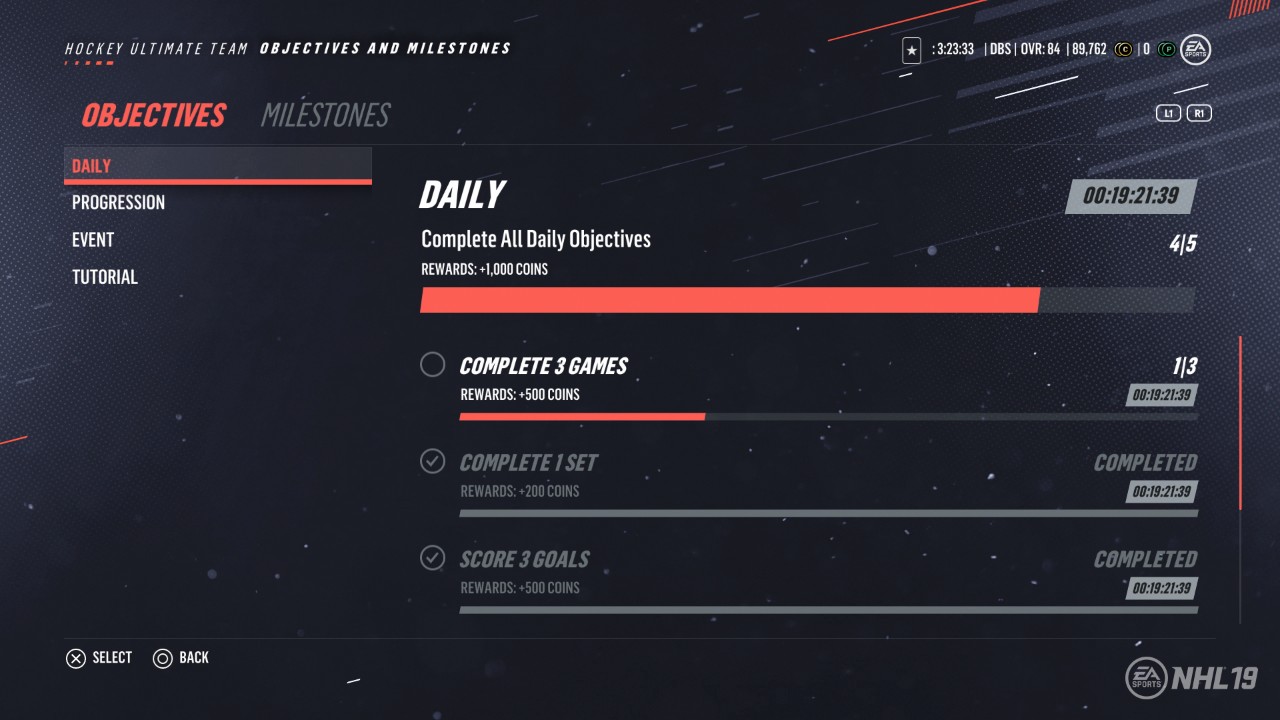 Objectives and Milestones are new features in NHL® 19's Hockey Ultimate Team™ (HUT) that give you goals to play for on a daily basis, as they offer rewards to help build your roster. Objectives provide short-term tasks on a daily basis with satisfying rewards, while Milestones are long-term, persistent, and come with bigger rewards. Reach Objectives and Milestones throughout your HUT career while you earn coins, packs, and even Legend Player items.

Objectives

Objectives will reward you with HUT items, packs, and coins for completing tasks throughout your year in HUT. Some examples of Objectives include completing sets, completing games, and winning games. There will be a variety of objectives for you to complete in your HUT journey. Every day there will be new Daily Objectives for you to complete, along with Progression Objectives that you'll work towards throughout your HUT 19 experience. Completing Daily Objectives will also help you work towards unlocking a new Legend item for your team on a monthly basis. There will also be Event Objectives for special events in HUT 19 !

Milestones

Milestones are long-term tasks with fantastic rewards that you'll work towards as you progress in HUT. Some examples of Milestones include goals, Challenge Stars earned, and completed objectives. With rewards that include Legends, Loan items, coins, and more, Milestones give you goals to chase throughout the year with massive payoffs upon completing the tasks.

Completing both Objectives and Milestones are a great way to improve your team in HUT 19, so don't miss out on the start of the year.
---
Stay up to speed with NHL 19 on Facebook, Twitter, and Instagram.

NHL 19 is available to hockey fans worldwide on September 14, 2018 for Xbox One and PlayStation 4.

Sign up today to receive the latest NHL 19 news, updates, behind-the-scenes content, exclusive offers, and more (including other EA news, products, events, and promotions) by email.