NHL® 19 Hockey Ultimate Team™ – Legends and Alumni – EA SPORTS™ Official Site
Posted September 14th at 9:00am.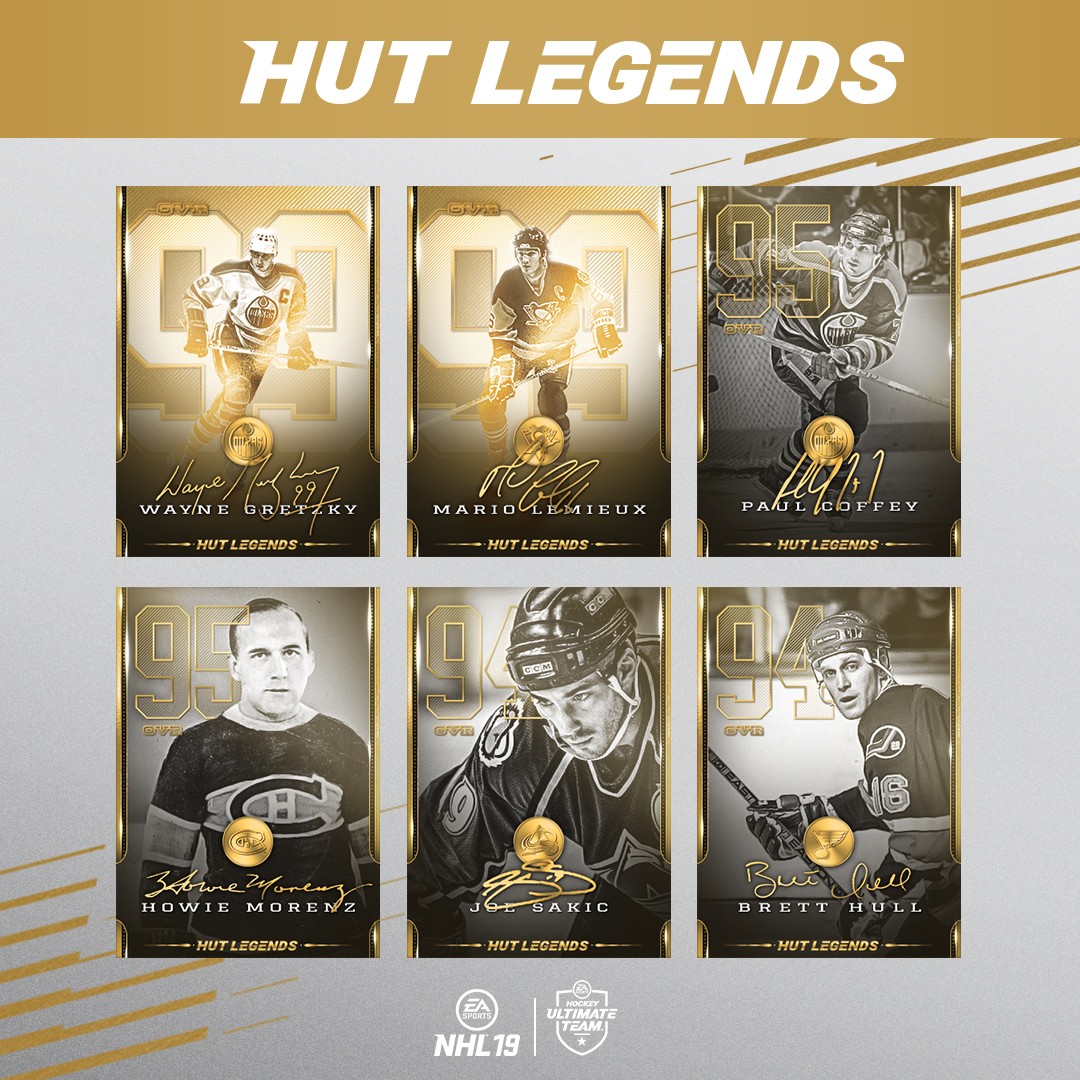 With over 200 Legend and Alumni players available to join your Hockey Ultimate Team™ (HUT) in NHL® 19, you can build out your fantasy roster with a mix of today's hockey stars and yesterday's all-time greats. Find Alumni and Legend player items year-long as you build your team, play your style of hockey, and earn rewards to defeat your opponents with all-time greats and fan favorites.

Fan Favorite Alumni

In HUT 19, there will be 140+ NHL Alumni Player Items. These players range from fan favorites to greats of the sport spanning 100 years of hockey history, and can be found in any pack that contains the prospect of a gold player item. 30 of the Alumni players will be available year-round from launch in regular store packs. The rest will be released in waves weekly, with a different selection of Alumni players available for that week only, and as rewards in specific instances (such as rewards for Competitive Seasons).

Top of the Class Legends

On top of this, there will be 63 NHL Legend player items to add to your team. As the most powerful items in HUT, Legends give you the chance to put together unstoppable line combinations with players who can take over games. There are four main ways to acquire Legends in NHL 19, which you can read about below:

Sets
32 of these are available in Sets at launch – 30 regular Legends, and 2 of them being 99 OVR Ultimate Legends, including Wayne Gretzky.
To obtain the 30 regular Legends from Sets, the player will need to "level up" the item three times, using one of its base Alumni items obtained from regular Store packs. Each time a player completes one of these sets, they receive a Legend Collectible that cannot be traded. Collect enough, and you can turn them in for an Ultimate Legend.
Monthly Collectibles
Legends can also be obtained by turning in Monthly Collectibles. You can get these in the Daily Log-in Pack and by completing all Daily Objectives.
Milestones
Some Legends are also obtainable as rewards for completing full Milestone groups.
Legend Packs
These are not always available, and when they are will have a purchase limit. Legends Packs guarantee players a random Legend from a pre-selected pool.
With multiple ways to acquire Legends and Alumni players in HUT 19, you'll always have something to play for in NHL 19.
---
Stay up to speed with NHL 19 on Facebook, Twitter, and Instagram.

NHL 19 is available to hockey fans worldwide on September 14, 2018 for Xbox One and PlayStation 4.

Sign up today to receive the latest NHL 19 news, updates, behind-the-scenes content, exclusive offers, and more (including other EA news, products, events, and promotions) by email.