Posted August 15th at 4:00pm.
Hockey Ultimate Team™ (HUT) Challenges put your HUT 18 skills to the test. Each challenge presents unique objectives and, should you complete the challenges, unique rewards to help build your team. You can choose do the HUT Challenges by yourself or cooperatively with a friend. HUT Challenges will be updated with dynamic content and new rewards to earn, making them the perfect way to get a quick hockey fix.
Read our HUT Challenges Deep Dive to find out more!
What Are HUT Challenges?
HUT Challenges are a part of the new HUT Challenges game mode in Hockey Ultimate Team. Each challenge features a set of objectives that have rewards to help you upgrade your HUT team. There are a variety of challenges to choose from and they will be updated with new, dynamic content and rewards throughout the year.
Types of HUT Challenges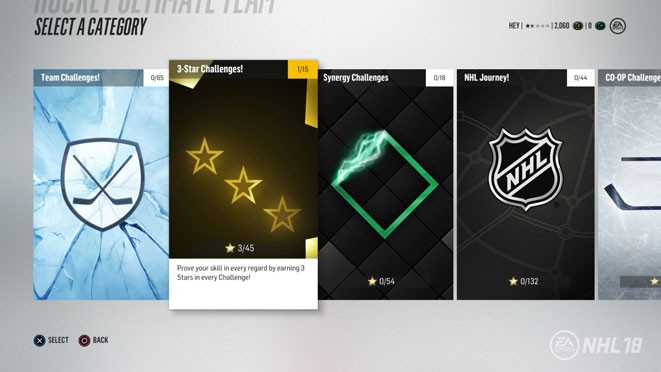 When you first enter HUT Challenges in NHL® 18, there will be over 140 HUT Challenges for you to conquer by yourself or with your friends! Here are some of the HUT Challenges categories that you can play:
Team Challenges
Progress your way through all the teams in leagues like the Ontario Hockey League (OHL), Swedish Hockey League (SHL) and the NHL, unlocking better teams as you complete challenges. The harder the competition, the better the rewards.
3-Star Challenges
3-Star Challenges put your entire NHL® 18 skill set to the test. These HUT Challenges will have objectives that will require you to adjust your play style to complete objectives offensively, defensively and on the power play and penalty kill!
Synergy Challenges
Complete these HUT Challenges to earn a player item for each of the HUT Syngeries in game!
NHL Journey Challenges
Embark on a journey from the Memorial Cup all the way to the NHL with your HUT team in these HUT Challenges!
Co-op Challenges
Invite a friend through online or local play to complete these co-op exclusive HUT Challenges!
HUT Challenges Objectives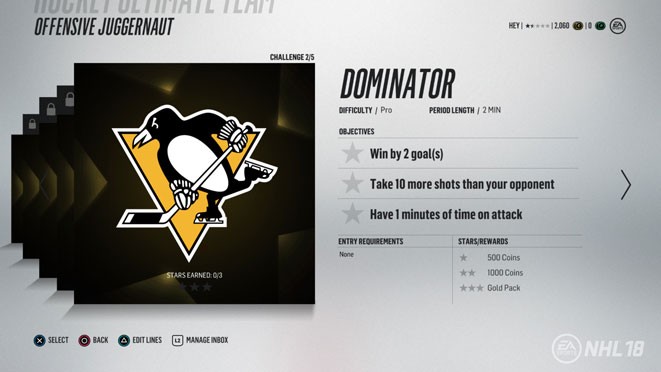 In order to earn rewards in HUT Challenges, you will need complete the unique objectives for every HUT Challenge. These objectives can range from something as simple as winning the game to more complex challenges like taking 10 more shots than your opponent. Once you complete an objective and finish the game, you will earn a star for that objective. Additionally, you will unlock the HUT Challenge rewards equal to the amount of stars you have earned on that challenge! Complete all three objectives to earn all of the rewards for the HUT Challenge.
HUT Challenges Rewards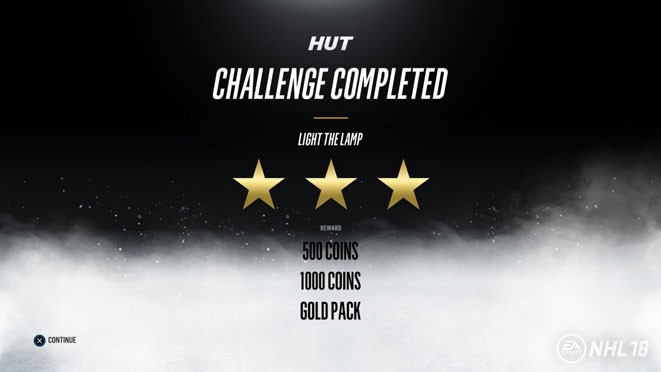 HUT Challenges can reward you with a variety of rewards. From coins to player items to Packs, the rewards for completing HUT Challenges will go a long way to improving your HUT team. As you progress within each HUT Challenges category, the rewards get bigger and better. You will only get the rewards from completing a challenge once.
If you are playing HUT Challenges through local or online co-op, the account that is hosting the game will be the account that receives the HUT Challenge rewards. The guests or friends that are invited into the HUT Challenge will not receive the rewards from the HUT Challenge.
Get ready to assemble your HUT team and battle your way through HUT Challenges throughout the entire year in NHL® 18
---
EA SPORTS NHL® 18 delivers the creativity of today's young NHL with new Creative Attack controls and the first-ever Defensive Skill Stick. Play the fast-paced, arcade-inspired 3-on-3 EA SPORTS™ NHL® THREES mode, or reshape the league entirely with the new Expansion Draft and your own custom 32nd NHL team. Do it all with the most co-op and competitive multiplayer options ever delivered in an EA SPORTS NHL game.
NHL® 18 is available worldwide on September 15th.