LIVE Ultimate Team - Weekly Spotlight - Jan 29
Posted January 30th at 12:00am.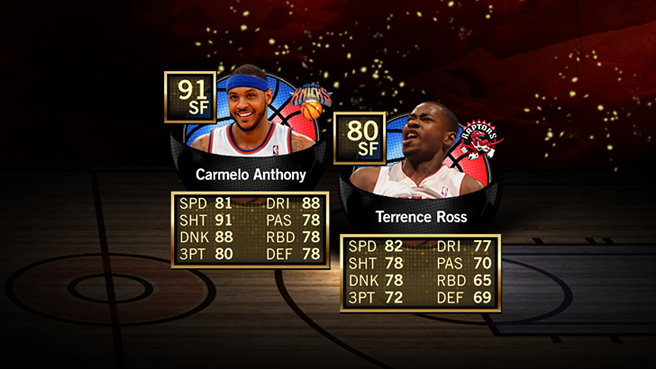 The primary driving force behind LIVE Ultimate Team (LUT) and NBA LIVE 14 is to constantly bring you fresh new content that makes the game feel different every time you play.
Each week, EA SPORTS will highlight the NBA's top performers, determined by their stats and performances in the week prior, as well as NBA Legends and Alumni and other items available in LIVE Ultimate Team.
WEEK OF JAN. 29
CARMELO ANTHONY, NEW YORK KNICKS F
This week's Spotlight Players were chosen because they either set or tied their franchise's record for most points in a game. The Knicks are showing signs of life in the Eastern Conference, and Anthony is a big reason why. Melo set a Knicks franchise record by scoring 62 points in a win over the Bobcats. The scoring outburst is also the most in the storied history of the modern (1968-Present) Madison Square Garden.
TERRENCE ROSS, TORONTO RAPTORS F
We're used to Carmelo Anthony filling it up, but Raptors second-year forward Terrence Ross took everybody by surprise by scoring 51 points against the Clippers. Averaging just over nine PPG entering the contest, Ross hit 10 three-pointers to tie the franchise's single-game scoring record.
For more on LIVE Ultimate Team, click here.
NBA LIVE 14 is now available for the Xbox One and PlayStation 4. Order today, and be sure to check the NBA LIVE website, Facebook and Twitter for updates.