LIVE Ultimate Team - Weekly Spotlight - Jan 15
Posted January 16th at 12:00am.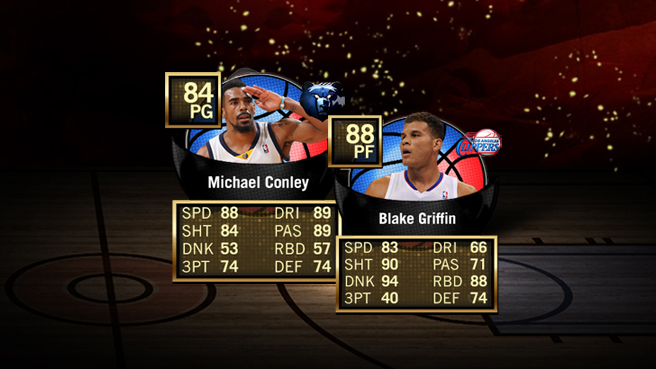 The primary driving force behind LIVE Ultimate Team (LUT) and NBA LIVE 14 is to constantly bring you fresh new content that makes the game feel different every time you play.
Each week, EA SPORTS will highlight the NBA's top performers, determined by their stats and performances in the week prior, as well as NBA Legends and Alumni and other items available in LIVE Ultimate Team.
WEEK OF JAN. 15
MICHAEL CONLEY, MEMPHIS GRIZZLIES G
This week's spotlights were chosen because of how they stepped up when their teams were missing star players. Without Marc Gasol, Conley has taken charge of the Grizzlies offense. He exceeded 30 points in consecutive games against the Spurs and Suns, then scored 21 points and dished out 13 assists in a 108-101 victory over the Hawks.
BLAKE GRIFFIN, LOS ANGELES CLIPPERS F
Despite missing superstar point guard Chris Paul, the Clippers went 2-0 on the week thanks in part to Griffin's play. Griffin scored 29 points with eight assists and six rebounds against the Celtics, then dominated the archrival Lakers to the tune of 33 points, 12 rebounds, four steals, four assists and two blocks.
For more on LIVE Ultimate Team, click here.
NBA LIVE 14 is now available for the Xbox One and PlayStation 4. Order today, and be sure to check the NBA LIVE website, Facebook and Twitter for updates.