Live Ultimate Team Playoff Content Update
Posted April 19th at 12:00am.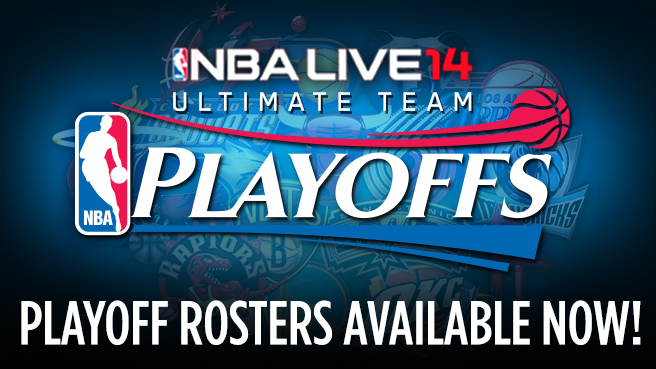 Hey NBA LIVE fans! The regular season may be over, but there's still plenty of basketball to play and lots of new content in NBA LIVE 14.
We're launching an update for LIVE Ultimate Team (LUT), and we're kicking it off with a brand-new Playoff Pack. The new pack contains a mix of players from the 16 different teams and four Playoff Player Items, so it's easy to grow your squad with some of the best players and teams still in the mix. In addition to that, you'll get a guaranteed GOLD Playoff Item just for logging in, no extra effort required!
What better place to put your new and improved team to the test than in the new Playoff-themed Fantasy Showdowns? We'll be constantly posting new challenges and content throughout the Playoffs, so make sure to check back regularly to see if you can match or surpass some of the previous night's best performances.
We hope you enjoy all this new Playoff content for NBA LIVE 14 and have fun using the new packs and players to build up an even more dominant Ultimate Team. Enjoy the Playoffs and we'll see you out on the virtual court!

For more on LIVE Ultimate Team, click here.
NBA LIVE 14 is now available for the Xbox One and PlayStation 4. Order today, and be sure to check the NBA LIVE website, Facebook and Twitter for updates.