Posted May 2nd at 12:00pm.
We now know eight of our final sixteen competitors vying for the ultimate title and their share of the 2017 Madden NFL Championship's $500,000 prize pool. Last Saturday morning, sixteen of Madden NFL 17's best competitors were broken up into four separate round-robins, with the top two players from each group advancing to the finals on May 12 – 14. Here's a look at that first weekend's results.
Group A: Serious Moe*, Skimbo, Canes, Killer Mike
This group was one of the most anticipated of the first four, as Zack "Serious Moe" Lane made his return to the stage. One short month after the passing of his father, Herb Lane, Serious Moe came into Burbank playing for much more than prize money. "Win, lose, or draw, this one is for my dad," he said, prior to the group play action. After a tough loss to Michael "Skimbo" Skimbo, Serious Moe fought through adversity, getting two timely fumbles against Michael "Killer Mike" Clark to advance along with Skimbo.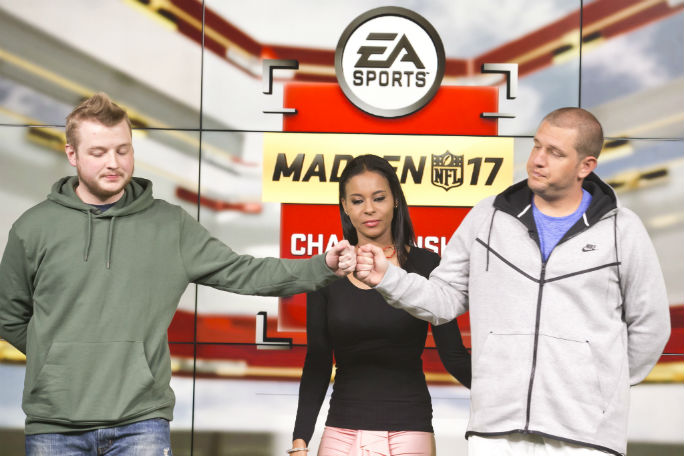 Group B: Noble Joke, Young Kiv, DJones, GOSMadden
Could Raidel "Noble Joke" Brito and Seamus "Young Kiv" Kivlen control their emotions? From the onset, that looming question was answered when Young Kiv absolutely trounced his known rival, Derrick "DJones" Jones, by a score of 45-0. This one was personal for Young Kiv, as he erased any doubts left from their ice-cold handshake at this season's Madden Classic when DJones won a hotly-contested match. Noble Joke was also no laughing matter with a strong 3-0 performance, including a walk-off OT win.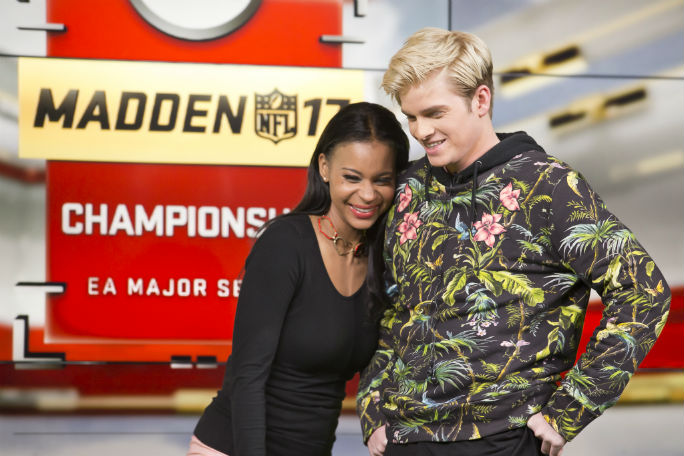 Group C: Beastmode Mac, I Be Strafin, Litezout, SDELLO
This group was a heartbreaker for the 2016 Madden Championship 3rd-place winner, Pete "Litezout" Calefato. Three players went 2-1 in this group, with Salvatore "SDello" Liciardello ending up 0-3. With that three-way tie, it came down to the point differential, and 2017 Madden Challenge winner Matt "Beastmode Mac" Clark and Ryan "Strafin" Danczak advanced. The story of the point differential came via a tough run of fumbles for Litezout in his game against Beastmode Mac, which saw Beastmode Mac score an extra field goal to top off a two-score victory over him.
Group D: Problem, Lil Man, Drag, Schemin
With Eric "Problem" Wright a mainstay at most live events, his absence was noticeable when he didn't qualify for the 2017 Madden Challenge live finals. But the time spent away served him well, and he debuted a new under-center offense at the 2017 Madden Championship live finals. Problem went 3-0 while running singleback tight slots, and relied heavily on Seattle Seahawks' running back C.J. Prosise to carry him onward. Also advancing is Justin "Lil Man" Barone, a familiar face in his own right. Lil Man went 2-1, with his only loss being against Problem.
*bolded names denote advancement to the finals
Make sure to tune in on May 6 and 7 for Groups E–H, and May 12 – 14 for the 2017 Madden NFL Championship live finals at Twitch.tv/Madden.