Posted August 21st at 12:00am.
The 2018 season introduces the Madden NFL Club Championship, a landmark competitive gaming and eSports event within the Madden NFL Championship Series (MCS) involving all 32 NFL clubs.

If you're looking to prove your gaming skills in Madden NFL 18, then this is the place to display your dominance. This season-long competition is back after a successful 2017 season which ended with Michael "Skimbo" Skimbo raising the championship belt in May.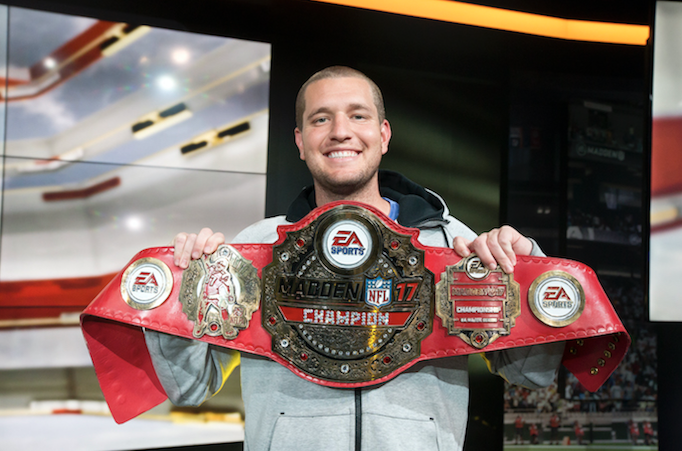 Madden's Biggest Prize Pool, Ever
Last season featured a $1 million prize pool. This year will be even larger as EA SPORTS is proud to announce a $1.153 million pot for the 2018 MCS. This is the largest prize pool in competitive Madden history. Beyond the cash, millions will compete in pursuit of winning the Madden NFL Club Championship and securing bragging rights for their favorite NFL team.
32 NFL Teams

The NFL Club Championship (formerly the NFL Club Series) is better than ever. Last season, thousands of competitors battled to be crowned champion of one of eight NFL teams. Those winners then competed in the Club Series Championship with Mike "Killer Mike" Clark taking home the title and earning the final spot in the Madden Championship.
This year, all 32 NFL teams will be represented in the NFL Club Championship. No traditional sports league has ever committed all franchises to competitive gaming. If you are a NFL fan, you now have a new way to root, support, and connect with your team through Madden NFL.
The competition is open to every Madden player 16 or older. These players can compete August through January for the incredible opportunity to represent their favorite NFL team in league sanctioned competition. Now, every fan has a stake in the NFL Club Championship. Players will qualify first through online competition with high-performers advancing to tournaments at select NFL stadiums, popular cultural landmarks and more.
Once the final 32 players are identified, one per NFL team, they will compete in the Madden NFL Club Championship Live Finals, a tournament occurring first at the Pro Bowl Experience in Orlando, FL and culminating at the Super Bowl Experience Driven by GMC in Minneapolis, MN
Major Championships
There are three Majors this season starting with the Madden NFL Classic on Oct 20 and 21. This will be played in Head-to-Head with real NFL teams. For information on qualifying, visit www.MaddenChampionship.com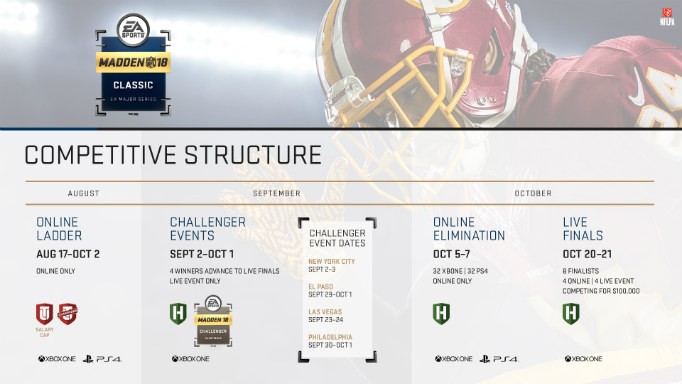 Next up is the Madden Challenge, which will be played in the updated MUT Draft mode. This event will take place Dec 15 and 16. Draft Champions is back with a new title, MUT Draft, and it is better than ever for Madden NFL Competition. MUT Draft features 20 rounds.
The third and final major of the season is the NFL Club Championship. This event ties into the brand new 32 team NFL Club Championship. It will take place not just at the Pro Bowl, but will also lead in to Super Bowl LII! This major will utilize the popular MUT Salary Cap mode where players must build their Ultimate Team with a mix of NFL stars and legends while staying under a cap limit. GM skills are almost as important as stick skills in this event.
If you're looking for details on how to watch the Championship Series, tune into www.MaddenChampionship.com and get more details surrounding each event.
Other Ways To Compete:
All players can compete in the MCS and all can qualify for an EA Major through many means. These competitive formats include online matchmaking, now incorporating the heavily engaging MUT Champions experience, grass-roots tournaments known as Challenger Events, and mid-tier level Premier Events.
For more details on the entire Madden NFL Championship Series ecosystem, as well as details on the new MUT Champions experience, please visit www.maddenchampionship.com.
The new MUT Champions experience is an evolutionary take on the globally popular FIFA mode, "FUT Champions," optimized for Madden competition. MUT Champions is built for competition, offering an engaging, strategic, and fun experience. The fast-paced structure provides players immediate opportunities to succeed both daily and weekly. The weekend league will continue to drive hours of great broadcasting action for Madden 18 on twitch.tv, not to mention the huge rewards.
This isn't all that is coming for the Madden 18 season. Expect something more Ultimate in the coming weeks. See you at kickoff!