Posted November 3rd at 2:00pm.
Normally, there isn't too much drama surrounding NFL trade deadlines. Playbooks at the professional level can be insanely complex, so expecting a player to quickly pick up concepts can be an unfair ask. Rarely are mid-season trades productive, since the players are on a new team without a preseason or training camp to get a feel for their new offense or defense.
Fortunately, that's real-life football. As Madden players, we can ignore such realities and just get excited for fresh players on our favorite teams. In case you missed it, the Niners have a new quarterback, the Eagles a new running back, the Seahawks a new offensive lineman, and the Bills have a new wide receiver.
But the news you should hear about is the Cleveland Browns. Long story short, the team in a never-ending rebuilding phase whiffed big time.
First, the QB they were reportedly after during the offseason, Jimmy Garoppolo, was traded to the 49ers for less than what the Browns offered during the draft. That's the first gut-punch. The second one comes after the Browns scrambled to get A.J. McCarron, the current backup QB for the Cincinnati Bengals. Browns head coach Hue Jackson coached McCarron when he was with Cincy. Both the Browns and Bengals agreed to trade for McCarron. It was a done deal, but the Browns didn't notify the NFL in time. So, they didn't get their QB because they didn't put the paper work through. Ouch.
In other Madden related news, let's talk about JuJu Smith-Schuster. He absolutely exploded on Sunday, including this monster 97-yard touchdown.
The reason he kept looking back you might ask? His Madden Ratings of course! Apparently, his speed is low enough that he was worried he might get caught by a DB. More on Smith-Schuster later. On to the ratings!
Moving On Up
I'm not exactly bring original by saying the Dallas Cowboys' O-line is good. But they absolutely owned Washington's talented defense. They made opening running lanes look easy in a game against a division rival. Travis Frederick is an utter monster and gets a boost in the ratings.
Back to Smith-Schuster. He said his Speed was around 82 or 83. The good news is that it wasn't that low. The better news, after a 193-yard performance, the Madden gods granted Smith-Schuster a well-deserved ratings boost. Just stop looking behind you JuJu. Trust in your afterburners.
Everything went right for the Ravens in their blowout win against the Miami Dolphins. While Collins didn't score, he still totaled over 140 yards. Outside of a slump against Minnesota's stout defense, Collins has been a reliable producer for the Ravens despite their troubles. For that, he gets an uptick in the Madden ratings.
Moving On Down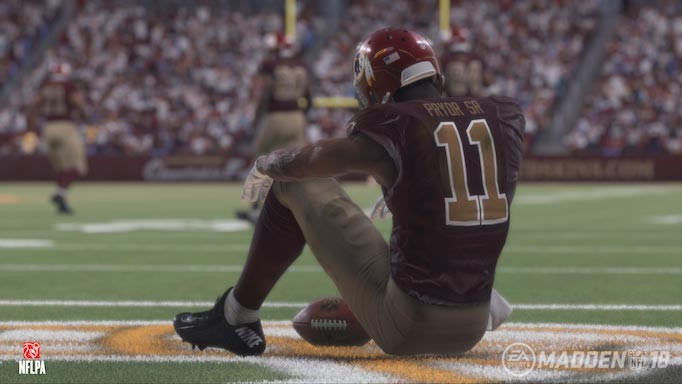 Look, I was willing to keep believing that Pryor would eventually deliver. His upside is huge. This season has been horrendous for Pryor, with him managing just 223 receiving yards after seven games with a lone TD. Then the game against the Cowboys came, and he was targeted only once and failed to come down with it. A catchless game is never a good sign for a WR.
It's been an interesting week for Ajayi. He's a Philadelphia Eagle now, so that's something. But he's also coming off a game where he averaged just 1.8 yards a carry. He's doesn't deserve all the blame for the Dolphins complete lack of presence against the Baltimore Ravens. A different home might prove beneficial, but for now, he gets bumped down the ratings ladder.
Seattle's backfield situation is murky at best. Thomas Rawls performed the worst of all of them. Not only did he total -1 yards on six carries, but he dropped a wide-open TD pass. This backfield has looked lost this season. The Seahawks have upgraded their O-line by picking up Duane Brown. Maybe there's light at the end of the tunnel here.
- Daniel Williams