Posted October 13th at 6:00am.
Well, Week 5 happened. To use a Star Wars reference and keep that hype train moving, during Week 5, millions of voices cried out in terror, and were suddenly silenced. Insert shameless plug for Star Wars Battlefront II here.
But, instead of the fine people of Alderaan, those cries in terror came from New York Giants fans. Well, likely fantasy football owners too, after watching Odell Beckham Jr. and Brandon Marshall go down for the season. It hurt watching J.J. Watt go down too, after everything he's done for Houston.
In case you missed it because you were busy re-watching the Last Jedi trailer, this week also saw Adrian Peterson get traded to the Arizona Cardinals. There's always a bit of shock value when a recognizable name gets traded mid-season, but the move makes sense. Peterson was never the right fit for a New Orleans Saints' pass-heavy offense. At best, Peterson fits into the Cards' power scheme, and the team's offense can return to the balanced attack they would be running with David Johnson on the field. Far more likely, Peterson will provide some consistency on the ground, but the Cards will still have to rely on Carson Palmer's arm.
The Kansas City Chiefs are the lone undefeated team in the NFL now. But a perfect season just isn't exciting. Instead, let's talk about winless season. There's some real competition. Currently, the previously-mentioned Giants, Cleveland Browns, and the San Francisco 49ers are all in heavy pursuit. My bet to make it the whole way would be the Browns after losing to the New York Jets and their near-lifeless offense. The Browns have the draft picks coming up to build a great future, and I genuinely think that Hue Jackson is capable to lead the Browns out of mediocrity. Hopefully the front office has enough patience to let him do just that.
Enough of my rambling. On to the ratings!
MOVING ON UP
The Texans have enough skill at receiver that all this offense really needs is a QB that isn't afraid to trust his teammates to come down with the ball. Watson has a good arm and recognizes when to run with ball well. He threw five touchdowns against the Chiefs. Sure, a couple were with the game pretty much locked in, but it's still a positive moving forward for a team in a fight for the AFC South. Watson should continue loading up the box score.
Fournette ran all over Pittsburgh. His speed through running lanes and his ability to shake off tackles makes him an absolute force for Jacksonville. He was the Jag's offense on a day where the Pittsburgh Steelers looked both unprepared and ill-equipped to accomplish anything. Fournette's 90-yard TD run put the final stamp on a big win for Duvall County.
With Ty Montgomery out, the Packers' running game was in question. Enter rookie Aaron Jones. He played okay against the Bears after Montgomery left the game, but he established himself as an offensive asset against the Cowboys, averaging 6.6 yards a carry and racking up 125 yards on the day. His solo catch during the game was just nine yards, but displayed enough skill to argue he should be more involved in the passing game. He might have cemented a permanent spot in this offense.
MOVING ON DOWN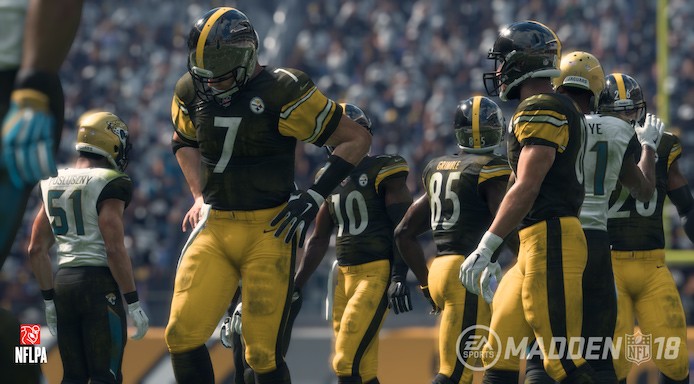 Here's an interesting strategy. Hey, the Jags and their outstanding pass defense are coming to town, let's throw 55 passes against them. That'll work. Roethlisberger threw a whopping five INTs, at home, against the Jaguars. Once, there was a time where Big Ben was automatic at home. Instead, he looked like all the injuries he's played through have finally caught up to him. It was a dismal performance by someone at the helm of what's supposed to be the NFL's most explosive offense.
If the lack of production from Williams wasn't enough, how about letting a pass bounce off your hands where the other team takes it for a TD. Williams has shown zero chemistry with Dak Prescott and isn't doing much with the catches he does come down with. If this continues, I wouldn't be surprised to see Brice Butler come into the fold.
Looking at the scoresheet, it doesn't look like a terrible day for Stafford. Watching the game though, that's a different story. Stafford fumbled twice and his two TDs were late in the game, salvaging what would've been a terrible stat day. He likely won't stay down for long, but a loss at home is never a good thing.

- Daniel Williams
---
Don't forget to tune in and watch some the best Madden players battle it out in the Madden Classic, the first EA Major of the season. Catch all the action here. Stay in the conversation by liking us on Facebook and following us on Twitter.