Posted December 22nd at 9:00am.
Now that you've had the better part of a week to debate what a catch is in the NFL, or argue over the thickness of index cards used to measure first downs, it's time to talk about what's really important. Madden ratings.
In Week 15, there were two examples of what Club 99 members can do on the field. New England Patriots TE Rob Gronkowski is a mismatch nightmare for defensive coordinators. The Steelers elected to throw single man coverage at the beast known as Gronk, many cases without safety help over the top. The beast known as Gronk then ate up 168 yards against the Steelers, coming through especially late in the game, where he essentially carried the game-winning drive.
The other Club 99 showcase came from Los Angeles Rams DE Aaron Donald. If you follow the NFL, it's no surprise that the Seattle Seahawks need help with their offensive line. It's basically the team's only weakness. Donald exposed that, as he outclassed the Seattle front. He was simply too big, too strong, and too fast, blowing through both single and double team assignments. The Rams defense ended with seven sacks, three of them from Donald. That defense is talented, but the constant pressure from Donald is the crucial cog in the machine. If it wasn't for Russell Wilson's speed, that sack total would've been even higher.
While we're on the subject of Madden imitating life, let's talk about JuJu Smith-Schuster. If you've played Madden actively, then you've been in this spot. You break a big play late in the game, you have nothing but daylight ahead after some shifty stick moves, only to have the player run out of juice before paydirt. That's pretty much what happened here. Smith-Schuster was running on fumes by the end of this play. This isn't a knock on him, that's a heck of a run after breaking free against a solid defense. He showed great awareness to eat up more yards instead of running out of bounds, but the game ends differently if he has the energy to finish that play.
On to the ratings!
Moving On Up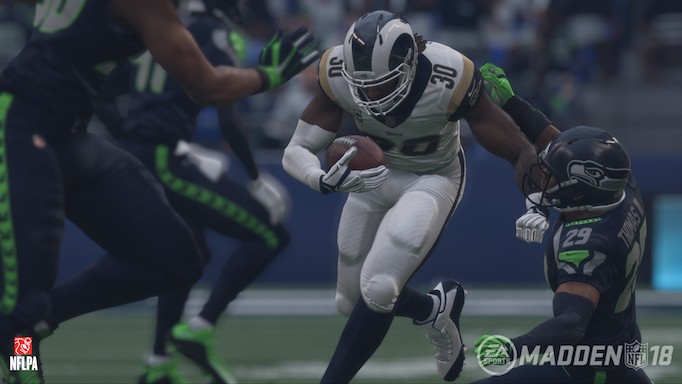 Gurley went off against the Seahawks in a game with huge playoff implications. He scored a whopping four touchdowns, one in the air and three on the ground. One of those TDs was his longest of the season, a 57-yard rush. This game was a huge statement and could carry the Rams into the playoffs. Anybody missing Jeff Fisher? Didn't think so.
A metric ton of pressure sat on Foles' shoulders after QB Carson Wentz went down. The Eagles had their eyes on not just the playoffs, but were gunning for a Lombardi Trophy. Foles ended up at the helm of a shootout with division rival New York Giants. He hit four different receivers for TDs and looked similar to his playing days that made him an NFL starter. Eagles will need him to keep this up going into the postseason.
The Jags beat up their division rival Houston Texans all day, winning 45-7. Bortles was nearly perfect, throwing three TDs, no INTs, and ending the game with a 143.8 QB rating, his highest of the season. He hasn't shown a lot consistently, but Bortles is putting together great games right when the team needs it most. For that, Bortles climbs the Madden ratings.
Moving On Down
As good as the game was for the Rams, it was terrible for the Seahawks. The offense was on its heels for the entire contest and couldn't get anything going against constant pressure from the Rams' defensive front. Wilson suffered the most, and is probably the only reason there weren't 12 sacks instead of seven. Wilson will look to shake off that performance against Dallas, but for now, he gets knocked down the ratings.
Rivers looked awful against the Chiefs. Throwing no INTs in his previous four contests, Rivers appeared to make up for lost time and threw three passes to KC's defense. He was on the upswing, but it looks like KC has his number. In two games against the Chiefs this season, Rivers has just one TD, and six INTs. Those two games are his worst this year by a wide margin. KC is clearly Rivers' Madden ratings kryptonite.
The Seattle defensive front couldn't slow any of the Ram's momentum. Gurley ran all over them, and they provided little pressure to Rams' QB Jared Goff. The entire d-line is at fault, but as the main force behind it, Bennett gets a ratings drop.
- Daniel Williams
---
Madden NFL 18 is available now on the PS4 and Xbox One. Stay in the conversation by liking us on Facebook and following us on Twitter.