Posted December 8th at 1:30pm.
It finally happened. After an onslaught of injuries, wild inconsistencies on both sides of the ball, and a desperation decision to sit a Super Bowl MVP for a failed QB experiment, the New York Giants fired Ben McAdoo this week.
Overall team cohesion had been crumbling for the G-men for weeks already. Granted, Eli Manning isn't the same QB he once was, but I wouldn't necessarily put the blame all on him. But surely, he's a better option than Geno Smith. The Giants then cleaned house, letting go of McAdoo and their General Manager Jerry Reese.
So, in a way, you can credit the Giants' righting their ship to Geno. He provided the jolt that the franchise needed with his stagnant QB play. There's quite a few teams that need that kind of help. Geno for MVP.
Maybe Geno's next stop should be Chicago. The Bears managed a total of just 147 yards against the Niners, showing complete ineptitude on offense from the coaching on down. Rookie QB Mitchell Trubisky is showing little, if any, signs of development at the NFL level. Maybe John Fox should be a little worried about his position too.
On to the ratings!
Moving On Up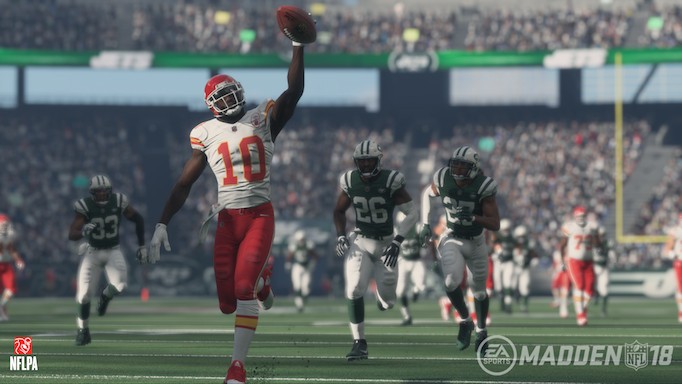 The Kansas City Chiefs have lost six of their last seven games. Overall, they've lacked the same explosive power they displayed at the start of the season. But Tyreek Hill continues to show he's their top playmaker. Despite not outscoring the New York Jets' surprisingly productive offense, Hill managed 185 yards and two touchdowns. Look for him to remain the focal point for Alex Smith.
If you tell me that you predicted Case Keenum would be one of the NFL's more effective QBs, you're a liar. The Vikes are now on an eight-game win streak. The offense is moving with Keenum under center, they're scoring, and perhaps more importantly, he doesn't turn the ball over. Keenum gets a boost in the ratings after his second straight game of two TDs, no INTs, and a passer rating over 120.
Sophomore running back Kenyan Drake is making quite the argument to be Miami's ground game future. Helping to end a five-game skid, Drake ran effectively in a 35-9 win over the Denver Broncos, including a 42-yard TD run. There's more to see, from Drake, but if this continues, trading away Jay Ajayi might turn out just fine for the Phins
Moving On Down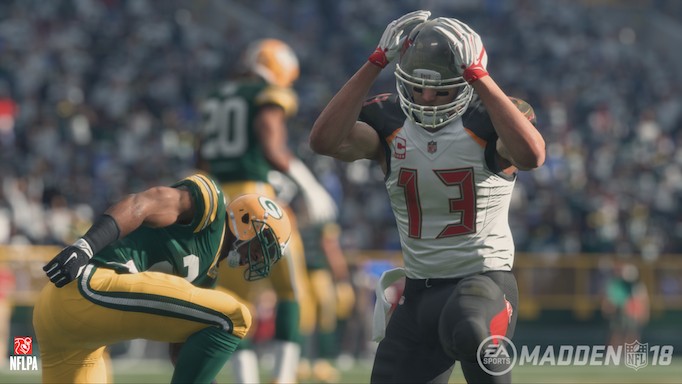 An elite-level talent, Mike Evans' struggles reflect the issues surrounding the Bucs. Amazingly enough, Evans is yet to top 100 yards in a game this season and hasn't hit the end zone in the last five games. They've had their issues at QB this year, but they need to get Evans involved.
The sophomore out of Baylor has all the makings of a quality NFL WR. Partially due to injury, we've only seen flashed from Coleman that have justified his 15th overall pick. He seemed to be getting more focus, but with the return of Josh Gordon, Coleman took a clear backseat with zero catches. In the long run, it might benefit Coleman to be opposite another effective WR. But showing no production will always drop the Madden ratings hammer.
On paper, the Eric Decker/Marcus Mariota match was a dream. Both players have a history of red zone effectiveness that pointed to a happy marriage with numerous touchdowns. This season, Decker has only one TD. He's struggling to create enough separation to justify throws, and looks as if he's lost a step. Hopefully he can recover, but for now, the ratings reflect his lack of output.
- Daniel Williams