Posted December 1st at 7:00am.
It's Week 13. We could take this time to talk about the Philadelphia Eagles' dominance. We could acknowledge that the New England Patriots are still really good. We can even speculate on how Jimmy Garoppolo will look as a starter for the Niners or continue to scratch our heads over what the Giants think they're doing with Eli Manning.
But no. What we're going to talk about here is what is truly important. Julio Jones is officially a member of Club 99. The unstoppable force known as Julio torched Tampa Bay with 12 catches, two TDs, and 253 yards. This is what happens when an elite wide receiver outclasses defensive backs in every aspect of the sport. Jones is simply next level. This isn't even his best game. Just last season he had a 300-yard game.
This leaves the Club 99 population as Rob Gronkowski, J.J. Watt, Aaron Donald, and Julio Jones. Regardless of which team you're a fan of, these guys are the best at their respective positions. There have been some shifts this season for Club 99. Von Miller has been bumped. Donald himself started the season in, then out, now worked his way back in.
On to the ratings!
Moving On Up
The Los Angeles Chargers are getting hot at the right time. On top of that, Keenan Allen is making an argument that he's one of the NFL's elite WRs. Allen simply embarrassed the Dallas Cowboys secondary with 11 catches, 172 yards, and a score. Just the week before, Allen had 159 yards and two TDs. This week, they have a matchup against the Browns. This could get ugly very quickly for Cleveland.
As it turns out, the Saints have a ground game. While New Orleans' running back Mark Ingram is still producing, rookie runner Kamara is turning heads. He's becoming a legit receiving threat for Drew Brees. He totaled more than 100 receiving yards against a stingy Rams defense, and also exploded for a 74-yard TD run. Kamara is showing tremendous promise.
Robb Anderson is having himself a season. The Jets are a tougher team than most predicted. Part of that is that Josh McCown has stayed healthy for more than three quarters, so that's nice. But Anderson is a reliable target, too. It might've been in a losing effort, but he totaled 146 yards and two TDs against the Panthers. This also marks his fifth-consecutive game with a touchdown.
Moving On Down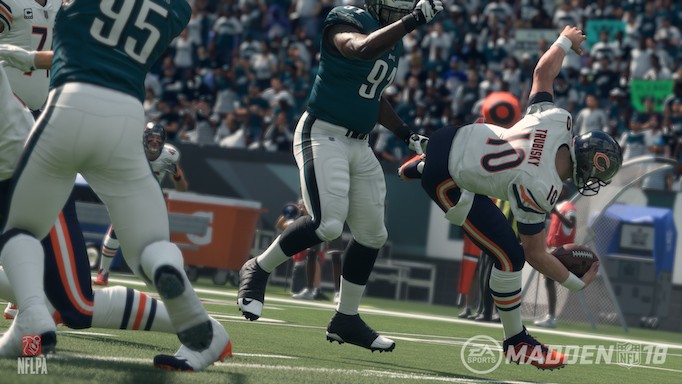 The Bears paid a high wage to move up just one spot in the NFL Draft to get Trubisky. Against the Eagles, he didn't seem worth that cost. Turbisky threw for no TDs, two INTs, just 147 yards, and a QB rating of only 38.3. Granted, the Eagles are surging. But this is nowhere near the performance you expect from your QB of the future.
The Tennessee Titans' workhorse has been looking a bit gassed lately. Against the Colts, Murray managed an abysmal nine yards on 12 carries. His one-yard touchdown came on a play where he lined up at fullback with Derrick Henry attracting all the attention at running back. The Titans have shown their stubbornness before as they continue to ride Murray. It's now getting to the point that we might start seeing if Henry carry a much heavier load for the Titans.
Hunt took the NFL by storm within the first five weeks of his rookie season. He hasn't been the same explosive, consistent offensive force lately. Against the struggling Bills, Hunt rushed for a measly 17 yards off 11 carries. KC has performed well when they feed Hunt, but he has to be productive in order to justify the touches. He has enough talent that his rating can quickly recover. But for now, he's trending downward.
- Daniel Williams