Posted November 17th at 10:00am.
This may be a little late by the time this blog posts, but Week 11 was filled with inspiration, memorable scenes, and emotion.
Minnesota Vikings' QB Teddy Bridgewater suited up for his first game since a horrific knee injury. It was feared that the injury had ended his career. While he didn't start, just the fact that he was able to recover and play is a marvelous achievement. He was clearly emotional, and deserves tremendous praise for fighting through what was a long, difficult road to recovery.
There was also Denver Broncos' defensive end Derek Wolfe, who ran out on the field next to his brother-in-law, who served two tours. It was a great family moment, but a fitting tribute on Veterans Day weekend.
The most emotional moment though came from San Francisco 49ers wide receiver Marquise Goodwin. Goodwin was overcome with emotion, playing just hours after losing a child to premature labor. It's moments like this in sports that transcend box scores and bring new perspectives to games we all enjoy.
I know, this is all a bit emotional for a Madden column, too. Let me breath and reset.
Phew, okay. Let's try something familiar. Quick, watch this! It's Brock Osweiler claiming another victim. Instead of destroying a team's offense, he obliterates somebody's face. Congrats sideline staff member, you're now Internet famous.
Now that we're back to our normal level of emotion, let's move on to the ratings!
Moving On Up
Woah. Six sacks in a single game. Just as a point of reference, that's more sacks than Clayborn had in any season of his career since his rookie year. He absolutely demolished the Dallas Cowboys' O-line, which is not something many people can say. It's a monster day for Clayborn as he prevented the Dallas offense from getting anything going.
The New Orleans Saints don't appear to be missing Adrian Peterson much. In a blowout 47-10 win against the Buffalo Bills, the Saints went to the ground game and Ingram ran for 131 yards and three touchdowns. Have a day, Mr. Ingram.
The Los Angeles Rams have been rolling. And Robert Woods torched the Houston defensive backs with 171 yards and two TDs. That's the second consecutive week Woods has two touchdowns, and coming after having zero TDS through seven games before the Rams' bye week. Clearly some time off did Woods good.
Moving On Down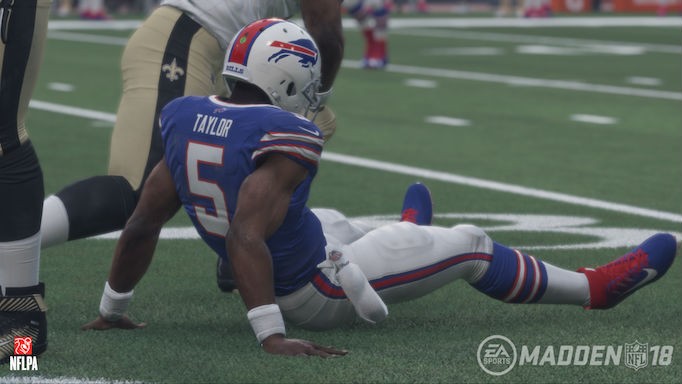 The Buffalo Bills have a lot of bad going for them right now. Their defense looks gassed and the offense looks disorderly. Taylor had a bad day that ended with him on the bench. His lone INT wasn't entirely on him, but most of his passes were way off target.
John Ross may still be the Speed king of Madden, but that hasn't transitioned into success on the NFL front. Ross faced criticism from Bengals head coach Marvin Lewis after giving up on a pass he wasn't aware was headed his way. The rookie hasn't seen too much of the field this season. Hopefully this is a jumpstart to some on-field success.
It's rare that a Dallas Cowboys' offensive lineman will end up in the down column. But for as good as Adrian Clayborn was, Chaz Green was just as bad. Clayborn flat out owned Green from whistle to whistle. It's a rare thing to see a matchup in the trenches this one-sided in the NFL. For that, Green gets a bump down in the ratings.
- Daniel Williams