Madden Club Championship Leaderboard Rankings Salary Cap
Posted October 12th at 7:00am.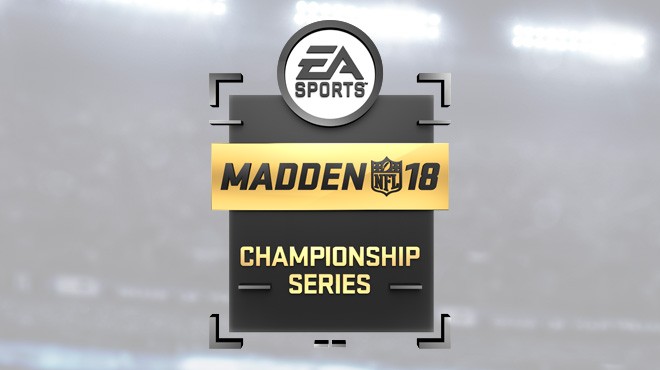 Below you will find the top competitors representing each club in XBOX and PS4 on Salary Cap Ranked. As you review each list, please keep in mind the following:
In order to compete in the Madden NFL Club Championship, you must have registered for a club prior to October 1st.
Qualification for the online elimination and live events will close on Monday, October 16.
You must be at least 16 years of age & a resident of the United States (including the District of Columbia), United Kingdom, Mexico, Germany, and Canada and Quebec. For a full list of eligibility requirements and competition rules, please visit here.
Table of Contents
Playstation 4
Xbox One
Playstation 4
Bears
| | |
| --- | --- |
| Rank | Persona |
| 1 | Cover3Cloud |
| 2 | SpaceJamTv_ |
| 3 | dAtBoiiGoOd23 |
| 4 | BigMikeyT22 |
| 5 | SPHYPE |
| 6 | TooHot2Fuego7 |
| 7 | SOUL_CRUSHER_96 |
| 8 | HainesSD16 |
| 9 | Gecko-_-Swag |
| 10 | ElectricHeadPt2 |
| 11 | Voristic_ |
| 12 | Feynman314159 |
| 13 | GoEasyPlzzz_ |
| 14 | bamnallday16 |
| 15 | oOoBODYBAGZoOo |
| 16 | Epic__Piranha |
| 17 | New--Enemy |
| 18 | blackmamba24LA5 |
| 19 | IGotDatBag420 |
| 20 | HARDHITTA56 |
| 21 | TGM_xSTICKZREALx |
| 22 | HaTeMe3185 |
| 23 | JaIen_J |
| 24 | WIZZMAN-420 |
Bengals
| | |
| --- | --- |
| Rank | Persona |
| 1 | FMB_HitStiCkfo6 |
| 2 | supremestick |
| 3 | bigmanawesomenes |
| 4 | CyberTomBrady |
| 5 | suzuki6x |
| 6 | PTP_J_Win |
| 7 | goalie1887 |
| 8 | devils2323 |
| 9 | noscoper1999 |
| 10 | On_da_Hunt90 |
| 11 | douglas2361 |
| 12 | T937J |
| 13 | BD83-MR_Seng |
Bills
| | |
| --- | --- |
| Rank | Persona |
| 1 | Pwny_Montana_ |
| 2 | ljwBLO716 |
| 3 | bpdpolice |
| 4 | Bosswolf04 |
| 5 | Pointspreadkilla |
| 6 | Knock85 |
| 7 | Dman739815 |
| 8 | xLandShark- |
| 9 | JoeSheen |
| 10 | uconnfann |
| 11 | ROMEY3x0 |
| 12 | jpaps_21_rudy |
| 13 | Supermanrko |
| 14 | Greasy_Italian99 |
| 15 | DaaaBills420 |
Broncos
| | |
| --- | --- |
| Rank | Persona |
| 1 | DJONES13 |
| 2 | soccerballs223 |
| 3 | vBRONCOv |
| 4 | xTrav33x |
| 5 | JordanL_42 |
| 6 | K1NG_xVx |
| 7 | DiamondBOi808 |
| 8 | Cat_Rawr |
| 9 | ethan_esq1 |
| 10 | Just_RYOD |
| 11 | jaymellow05 |
| 12 | TBCplowboy |
| 13 | GlitchyGoon |
| 14 | Tee_20_ |
| 15 | AlexTooEasy |
| 16 | NyquilNate |
| 17 | XoTilOverDose_ |
| 18 | AHK2199 |
| 19 | golfermt |
| 20 | FUGGAROUND |
| 21 | SupahMT |
| 22 | AvOiDmEsOn |
| 23 | Big_Eazy_Money |
| 24 | jjsmith605 |
| 25 | IamBREEZE |
| 26 | SoUtHsIdEbOi719 |
| 27 | griznectar |
| 28 | Skully17 |
Browns
| | |
| --- | --- |
| Rank | Persona |
| 1 | Trill2King |
| 2 | brownsfan650 |
| 3 | watsonfootball |
| 4 | I-PLAY-XBOX-304 |
| 5 | MAS_Unit956 |
| 6 | boosheezy |
| 7 | TTurch |
| 8 | ILLest2010 |
| 9 | Lord_Belding |
| 10 | SLOPPY__TOPPY21 |
| 11 | i_like_nanos |
| 12 | MrAviato |
| 13 | Solesides |
Buccaneers
| | |
| --- | --- |
| Rank | Persona |
| 1 | burntheman4248 |
| 2 | Chritobin |
| 3 | lilterro123 |
| 4 | Bulio_Bones |
| 5 | Veno2Cold |
| 6 | DATBOYMHTOUGH |
| 7 | llHiTMaN23ll |
| 8 | trey2288 |
| 9 | GottiBandz |
| 10 | MikeTysonAli |
| 11 | Baccate |
| 12 | Grigsby2Tuff |
| 13 | Lonz_39 |
| 14 | JoshMelts-- |
| 15 | DBape- |
| 16 | MachitoLindo |
| 17 | Nole4Life73 |
Cardinals
| | |
| --- | --- |
| Rank | Persona |
| 1 | VoLTeRaX |
| 2 | brianuuj |
| 3 | OG_TrueBalla |
| 4 | Dontblinkx |
| 5 | Jc_830__ |
| 6 | ChiefPringlesTBE |
| 7 | AceYordanoGOAT |
| 8 | lllMV7lll |
| 9 | TheChefCCC |
| 10 | Lilburk35 |
| 11 | xSoSaVeLi |
Chargers
| | |
| --- | --- |
| Rank | Persona |
| 1 | CrushDoe |
| 2 | OrbitJunket83928 |
| 3 | brobean16 |
| 4 | MuteIsCool |
| 5 | Gigg- |
| 6 | VaBeach757 |
| 7 | Wiz_Tha_God |
| 8 | MortyJ |
| 9 | NappyBOI_K |
| 10 | unioneagles |
| 11 | MaddenEIite |
| 12 | Dlast760 |
Chiefs
| | |
| --- | --- |
| Rank | Persona |
| 1 | James_St_Patrick |
| 2 | dgros22 |
| 3 | YTLexan |
| 4 | bige6624 |
| 5 | TheTJ_101 |
| 6 | DetroitSAVIOR |
| 7 | biglarry |
| 8 | WillBell11 |
| 9 | IceChief27 |
Colts
| | |
| --- | --- |
| Rank | Persona |
| 1 | NFL-SiXtH-sEnSe |
| 2 | MrHitStick757 |
| 3 | Mr_BM12 |
| 4 | CAPorAGAP |
| 5 | FreeAgentDez804 |
| 6 | dstrong2 |
| 7 | Ohio_Finest21 |
| 8 | TheElves_ |
| 9 | Uh_PoundTown |
| 10 | SEASONED_BXXDYZ |
| 11 | oLargeSarge |
| 12 | Tower_Man21 |
| 13 | Colts12_Fan |
| 14 | KyleWithAnRRRR |
| 15 | FMBTRiGGARacci |
| 16 | True_Gamer29 |
| 17 | JMcM44 |
Cowboys
| | |
| --- | --- |
| Rank | Persona |
| 1 | stay_at_homed |
| 2 | MrIncredible3 |
| 3 | lilballa24 |
| 4 | McCartyFKD25 |
| 5 | A_GAP_JONES |
| 6 | DeFearian |
| 7 | DaCAMPER-_-Noob |
| 8 | KingvonSoLit |
| 9 | KrubbaMUT |
| 10 | KryptoRaid |
| 11 | NickTheChamp03 |
| 12 | NickGolf7 |
| 13 | ZeusThumbz |
| 14 | vpkvp |
| 15 | SoUtHsFiNeSt561 |
| 16 | KLIQ_RazorsEdge |
| 17 | DizzIzG21 |
| 18 | QBkillaDWARE |
| 19 | JGettis1 |
| 20 | BigTurkeyOnWheat |
| 21 | ScoredBigg88 |
| 22 | Jmonster30 |
| 23 | pudgey_34 |
| 24 | AJWolfy23 |
| 25 | AyoKeo10 |
| 26 | sickster101 |
| 27 | xXTGOD2Xx |
| 28 | SaVaGe914 |
| 29 | Capt_N_Carter |
| 30 | GIT_SUM87 |
| 31 | GgFriendsGg |
| 32 | lilalexgetmoney |
| 33 | Tg_The_Goat818 |
| 34 | XxBAnightmareXx |
| 35 | lalkb3224 |
| 36 | nerdworthy |
| 37 | RealBoomhauer |
Dolphins
| | |
| --- | --- |
| Rank | Persona |
| 1 | mattstergamer |
| 2 | MrMiamiMan |
| 3 | IDontCuff |
| 4 | KLIQ_KingOfKings |
| 5 | PhxnomenaI |
| 6 | Kandoouu |
| 7 | Canes3057 |
| 8 | KLIQ_Pedigree |
| 9 | NOVAKKRIS |
| 10 | phinsfanatix |
| 11 | get_dis_money_13 |
| 12 | oCodGod |
| 13 | Manso3shreds |
| 14 | KING_LURK_ |
| 15 | Jeffreyxbruh |
| 16 | Millalight13 |
| 17 | xXMasta |
| 18 | NoScreenshots_ |
Eagles
| | |
| --- | --- |
| Rank | Persona |
| 1 | Noonan11 |
| 2 | tyeagles36 |
| 3 | NutAnUkaNdO |
| 4 | young_tuffin |
| 5 | DayDreamer_x7 |
| 6 | Obie10 |
| 7 | LA_QUlCA_ |
| 8 | Eliteplayer_18 |
| 9 | Wopper_29 |
| 10 | PostellSwaggdOut |
| 11 | M1LL3R_28 |
| 12 | IIAGonnnzII |
| 13 | xXunknown25Xx |
| 14 | T-SABO1 |
| 15 | fuTuRe15 |
| 16 | DubDotDUBBY |
| 17 | GilF_s |
| 18 | Classickeyz |
| 19 | WhiteBoySknDhead |
| 20 | A11_I_DO_IZ_W1N |
| 21 | UnitedTurkoRican |
| 22 | SwerveVictim |
| 23 | BoykinsD1 |
| 24 | xTonex__ |
| 25 | ThisIshToEasy-_- |
| 26 | TheBoyIsNyce |
| 27 | t2raw47 |
| 28 | PoPo919191 |
| 29 | Bones757 |
| 30 | unknownplyr007 |
| 31 | Adrenalineman91 |
| 32 | JColeThaGOAT |
| 33 | kel_killem |
Falcons
| | |
| --- | --- |
| Rank | Persona |
| 1 | joe_rice_16_80 |
| 2 | LePrime21James6 |
| 3 | DeonBrock |
| 4 | Envied15 |
| 5 | EastAtlantaM3L0 |
| 6 | GoofyyTheDon |
| 7 | VxAssassinxA |
| 8 | Laaaaylay |
| 9 | KingPerlotte12 |
| 10 | TuRnUP_Gr33Nz_21 |
| 11 | xxBabyNinja |
| 12 | drecutta04 |
| 13 | mcthunderthumb |
| 14 | bksbullynyc |
| 15 | OoFLORIDA-BOYoO |
| 16 | DA_KING_0032 |
| 17 | Christopher__04 |
| 18 | poloshawty87 |
| 19 | fatality931 |
| 20 | EA_HEAD_HUNCHO |
| 21 | BigFactsBoomin |
| 22 | nekko_jui |
| 23 | jcharles1990 |
| 24 | pbmille3 |
| 25 | DaiLLLiest |
| 26 | Based_Godz_ |
| 27 | CALL_ME_TY_ |
| 28 | TAZ-_-TIME |
| 29 | ZayaThomaz |
| 30 | chuckyEcheese |
49ers
| | |
| --- | --- |
| Rank | Persona |
| 1 | Dippn-Dots |
| 2 | Dusty751 |
| 3 | ICYUNVme408 |
| 4 | lUrBrAiNwAsHeDl |
| 5 | MoneyShot_916- |
| 6 | PasadenaSoldier |
| 7 | colby23_ |
| 8 | k1llerking5 |
| 9 | ninertime76 |
| 10 | MACHO_BORRACHO11 |
| 11 | dNtHateME559 |
| 12 | ItsMrSplashMan |
| 13 | Zmac23_ |
| 14 | senor_de_niro |
| 15 | WaterBoyz_5 |
Giants
| | |
| --- | --- |
| Rank | Persona |
| 1 | INxSPOTOxWEtrust |
| 2 | GimmeTheFluke |
| 3 | MrMoneyPlay |
| 4 | Ball1sl1feNYC |
| 5 | jeffh0244 |
| 6 | Arsenic_007 |
| 7 | sir_john_87 |
| 8 | nigeljones5 |
| 9 | WEINHEREFOR6 |
| 10 | Vertucc |
| 11 | Xxmonkeyslayer4 |
| 12 | King_jasse |
| 13 | ryb0ski |
| 14 | SNYDER2NYCE |
| 15 | Moskury |
| 16 | JMK72485 |
| 17 | Spxrts |
| 18 | SupremeJosh1 |
| 19 | davidt524 |
| 20 | LeGeNdArYxKinGx |
| 21 | Shogan04 |
| 22 | Jaydawg_141 |
| 23 | StrikeBlitz-- |
| 24 | XitsmeswagX |
| 25 | Premeo1989 |
| 26 | LawrenceS33 |
Jaguars
| | |
| --- | --- |
| Rank | Persona |
| 1 | Kanan_Sparks |
| 2 | Man__Overboard |
| 3 | Dope_Man904 |
| 4 | atrip904 |
| 5 | FatRat24 |
| 6 | claysdad |
| 7 | KingDouche99 |
| 8 | Jam904 |
| 9 | soberbryce |
| 10 | kevinhatespants |
| 11 | SBN_Jay-Von_904 |
| 12 | Barnes873 |
| 13 | kb18964 |
| 14 | Mythlyrr |
| 15 | xDanximalx |
| 16 | wickedjumbos22 |
Jets
| | |
| --- | --- |
| Rank | Persona |
| 1 | DntCareAboutIce |
| 2 | BaylorTower12 |
| 3 | Floww32 |
| 4 | Sufley_Ur_Tupay |
| 5 | Jahstezzo- |
Lions
| | |
| --- | --- |
| Rank | Persona |
| 1 | MrUhhRival |
| 2 | seahawks-goat25 |
| 3 | MindOverMadden |
| 4 | Papa__Squatttttt |
| 5 | theFETTISH_2 |
| 6 | NoVaKriptic |
| 7 | D4life31 |
| 8 | THA-TROOF |
| 9 | BruceTheGamer1 |
| 10 | kingkhalll |
| 11 | mohawkwrestler |
| 12 | Mr_Saynomore21 |
| 13 | Nel_s_on |
| 14 | DirtyDonny5 |
| 15 | cevone |
| 16 | Baileysc |
Packers
| | |
| --- | --- |
| Rank | Persona |
| 1 | Goat_in_920 |
| 2 | EJCecil |
| 3 | dirtydirty7 |
| 4 | JK-_-314-PROBLEM |
| 5 | EC_Smile_3 |
| 6 | buspayn |
| 7 | JayThyHimself |
| 8 | ASU_SUNDEVIL23 |
| 9 | sprint42 |
| 10 | Phreak1123 |
| 11 | showoutyes |
| 12 | Cali5hunnid |
| 13 | MrFootballGuy |
| 14 | SamSolo12 |
| 15 | DB_Machine23 |
| 16 | Kiz41 |
| 17 | akevo47 |
Panthers
| | |
| --- | --- |
| Rank | Persona |
| 1 | plzquitnowkthx |
| 2 | GoldenGlover45 |
| 3 | InYaPockets |
| 4 | AObruceleroy |
| 5 | Gee_Ayee |
| 6 | nickisbeast20 |
| 7 | xUltimateSweatyx |
| 8 | SimulationBall |
| 9 | Scorpion_VIII |
| 10 | mike21thkid |
| 11 | MoneyTeamCEO |
| 12 | da_narcissist |
| 13 | neWTrezMoney131 |
| 14 | BigKep1381 |
| 15 | Sporty4orty-CT |
| 16 | BlairWalshProjkt |
| 17 | Excellence281 |
| 18 | Infamous2448 |
| 19 | pC_LUCKyy |
| 20 | ernesto2121 |
| 21 | beeej81 |
| 22 | Pantherkiller_10 |
| 23 | Raz_bell |
| 24 | asavage15 |
| 25 | alan704carolina |
| 26 | BE_GREAT_32 |
Patriots
| | |
| --- | --- |
| Rank | Persona |
| 1 | twoizbetterthan1 |
| 2 | JayFree_Ballin |
| 3 | ShutItDown413 |
| 4 | jerdanisdabomb |
| 5 | XxKurtz07xX |
| 6 | sports2512 |
| 7 | WHTS_NXT_EA |
| 8 | casshboy781 |
| 9 | BigHurt__23 |
| 10 | maddenmut |
| 11 | Two_Belts27 |
| 12 | joe_80138 |
| 13 | IncredibleToast |
| 14 | BackupAnklesocks |
| 15 | GetOffMyFielD |
| 16 | Stats_WRX |
| 17 | NumbaNines |
| 18 | gokushairdresser |
| 19 | bdeegs24 |
| 20 | adamh211 |
| 21 | InevitableVince |
| 22 | cburt3277 |
| 23 | TZP_YouTube |
| 24 | D_SKurT |
| 25 | richiescookies5 |
| 26 | BLACKG0LD_03 |
| 27 | gravyfootball |
| 28 | thoughton2000 |
| 29 | Sticks-N-Picks |
Raiders
| | |
| --- | --- |
| Rank | Persona |
| 1 | x3SCHEMIN4x |
| 2 | khaIiImack |
| 3 | MutBanker |
| 4 | YoungHova-00 |
| 5 | Espn_D__ |
| 6 | ihavenoreads |
| 7 | Tombomb_1999 |
| 8 | NasTy_NoRToN |
| 9 | andytnguyen |
| 10 | DeadlySchemes |
| 11 | HellaTuff |
| 12 | MrIshDaFish |
| 13 | xxMR_JENKINSxx |
| 14 | Floyd_Zayweather |
| 15 | Xklue27 |
| 16 | Johnmadden6900 |
| 17 | Mrpickem007 |
| 18 | Jerry_Stacks510 |
| 19 | DOUBELEVEINMAGIC |
| 20 | geraghtytimmy |
| 21 | Prima-_-Donna-_- |
| 22 | RussianPony408 |
| 23 | Xxplosive_SS |
| 24 | HEHATEZME4NOB |
| 25 | RaiderGang5150 |
Rams
| | |
| --- | --- |
| Rank | Persona |
| 1 | PoiZzoNNNNN |
| 2 | z_Hi9hli9ht_z |
| 3 | nMeDrugcount |
| 4 | Chibby801 |
| 5 | AsianMambaX5X |
| 6 | Numba1Stunna08 |
| 7 | JTSmoove96 |
| 8 | deadkill2438 |
| 9 | xL_RECON34 |
| 10 | IronAddict323 |
| 11 | bdhnavy20 |
| 12 | BluesxClues909 |
| 13 | tmg__1014 |
| 14 | iSmoove_As_Sylk |
| 15 | iDOLWiLD |
| 16 | Alex_Da_Gr8_ |
| 17 | icbush |
| 18 | KillerBiller93 |
| 19 | Foppe_13 |
Ravens
| | |
| --- | --- |
| Rank | Persona |
| 1 | jsthebest13 |
| 2 | Kaus237 |
| 3 | zTheSurgeonz |
| 4 | NoahsBoys1 |
| 5 | dkidnice11 |
| 6 | Gmoney8489 |
| 7 | HATERSKEEPHATIN |
| 8 | ZoomMadeHTG |
| 9 | DOT-DOT-DOTski |
| 10 | BrianTran8 |
Redskins
| | |
| --- | --- |
| Rank | Persona |
| 1 | Deepblues4u |
| 2 | T_eKKeRs |
| 3 | Merkstuh |
| 4 | MaddenKillerr_ |
| 5 | xxLegend804xx |
| 6 | Duhceive- |
| 7 | Scarry_Larry |
| 8 | warwickcannon |
| 9 | SkinsBoYee1 |
| 10 | BabyBoyFonzoOG |
| 11 | Virginiaboyy |
| 12 | OldHeadMike |
| 13 | xBrOsKi_daydayx |
| 14 | Washington0525 |
| 15 | tmhous |
| 16 | enachmany |
| 17 | tlynch44 |
| 18 | redbone4x4drvr |
Saints
| | |
| --- | --- |
| Rank | Persona |
| 1 | MALIKxPxSHAKUR |
| 2 | Jack_Mane1 |
| 3 | DexWelker |
| 4 | FrankDonte |
| 5 | coik96 |
| 6 | Dusancao |
| 7 | ConJuring_Evil |
| 8 | mammoth830_ |
| 9 | bjordan58 |
| 10 | HaShugz |
| 11 | CO_boy504 |
| 12 | LivinLegend-504 |
| 13 | Tcagle1 |
| 14 | Jakes_Brownies |
| 15 | EDREEDNO |
| 16 | MT_Confident1 |
| 17 | Twardyeslawh |
| 18 | cmjones |
| 19 | bamdabully |
| 20 | SayBees504 |
| 21 | ripmarkbettis3 |
| 22 | EliteOmega072 |
| 23 | ZuluGolf_21 |
| 24 | j_nolan1 |
| 25 | vernalsam |
| 26 | TGC504 |
| 27 | UNLEaSHED_1197 |
| 28 | HoT-BoYz-Ro |
Seahawks
| | |
| --- | --- |
| Rank | Persona |
| 1 | Allizgud |
| 2 | MetGala__ |
| 3 | CitRuS-_-KuSH |
| 4 | aidencooper4 |
| 5 | TEXASBOY713 |
| 6 | UrielM09 |
| 7 | Waaavyyy |
| 8 | OMG_J_BIEBER |
| 9 | rockhead0317 |
| 10 | ROBERT_E138 |
| 11 | Ant-B-Buffalo |
| 12 | DkAiVnIgD |
| 13 | Hunnebear17 |
| 14 | jmcc339 |
| 15 | doncolyon |
Steelers
| | |
| --- | --- |
| Rank | Persona |
| 1 | PHONY_BA_LONEY |
| 2 | nMePrEsSuRe |
| 3 | vontedaking |
| 4 | Finese2time |
| 5 | PrimzyJr |
| 6 | MagicTear |
| 7 | pnbhollow22 |
| 8 | SwatThatDot |
| 9 | AtStreakz_ |
| 10 | Qweezus |
| 11 | Yukki_Yoda |
| 12 | J12Spin |
| 13 | Troy_0522 |
| 14 | Driftpro95 |
| 15 | tooflashy8i |
| 16 | patrickg333 |
| 17 | HURCULESC130 |
| 18 | joshluvsduke |
| 19 | bendaughter89 |
| 20 | MichaelSkakel |
| 21 | Weisguy716 |
| 22 | Surge221 |
| 23 | Donnie_Menace |
| 24 | BDochouno |
Titans
| | |
| --- | --- |
| Rank | Persona |
| 1 | NeverQuit116 |
| 2 | STATS615 |
| 3 | xLoneSurvivor21 |
| 4 | Ryan915 |
| 5 | wlittledds |
| 6 | Gizmo_7414 |
| 7 | TbH10 |
| 8 | johnhiggin904 |
| 9 | k00llaids69 |
| 10 | THUGGAR_THUGGAR1 |
| 11 | Xx_KDot |
| 12 | LT-GRIFF |
Vikings
| | |
| --- | --- |
| Rank | Persona |
| 1 | ThrowsGames4Cash |
| 2 | xxAllDayxx28 |
| 3 | Reggie101031 |
| 4 | Anti-Hero41_ |
| 5 | jayo |
| 6 | LaneHerby14 |
| 7 | jagattack951 |
| 8 | XUserOskie4X |
| 9 | xTeEzzYy |
| 10 | Redheadbeatz |
| 11 | freak269zeke76 |
| 12 | ABOMINABLE-X |
| 13 | tay99tay |
| 14 | givemedacookies |
| 15 | Mets-5 |
| 16 | Jussumguy247 |
| 17 | COESiS_MALOnE |
| 18 | vinneeee666 |
| 19 | Oilmoney420 |
| 20 | jackb4568 |
| 21 | Badnewsbrown814 |
Texans
| | |
| --- | --- |
| Rank | Persona |
| 1 | CHRiSxJOhNSoNx28 |
| 2 | John316xx |
| 3 | Tee_Vo27 |
| 4 | SendEmAround |
| 5 | BigDave_830 |
| 6 | lbottled-up-rage |
| 7 | nooneysolid100 |
| 8 | SippinDrank956 |
| 9 | BoomtownCA |
| 10 | bellthebeast7235 |
| 11 | j_book226 |
| 12 | STORMINMORMN21 |
| 13 | JoeBuckYourself_ |
| 14 | Tboy_iz_Throwed |
Xbox One
Bears
| | |
| --- | --- |
| Rank | Gamertag |
| 1 | I Stick Work l |
| 2 | ComfyDoor |
| 3 | IwantDaGlory |
| 4 | SHAO KAHN M18 |
| 5 | IDKWTI |
| 6 | DaaaBears6 |
| 7 | vNBG |
| 8 | MJ23Rose1xxx |
| 9 | nephew17chicago |
| 10 | STRiKER45 |
| 11 | UGxEarwax11 |
| 12 | Prime iZ God |
| 13 | Cheo2k17 |
| 14 | MUTGZS |
| 15 | xxrebirthxx12 |
| 16 | Royjonezbeats |
| 17 | YMCMB DR1ZZY |
Bengals
| | |
| --- | --- |
| Rank | Gamertag |
| 1 | Doofinschmertz3 |
| 2 | ballinYOUup614 |
| 3 | OGO ShivvyP |
| 4 | STR1VING |
| 5 | xCANADAxxGOOSEx |
| 6 | xILiveLIVEx |
| 7 | Oh Hippos |
| 8 | BLACK513JR |
| 9 | trew159 |
| 10 | TracyMcBradey |
| 11 | KeaTey |
| 12 | DSG Ops Guy |
| 13 | WHITEnMILD83 |
| 14 | KingVEEZY19 |
Bills
| | |
| --- | --- |
| Rank | Gamertag |
| 1 | xTBOx Vilma |
| 2 | grizzlyadams242 |
| 3 | OGO MattyyB |
| 4 | XxBuffaloRobxX |
| 5 | nickyg21 |
| 6 | OldClutchGamer |
| 7 | HeRuinsThisGame |
| 8 | BladeBrown652 |
| 9 | EZ 4U 2 NV M3 |
| 10 | FluffyCalf48089 |
| 11 | SaintNick64 |
| 12 | DomBlaze210 |
| 13 | QBStokes4 |
| 14 | Gusco075 |
| 15 | Randy Kwiecien |
| 16 | SunkElephant |
| 17 | AmassableSky81 |
Broncos
| | |
| --- | --- |
| Rank | Gamertag |
| 1 | YoungDrini |
| 2 | KLeeN KoNG |
| 3 | ZingiestFour1 |
| 4 | MlNlMJ1523 |
| 5 | lI Anarchy Il |
| 6 | Xx801TIGERxX |
| 7 | SpartanSLC801 |
| 8 | vDOT DOTv DUBBY |
| 9 | ViciousLDS |
| 10 | SillyPup8803660 |
| 11 | Elev8ded |
| 12 | RYNO 15 |
| 13 | Y S0 BAD KiD |
| 14 | DARK PAZZ3NG3R |
| 15 | Bauklotze |
| 16 | Derek Marsili |
| 17 | villanova00111 |
| 18 | BULLARD72 |
| 19 | bigjent |
| 20 | TyyRodd |
Browns
| | |
| --- | --- |
| Rank | Gamertag |
| 1 | toughopponent81 |
| 2 | ThatDudeKellz |
| 3 | zZ 7urn uP Zz |
| 4 | KingTut122090 |
| 5 | SouthPawGamer31 |
| 6 | Tbxnes |
| 7 | Grizzy 3200 |
| 8 | Jace da Ace 3 |
| 9 | PD0GG23 |
| 10 | YoungRustGod |
Buccaneers
| | |
| --- | --- |
| Rank | Gamertag |
| 1 | ItsACakeWalk |
| 2 | xxxZP3xxx |
| 3 | RequiredDart632 |
| 4 | RaGeLiKeABoSSxD |
| 5 | Skinsssss |
| 6 | BUCTILLIDIE |
| 7 | Yixkkyy |
| 8 | Lik the God |
| 9 | Jimbo813x |
| 10 | DatDudeBA |
| 11 | oLARRY SR |
| 12 | Air Dame |
| 13 | MoB iBETuMAD |
| 14 | Lil Stickkz |
| 15 | BDUB DUHH |
| 16 | LSUBuccaneer14 |
| 17 | Young Lifeex |
| 18 | A Hard14 |
| 19 | Back Again l UF |
| 20 | HaNotMyProblem |
| 21 | MWG Stickz |
| 22 | SH00TER1 |
| 23 | XxKINGxBAMAxX |
| 24 | HOODiE WiZZY |
| 25 | NJ RAVEN |
| 26 | Tebow Mania |
Cardinals
| | |
| --- | --- |
| Rank | Gamertag |
| 1 | maze inn |
| 2 | SeasickRobot102 |
| 3 | KMaC 703 |
| 4 | RobThaBuilder |
| 5 | MR MOSS YOUTUBE |
| 6 | Chiggs of 300 |
| 7 | GreivisPassquez |
| 8 | X801SaltyCityX |
| 9 | wints |
| 10 | TopMaddenBanker |
| 11 | builtforsin7 |
| 12 | GooodTreees |
| 13 | Tylerduh46 |
| 14 | Badseed31 |
| 15 | The MLB Network |
| 16 | Slaps Cheeks |
| 17 | BAZOOKA BGARD |
| 18 | Father Lurk |
| 19 | Sosa Kaepernick |
| 20 | J03HANDS0M3 |
| 21 | Big Guatemalan |
Chargers
| | |
| --- | --- |
| Rank | Gamertag |
| 1 | TopMaddenProb |
| 2 | PPV Fr3sHxPr1nC |
| 3 | oOoAIRoOo |
| 4 | Deee909 |
| 5 | IanMaddenSchool |
| 6 | TREdaJuggernaut |
| 7 | nUg rUn JEDI |
| 8 | Aokx SmoothG xx |
| 9 | FemLoc |
| 10 | WayVz |
| 11 | SemperFr0sty |
| 12 | Show Trax |
| 13 | b1u3BeRi YuMYuM |
Chiefs
| | |
| --- | --- |
| Rank | Gamertag |
| 1 | Ms Teanna trump |
| 2 | NCAT19 |
| 3 | ummmm SWAGGG |
| 4 | Bocktoberfest |
| 5 | Billy Weema |
| 6 | GOxFORxIT |
| 7 | bjenks |
| 8 | mcdatruth |
| 9 | Mr Kush74 |
| 10 | CHASIN A CHECK |
| 11 | iGAnderson |
| 12 | THEREALDEAL0818 |
| 13 | GIR223 |
| 14 | Omniphobe |
| 15 | Khonsu1306 |
Colts
| | |
| --- | --- |
| Rank | Gamertag |
| 1 | DnA SuSpEcT |
| 2 | vinychen2 |
| 3 | Laneeeeeee |
| 4 | CowboysZeke1521 |
| 5 | graphit21 |
| 6 | Jiggy Jrod |
| 7 | ShiftGodCole |
| 8 | COLD SHOOT 38 |
| 9 | HyphenN |
| 10 | QuickShiftNick |
| 11 | Bearded Boogs |
| 12 | KingRon1200 |
| 13 | HOUSEOFPAIN2486 |
Cowboys
| | |
| --- | --- |
| Rank | Gamertag |
| 1 | SeRiouS MoE |
| 2 | ShortTexasGOON |
| 3 | IRUNIPASSIWIN |
| 4 | Afflicting |
| 5 | Ted Lobster |
| 6 | JNol2085 |
| 7 | TMOORE iz BACK |
| 8 | Und3RRat3d2324 |
| 9 | TEFLONxDONJUAN |
| 10 | itwasLaw11 |
| 11 | MyThumbsRwepons |
| 12 | WARDADDY 726 |
| 13 | ShanggTsung |
| 14 | NikePando |
| 15 | Jaystacks14 |
| 16 | xMIGZWITTRIGGZx |
| 17 | ProblemChild91 |
| 18 | Gumbuss |
| 19 | NTR DNTdotMEup |
| 20 | Benny Joe2010 |
| 21 | JASPAxTWISTUMZ |
| 22 | marty817 |
| 23 | Brett Favre 320 |
| 24 | HOLD DA DOOOR |
| 25 | nwf11 |
| 26 | Jay The Savage |
| 27 | FATALPHENOM2015 |
| 28 | Tupac sB |
| 29 | VA2586AD |
| 30 | CCG FANCY |
| 31 | Melo D Beast |
| 32 | hornmsh2000 |
| 33 | CareerGamer |
| 34 | FallFormula8956 |
| 35 | BigRod524 |
| 36 | HanGordo |
| 37 | xNino2 |
| 38 | MadddenMessiah |
| 39 | Ultimat3Dad2 |
| 40 | Capone SW |
| 41 | GimECash |
Dolphins
| | |
| --- | --- |
| Rank | Gamertag |
| 1 | EnY Romy |
| 2 | DaT BoY DirTy |
| 3 | ROU GURU 305 |
| 4 | zThumbs Up |
| 5 | Get Bombed Nerd |
| 6 | MBrinQuin |
| 7 | ThatDamnJuice |
| 8 | Dres Knows |
| 9 | TnS FaTbOy |
| 10 | Blocky |
| 11 | badNboujeee14 |
| 12 | Im Jewish Dad |
| 13 | AJZ10 |
| 14 | STiCKZ THE G00N |
| 15 | BrickwallG00N |
| 16 | koopa2486 |
| 17 | StealingThaShow |
| 18 | tdcatch7 |
| 19 | MUCK BOY BOXX |
| 20 | TRUMP474USA88 |
Eagles
| | |
| --- | --- |
| Rank | Gamertag |
| 1 | DubDotDUBBY |
| 2 | azilliondots |
| 3 | MckinleyStatus2 |
| 4 | Flame AIchemist |
| 5 | LENNYG3EZ |
| 6 | SJMayhem |
| 7 | BlounT x TraumA |
| 8 | ShMoney Slim |
| 9 | WashedUpLikeIsh |
| 10 | II 6 All Day II |
| 11 | BOExDiggS GT |
| 12 | a11madden23 |
| 13 | MADJ Lui3 |
| 14 | YacBar |
| 15 | XxPMO228xX |
| 16 | wheeldog1 |
| 17 | Get2Stepped |
| 18 | KingKoop GT |
| 19 | SoALPHA13 |
| 20 | chichirito5 |
| 21 | STAYxSCHEMING |
| 22 | Jbizzle1231 |
| 23 | Be Ay En Kay Es |
| 24 | Elijahalltime12 |
| 25 | Tantalizmo II |
| 26 | YourDeacon |
| 27 | GTPNEWZ777 |
| 28 | elbiZZle35 |
| 29 | TheMrLeslieChow |
| 30 | SixteenBitOG |
| 31 | Patrony Tony |
| 32 | CAKELIFERICK903 |
| 33 | CRIM THE GIANT |
Falcons
| | |
| --- | --- |
| Rank | Gamertag |
| 1 | FMB KiLLaCaM |
| 2 | Mister Keyes |
| 3 | MaskKiller000 |
| 4 | loman14 |
| 5 | DatBENZCOUPE |
| 6 | keykev21 |
| 7 | Maddenboy12345 |
| 8 | Skimbos Cousin |
| 9 | Biggcountry22 |
| 10 | SMac x24x |
| 11 | Thnderstixx |
| 12 | HotOnDemStiX3o2 |
| 13 | NDLZNYTMAREZ |
| 14 | BRAVEJUSTICE |
| 15 | PelvisMassacre |
| 16 | MF GOLFER |
| 17 | WILDSIDEJAY |
| 18 | VegasSAL89 |
| 19 | DocD33Z |
| 20 | POFUS |
| 21 | ll Paused ll |
| 22 | bohidens |
| 23 | IM MR BIGFOOT |
| 24 | TiM I610I |
| 25 | ItzYahBoyACE |
| 26 | Si1ence03 |
| 27 | o911o vCRUCIFY |
| 28 | REEWESTBROOK0 |
| 29 | tymberland3 |
| 30 | Greedy Walt777 |
| 31 | BigPurp37 |
49ers
| | |
| --- | --- |
| Rank | Gamertag |
| 1 | xSGKx BNICE12 |
| 2 | KingxNightmarex |
| 3 | GFella5 |
| 4 | PEN GR1FFEY |
| 5 | silver aq |
| 6 | cashmeout1000 |
| 7 | iTs jonboi817 |
| 8 | ticc3 |
| 9 | Lobs All Day |
| 10 | NXT PLZ 31 |
| 11 | yediman420 |
| 12 | Big Boy2073 |
| 13 | THAYUNGFINESSER |
| 14 | RxSERNA |
| 15 | CheThaRebel415 |
| 16 | dodobird209 |
Giants
| | |
| --- | --- |
| Rank | Gamertag |
| 1 | weakopponent82 |
| 2 | RED EYE G |
| 3 | NTR YoungG52 |
| 4 | HOLLYWOOOOD123 |
| 5 | OGO Spoto |
| 6 | PaulyProspereli |
| 7 | AROZO |
| 8 | SDW15 |
| 9 | BCG Dru |
| 10 | lGot Em Coachl |
| 11 | MoonFx541 |
| 12 | Just Spawned |
| 13 | HaBo0gie |
| 14 | xP3rk |
| 15 | TvT HaX |
| 16 | Mr J STyLeZ |
| 17 | TakeNotes10 |
| 18 | NySultan7 |
| 19 | FBJ13 |
| 20 | Gxlaxyyy |
| 21 | B1GBaLLeRBRAND1 |
| 22 | FinGerPrintLess |
| 23 | jayoh30 |
| 24 | xPERUx Clutch |
| 25 | Kingtjm0325 |
| 26 | PURP4DAYS |
| 27 | TheWiggleSticks |
| 28 | SuperMarlowe |
| 29 | KING ACK44 |
Jaguars
| | |
| --- | --- |
| Rank | Gamertag |
| 1 | MS Stickwork |
| 2 | Arozy |
| 3 | VVNO REFUNDSVV |
| 4 | EducatedLion993 |
| 5 | The Acclaim |
| 6 | The Reedemer15 |
| 7 | q Bananas p |
| 8 | Curtis Murray12 |
| 9 | FollowedTen79 |
| 10 | Verbal718 |
| 11 | NP Jumpshot |
| 12 | G3T EM SEEXY |
| 13 | Royal Stackzz |
| 14 | Z4CKYOUNG |
| 15 | Brasii904 |
| 16 | LUCAS DEVON |
Jets
| | |
| --- | --- |
| Rank | Gamertag |
| 1 | Franchise GG |
| 2 | AkGkilla97 |
| 3 | RELAXnT4KEN0T3S |
| 4 | DOT TAMALES |
| 5 | NTR myo5115 |
| 6 | iTz Rushz |
| 7 | Lax Gman 18 |
| 8 | Fitzmagic13 |
| 9 | JoeFogz |
| 10 | mansoos |
| 11 | JimmyOhDee |
| 12 | Seam Flat |
| 13 | Youngriosgang19 |
| 14 | Levi Too Cold1 |
| 15 | twenty4sevenn |
| 16 | Illuminous21 |
| 17 | RuggedEmu |
| 18 | ALPHAFURYAN32 |
| 19 | I am Mike Smith |
| 20 | DeVante19 |
Lions
| | |
| --- | --- |
| Rank | Gamertag |
| 1 | TwoThr33Rumble |
| 2 | BoogzTuff |
| 3 | RockingPrince64 |
| 4 | ADRiAN FREAKK |
| 5 | JesusSaves3988 |
| 6 | VaX |
| 7 | BLACK PH03N1X13 |
| 8 | Turnaroundgang1 |
| 9 | BMF CORDAE |
| 10 | MomoTHAgreat |
| 11 | zRager |
| 12 | DHALL365 |
| 13 | ANN ARBOR MI |
| 14 | SilverStretch |
| 15 | Ix Nuk3m xI |
| 16 | DAxBEAST |
| 17 | CoolKidBoogie |
| 18 | The 0fficiall |
| 19 | SmallTownFive |
| 20 | realreal95 |
| 21 | iNinja xxx |
Packers
| | |
| --- | --- |
| Rank | Gamertag |
| 1 | CURLYTOP JR |
| 2 | LEF1013 |
| 3 | M0BreadFred |
| 4 | draggggggg |
| 5 | LilUziVerticals |
| 6 | Bpack91 |
| 7 | Spastic Toaster |
| 8 | ADot134 |
| 9 | Y5N Mcflyy dw6 |
| 10 | You Aint Poop |
| 11 | SinisterOptimus |
| 12 | jaydawg1999 |
| 13 | Stiick Talk |
| 14 | NoSadStories21 |
| 15 | Saul Silver44 |
| 16 | ibull2 |
| 17 | mattfra24 |
| 18 | Pack484 |
| 19 | TexasTeardrop |
| 20 | Mac tha GAWD |
| 21 | TheStarSauce |
| 22 | ARob920 |
| 23 | CBH4GOD |
| 24 | CheddarShark24 |
| 25 | IReppTGOD |
| 26 | strangemonoize |
| 27 | DYNASTY 024 |
| 28 | DanDanThegreat5 |
Panthers
| | |
| --- | --- |
| Rank | Gamertag |
| 1 | stiffmeister12 |
| 2 | OneGreatUser |
| 3 | UltraAllMightaa |
| 4 | BowB4DaMasta |
| 5 | zSubliMinaL |
| 6 | NTR PHENOMENAL |
| 7 | Element JH |
| 8 | SO NOT GUCCI123 |
| 9 | xXSm1thTime89Xx |
| 10 | TheNoreaga |
| 11 | Lock Inn |
| 12 | BullCity Badazz |
| 13 | NCKingGeorgeVIP |
| 14 | xxRELLI843xx |
| 15 | Agent Smith8988 |
| 16 | ninjasEATpie |
| 17 | Ace Boogie OTF |
| 18 | Grover The Tree |
| 19 | BigKep1381 |
| 20 | LuckyNellJR |
| 21 | Mister Wiigglez |
Patriots
| | |
| --- | --- |
| Rank | Gamertag |
| 1 | Nightmare x DK |
| 2 | Rose Bowl |
| 3 | C n0 3v1L v2 |
| 4 | Vedocher |
| 5 | BallisticElm75 |
| 6 | b deegs1 |
| 7 | Healyyyyy |
| 8 | DreSuperMan |
| 9 | tashn |
| 10 | iWantUrMurcy |
| 11 | KLIQkingofkings |
| 12 | WinnersDNA |
| 13 | xxxxMTLxxxx |
| 14 | BFitz21 |
| 15 | DCKING69 |
| 16 | Wicked Stix |
| 17 | ADav1sJr |
| 18 | Yung Nujabes |
| 19 | BouncedOlive53 |
| 20 | JaniceDickinson |
| 21 | CLaSsIcAl ChAmP |
| 22 | OFF1C3RMCNASTY0 |
| 23 | Billy Maadison |
| 24 | steakandeggs21 |
| 25 | iLightRed |
| 26 | smartNup33 |
| 27 | fordebros8 |
| 28 | KLIQ HBK |
Raiders
| | |
| --- | --- |
| Rank | Gamertag |
| 1 | Raiders 707 |
| 2 | maltiger1234 |
| 3 | MBLphenom |
| 4 | GoBrazyThen |
| 5 | THE JACKA 21 |
| 6 | XM FLASH |
| 7 | DoeBoyXelite716 |
| 8 | Md0tbrown |
| 9 | mG GoTeM CoacH |
| 10 | RAIDERSMACK52 |
| 11 | maddenking1000 |
| 12 | onenina |
| 13 | hamade |
| 14 | FMB QuiK STiKz |
| 15 | PaRaLiiZe |
| 16 | MARC SPITZ 562 |
| 17 | Dante Demons927 |
| 18 | Feeziltronix |
| 19 | panyr8er |
Rams
| | |
| --- | --- |
| Rank | Gamertag |
| 1 | k3rryq |
| 2 | NeeNee0027 |
| 3 | Primetime50G |
| 4 | iPrxdigyy |
| 5 | MaRt1aN x3o3o |
| 6 | GEDF4 |
| 7 | FLA BOYY321 |
| 8 | Some Real Guy |
| 9 | DCOWBOYSINLA |
| 10 | CReAJVl |
| 11 | Next Top Modelo |
| 12 | pdot71603 |
| 13 | I JCarti I |
| 14 | Mr Football 88 |
| 15 | G II IN O x |
| 16 | x40s N shorties |
| 17 | CuDiMaCjR |
| 18 | bobbydigitallll |
| 19 | Smaxk459yoloNDO |
Ravens
| | |
| --- | --- |
| Rank | Gamertag |
| 1 | toughopponent82 |
| 2 | DipDakDot |
| 3 | toughopponent83 |
| 4 | nandooworld |
| 5 | OGO Ziggz |
| 6 | vQ GPH |
| 7 | TrillPHilL21 |
| 8 | Elvis FrezhLey |
| 9 | oSNAG1TIME Lo |
| 10 | VA Dimes 540 |
| 11 | KnoDan |
| 12 | Rawdam0re |
| 13 | ExcitingBike |
| 14 | Burt Farve |
| 15 | xDpGhost |
| 16 | im bmoreking |
| 17 | savage601 214 |
| 18 | CALBEARtheGoat |
| 19 | FirePluto213311 |
| 20 | Juration |
| 21 | ShannySW |
| 22 | dremoniee2384 |
| 23 | munchkin214 |
| 24 | Hushedlncognito |
| 25 | HIMBMORE |
| 26 | ShutDown DGT |
| 27 | TdotGatzby |
| 28 | drgnchris |
| 29 | DMVKail |
| 30 | CONSTANTINErcv |
| 31 | AmpleMallard832 |
| 32 | I just got EA d |
Redskins
| | |
| --- | --- |
| Rank | Gamertag |
| 1 | PCleoJ |
| 2 | JetLifeFlakka7 |
| 3 | i xGot da Juice |
| 4 | BuckSweep |
| 5 | BiG FoReIgNs |
| 6 | TheGr8gatsby32 |
| 7 | PPV JAYN1CE 10 |
| 8 | Take Dis L Bro |
| 9 | Barrels0Fbud |
| 10 | DaUnderDogggg |
| 11 | SIR FESTIVAL |
| 12 | UGHHH DATzNASTY |
| 13 | Be Hateable |
| 14 | Sari01 |
| 15 | DonaId Trump II |
| 16 | SonainPOY |
| 17 | Real 3hundred |
| 18 | Gamebreaker1011 |
| 19 | SchoolboyShue |
| 20 | YaBoyDT17 |
| 21 | xxda DC bammaxx |
Saints
| | |
| --- | --- |
| Rank | Gamertag |
| 1 | LT2703 |
| 2 | DeeMAMBA DNA |
| 3 | XI3OXRecordThat |
| 4 | SALWAY |
| 5 | JP Tmike |
| 6 | USMC Booda |
| 7 | FrankDonte |
| 8 | BlairWitch504 |
| 9 | M Dub GT |
| 10 | stanDAmanDATcan |
| 11 | Slaw420 |
| 12 | Dex Welker |
| 13 | NEXTxPLEASE88 |
| 14 | Reddie10 |
| 15 | MrOtisNixon |
| 16 | x504x JUVENILE |
| 17 | Lorde Harri |
| 18 | LIKABOSS817 |
| 19 | GracefulBoss0 |
Seahawks
| | |
| --- | --- |
| Rank | Gamertag |
| 1 | More Pitch |
| 2 | Obiwan ShiFoldy |
| 3 | dRvN JadaMi |
| 4 | SeaTowns Fynest |
| 5 | MoB x Boogie |
| 6 | D0thaRICKYbobby |
| 7 | Soldiers DNA |
| 8 | cannon3fearless |
| 9 | Savagegnome II |
| 10 | TheSpiderWeb |
| 11 | CHIEFSFENSE |
| 12 | User Skill |
| 13 | JSWINK85 |
| 14 | donSTRADAMUS |
| 15 | CL1CKCLACK23 |
| 16 | Venom Glands |
| 17 | OvOsammy |
| 18 | milkmycowplease |
| 19 | Jvsh2x |
Steelers
| | |
| --- | --- |
| Rank | Gamertag |
| 1 | SNAPONIC |
| 2 | Ishhhhhhhh |
| 3 | x D3liveranc3 x |
| 4 | x FLXSH x |
| 5 | HellBlount |
| 6 | jselbs11 |
| 7 | Tony Toneeeeeee |
| 8 | SNEAKINnGEEKIN1 |
| 9 | Great Profitz |
| 10 | KINGxSAVAGEx187 |
| 11 | LegacyTheMaster |
| 12 | ST3313R NaTioN |
| 13 | JTibbs |
| 14 | xI SwiZzy Ix |
| 15 | MisterCheckmate |
| 16 | STREETxELITE716 |
| 17 | VinnyGambini212 |
| 18 | theboss9753 |
| 19 | XiX FaTe XiX |
| 20 | phillydoeboy805 |
| 21 | smokeloud1017 |
| 22 | B0BBYB0 |
| 23 | StraiGhT MeeCh |
| 24 | BoBBy LiGhT x87 |
| 25 | SnapHyperion504 |
| 26 | RapidFireBlitz7 |
| 27 | FlowzIsBack412 |
| 28 | W1R3D x RACER14 |
| 29 | bolen32 |
| 30 | FlashRob |
Titans
| | |
| --- | --- |
| Rank | Gamertag |
| 1 | spotmeplzzz |
| 2 | BiGxGEORGEx901 |
| 3 | xXx TipTop xXx |
| 4 | xCoAx RoBz |
| 5 | BKP On My 116 |
| 6 | Unspottable |
| 7 | MBMG ACE |
| 8 | TitanDup21 |
| 9 | SK n0flyZon3 |
| 10 | YungMelvinLDS |
| 11 | imnothisfather |
| 12 | xX T0NY D Xx |
| 13 | YaMiSoGoOd42 |
| 14 | BootySquadCaleb |
| 15 | Majestic Handz |
| 16 | Its Ryzuh |
| 17 | Garrett Daniel |
| 18 | FreeLoadinLarry |
| 19 | Ch0c0lat3 L0v3 |
| 20 | Xx Dots R Us xX |
| 21 | DevoTheDoob |
Vikings
| | |
| --- | --- |
| Rank | Gamertag |
| 1 | shadow call24 |
| 2 | Wintgoat |
| 3 | Danglishaft88 |
| 4 | checkmyswagggg |
| 5 | WarlikeUncle929 |
| 6 | TT23 |
| 7 | STR8 TO YA DOME |
| 8 | IDGAFOreo |
| 9 | Im BWSR |
| 10 | LuzzyFootball |
| 11 | IR i IL 3 Y |
| 12 | SaltyFawn923095 |
| 13 | AgangstaOG |
| 14 | RaiseTheTrophy |
Texans
| | |
| --- | --- |
| Rank | Gamertag |
| 1 | xSC |
| 2 | iMtooMuchhhh |
| 3 | OGO B0B77 |
| 4 | Respect DA LuRK |
| 5 | xl Clutchn lx |
| 6 | YEEZUUUSSSSS |
| 7 | Tx Mayhem xxvii |
| 8 | WhispuRs |
| 9 | JuniorHTown92 |
| 10 | HIGGY22777 |
| 11 | J0oNbuG |
| 12 | MrFuzzy14 |
| 13 | ThaN1GHTMAN |
| 14 | AGIZZLE FOSHO |
| 15 | roladub32 |
| 16 | BobLee DJANGO |
| 17 | Mr Frazier |
| 18 | DA LANDLORDD |
| 19 | NinjaTurtleJeff |
| 20 | x November 5th |
| 21 | x coolshot x |
| 22 | XxxL3G3NDxxX817 |
| 23 | MURKCENARY |
| 24 | KINGxSTICKZ713 |
| 25 | DNTBLUFFYASELF |
| 26 | Gucci Gares |
| 27 | TY Scorpion |