Posted December 21st at 1:00pm.
The 2018 Madden Challenge is here. Eight of the best competitors in Madden face off in the ultimate MUT Draft battleground. Here is a breakdown of Day 3 featuring Group B of this season's Challenge.
Group B
Lavar "Hollywood" Gayle
Shay "Young Kiv" Kivlan
Drini "Drini" GJoka
Chris "Dubby" McFarland
You can watch all upcoming action this week at the below channels:
Twitch
https://www.twitch.tv/eamaddennfl
YouTube
https://www.youtube.com/user/EASPORTS
Facebook
https://www.facebook.com/EASPORTSMADDENNFL
Twitter
https://twitter.com/eamaddennfl
Mixer
https://mixer.com/madden

Remaining Madden Challenge schedule:
Thursday, December 21
4:00 p.m. PT/7:00 p.m. ET
Semi-Finals (Twitch, Twitter, Facebook, YouTube, Mixer)
Friday, December 22
5:30 p.m. PT/8:30 p.m. ET
Pre-Game Show (Mixer Exclusive)
6:00 p.m. PT/9:00 p.m. ET
Final (Twitch, Twitter, Facebook, YouTube, Mixer)
Wednesday, December 27
8:00 p.m. ET/PT
A TV special that will chronicle the eight players in the 2018 Madden Challenge with a behind-the-scenes look at the game's top stars.
Only on the CW
Here are some moments and takeaways from Day 3: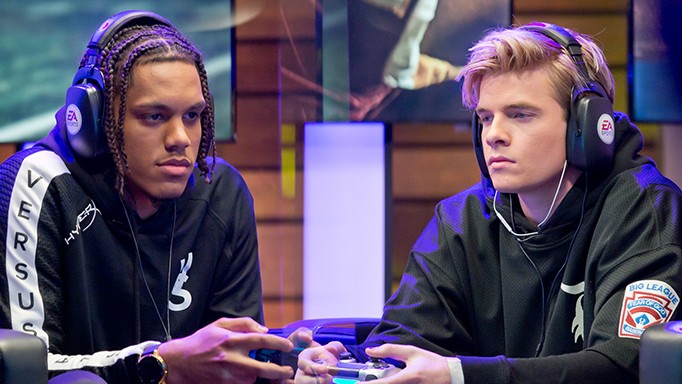 The first featured matchup for Group B was Lavar "Hollywood" Gayle against Shay "Young Kiv" Kivlan. It was quite a battle right out of the gate. The two competitors traded steady, balanced drives. The first half looked like it would end in a tie, but a huge pass by Hollywood got him into field goal range to make it 17-14 at halftime. The slugfest continued, as there would be three monster TDs in the first 90 seconds of the third quarter. Kiv came out on top 31-27 in this highly contested matchup.
The other match to start the broadcast was Drini "Drini" GJoka up against Chris "Dubby" McFarland. The game started as a blowout with Drini putting Dubby on his heals almost immediately. A big pick-six put Drini up 28-3 halftime of their matchup. Dubby would get things moving a bit, but Drini was just too much and held off Dubby for a 31-18 win.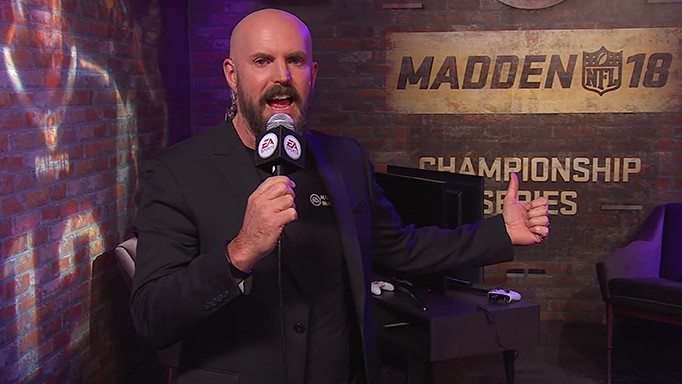 If you've been watching the Madden Challenge this week, then you know the guy inside the Players' Lounge is NFL's very own Adam Rank. The only problem, the Players' Lounge was without said players. Rank's choice of sport coat did nothing to lure players to the area. This serves as a lesson to what happens when you leave Rank on his own, as he then renamed spot the Adam Rank Lounge. I have no choice but to refer to the lounge by its newly acquired name. Thanks Madden Challenge competitors. This is on you.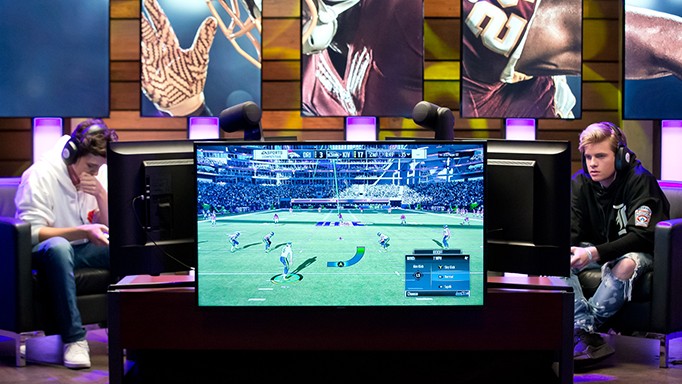 Next up was Drini against Young Kiv. Both competitors were coming off big wins and were looking to continue the momentum. Kiv sent a message, keeping Drini out of the end zone in the first half. That strong defensive play would put Kiv up 17-6 at the half. Kiv would score quickly in the third quarter, going up 24-6. Drini would make it a game, going no-huddle. Drini got into rhythm, but Kiv held him off and won it 27-23.
I'm not going to give any context here because that will only breathe life into it. But at one point, the broadcast team began trading Will Smith puns. Yes. That happened. They would also go into some boy band banter later in the stream. You're welcome internet.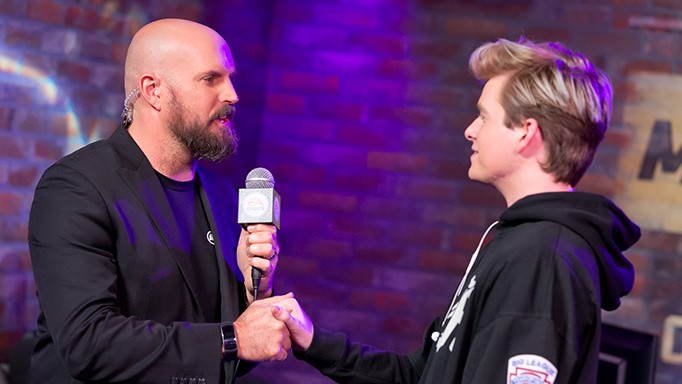 Back at the Players' Adam Rank Lounge, Rank brought in Young Kiv for a postgame interview. The highlight here, a failed handshake. There was also some insight to Kiv's late game decisions, but that handshake.
There was some heavy weight going into the Hollywood vs. Dubby. Dubby seemed to shake off his game with Drini and went to work early against Hollywood. With his signature passing attack, Dubby went up 14-0 by halftime. Dubby kept it up, maintaining steady drives that chewed up the game clock and putting up points. Unable to stop the attack, Hollywood lost to Dubby 11-23.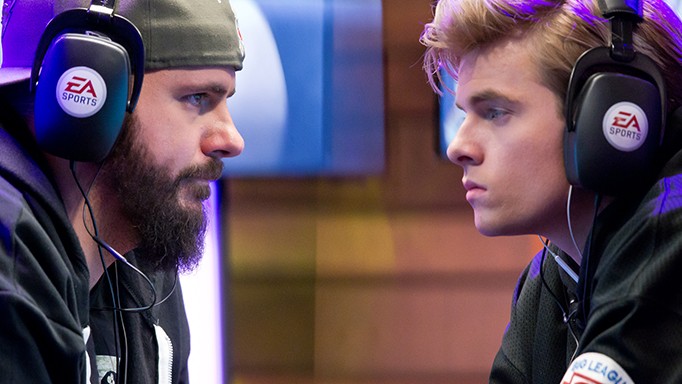 With two matches left for Group B, the Madden vet in Dubby was up against the high-powered offense from Young Kiv. These elite players traded scores to open the game. But the day belonged to Kiv. His offensive power was relentless. Kiv topped Dubby 34-21 to end the day at 3-0.
The final matchup of the night was between Hollywood and Drini. The game was a major battle and required overtime to finish, but the important thing here is the Hollywood win. With Kiv's win over Dubby and going 3-0, it forced a three-way tie at 1-2 for the remaining two spots to advance to the next round. It all came down to point differential. Despite his effort though, Hollywood was just edged out by Drini and Dubby.
That's all for Day 3 of the 2018 Madden Challenge. Above is the playoff tree moving forward. There's more action to come throughout the week, and Group B starts tomorrow. Don't forget to come back and watch to see who advances for a chance at Madden glory.
-Daniel Williams