John Ross: Madden 18's Speed King
Posted August 9th at 10:00am.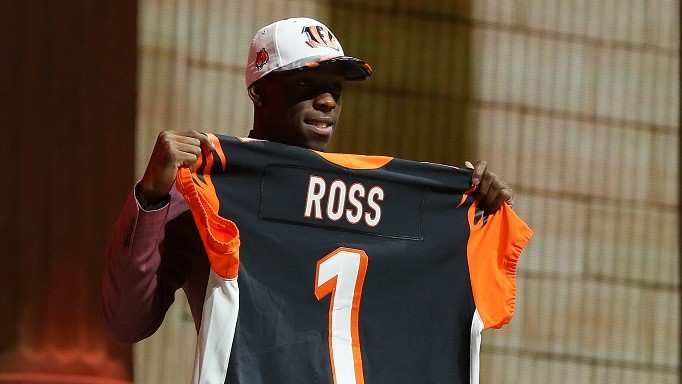 In Madden, Speed is a killer. There's nothing quite like hitting a deep pass down the sideline, leaving defensive backs in the dust. Or when hitting your speedy receiver in stride on a slant route, watching as he splits the coverage, untouched, all the way to the house.
If that sounds like your kind of jam, then meet your offensive weapon of choice in Madden NFL 18, John Ross. The Cincinnati Bengal rookie was all the buzz after the NFL 2017 combine, burning past speed records with a 4.22 40-yard dash.
Ross might be perfect complement to Bengals' Pro Bowl wide receiver A.J. Green. Nearly all the double coverage will go Green's way, leaving Ross some room to run and create separation. But what impact will the speedy rookie have in Madden? Let's take a deeper look at the ratings.
Obviously, his Speed rating is high. In fact, it's the highest in the game at 98. Record-breaking speed will get you that. With that Speed and an 84 Kick Return rating, he's basically an instant star at returns. He also has a solid Route Running score with 85, so he's not going to look lost out there.
Even though he's the fastest, he's not the most dynamic speedster in Madden. Tyreek Hill and Brandin Cooks, who are at 97 and 96 Speed respectively, beat out Ross in nearly every other pass catching rating down the board. Cooks alone scores at least 10 points higher in Spectacular Catch and Catch in Traffic.
But Ross is rookie, and you must start somewhere. The big selling point for Ross is that he's paired with one of the best receivers in the game in A.J. Green. Seems like the big winner here is Andy Dalton. His Madden rating is certainly going to climb.
-Daniel Williams