Posted April 14th at 12:00pm.
The Club Series for Madden NFL 17 is a Premier level event that features 8 NFL Teams hosting events competitions during Season 3 of the 2017 Championship Series. The online ladder started on January 9th and gave players a chance to select an NFL team to represent. On February 6th, the top 8 players on the MUT Salary Cap mode for each team where advanced to live tournament play.
With a total prize pool of $50,000 and critical series points at stake, the competition was fierce!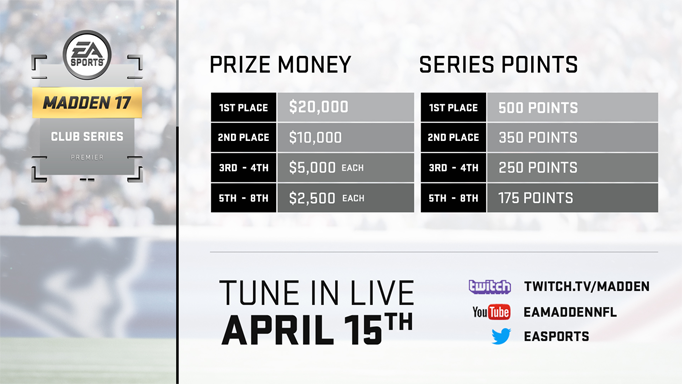 Meet the 8 Finalists and the NFL Teams They Represent
Minnesota Vikings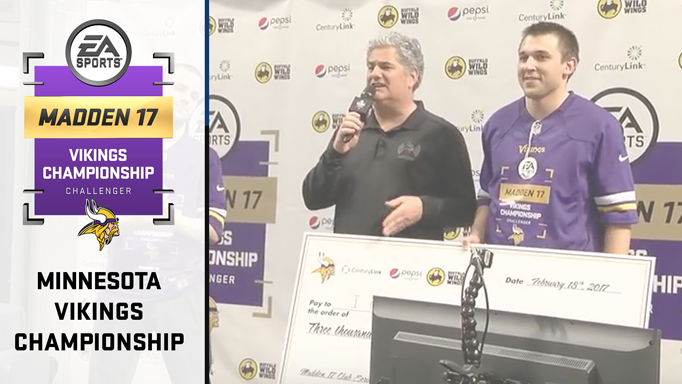 Winner: Ryan "IBeStrafing" Danczak
The 2017 Club Series Finals kicked off from the Mall of America on February 18 and granted us our first finalist. It came down to a battle between "Drag" and IBeStrafin. In the end, IBeStrafin secured the victory with an incredible defense that created big plays all game long. With Stephon Diggs in the house and Anthony Barr on the virtual gridiron, the action kept the mall and the enormous crowd rocking.
Watch it here: https://www.twitch.tv/videos/123021576.
New England Patriots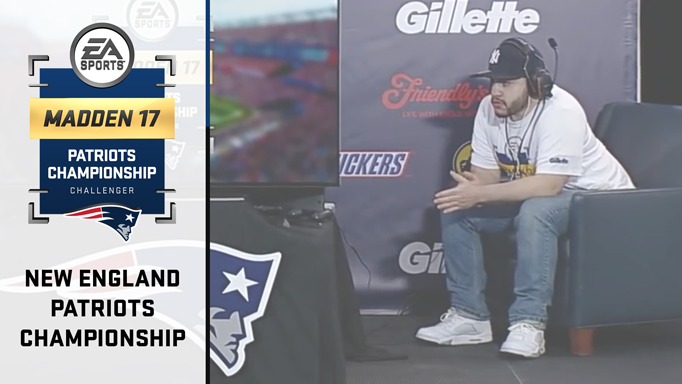 Winner: Tony "Shutitdown" Goad II
The Patriots crowned their 2017 Champion on February 25, live from Gillette Stadium in Foxborough, MA. The competition was fierce, but Springfield, MA native Tony "Shutitdown" Goad II came out on top, winning the championship for his hometown state.
Buffalo Bills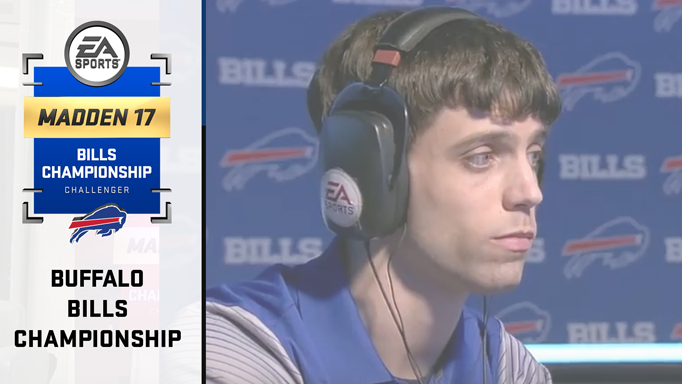 Winner: David "Bread" Katz
In what some are calling the most exciting moment in all the 2017 NFL Club Series Championships, David "Bread" Katz won with a walk-off victory by completing an unbelievable pass as time expired to be crowned Buffalo Bills Champion. The crowd at 716 Food and Sport in Buffalo, NY was amazed with the clutch execution in the 4th quarter!
Seattle Seahawks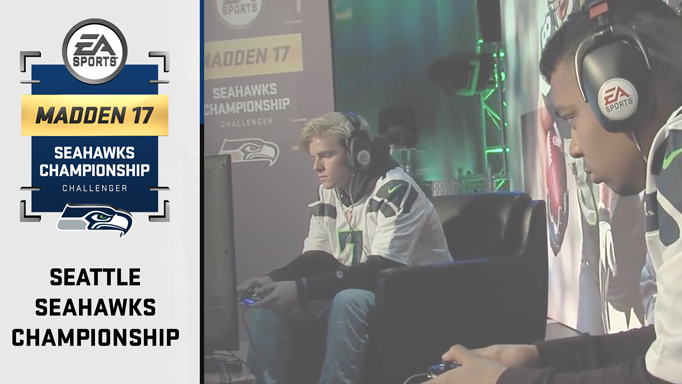 Winner: Michael "KillerMike" Clark
Michael "KillerMike" Clark had to overcome one of the toughest fields in the entire 2017 NFL Club Series Championship. Shay "Young Kiv" Kivlen is a top-ranked competitor in the 2017 Madden Championship Series and was picked as the favorite to win the Seattle Seahawks Championship. Then KillerMike shocked the entire audience, and was crowned champion on March 2 at the Museum of Pop Culture in Seattle, WA.
Jacksonville Jaguars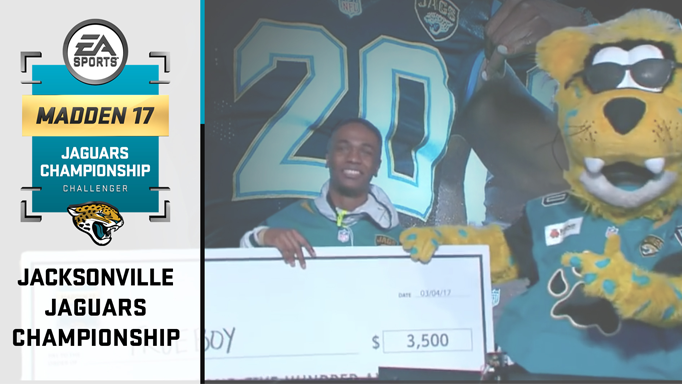 Winner: Eli "Trueboy" Clayton
On March 4, Eli "Truboy" Clayton was the only #1 seed to win a 2017 NFL Club Series event and walked away the crowned champion of the Jacksonville Jaguars Championship. Trueboy dominated the competition with both his defense and his ball control offense.
Pittsburgh Steelers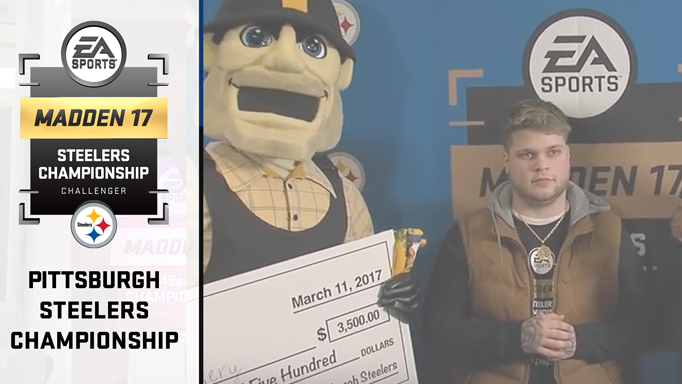 Winner: Anthony "Misery" Pulli
On March 11, Anthony "Misery" Pulli became the 2017 Pittsburgh Steelers Club Series champion in dramatic fashion. He now looks to bring home the championship on April 15 at the Club Series Final.

San Francisco 49ers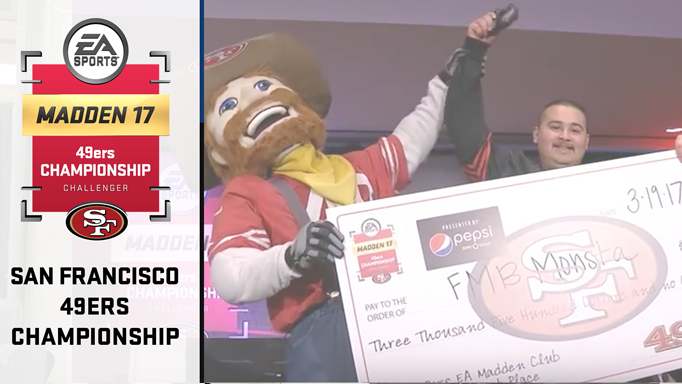 Winner: Juan "FMB Monsta" Velazquez
One of the most exciting players to watch, thanks to his high-octane passing offense and ability to light up the scoreboard, Juan "FMB Monsta" Velazquez will represent the San Francisco 49ers in the Club Series championship on April 15. He is best known for his high octane passing offense and his ability to light up the scoreboard!
Kansas City Chiefs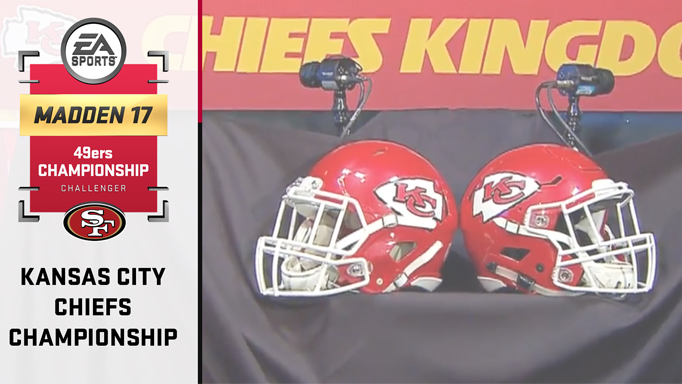 Winner: Jerry "LT" Littleton
As expected, Jerry "LT" Littleton was crowned champion of the 2017 Kansas City Club Series Championship. He has a tough road ahead of him, though, as he heads into the Club Series Final on April 15 to face a group of serious competitors.
The 8 eight winning competitors will head to California on April 15th to compete for series points, bragging rights, and cash!
Full List of Prize Money and Series Points
1st -: $20,000
2nd -: $10,000
3rd/4th -: $5,000 each
5th-8th -: $2,500 each
Make sure to tune into the 2017 Club Series Finals live from Burbank, CA on Saturday, April 15th on Twitch.tv/Madden.
Why? Best player by series points taking part? Past championships? Gotta back this up.