Posted April 14th at 11:00am.
*Available only on XBOX One & Playstation 4*
Hey Madden Fans,

It's crazy to think that it's already been close to 8 months since the launch of Madden NFL 16. During that time not only have we shipped the base game, but we've also added major features during our post launch support such as Draft Champions Ranked, Draft Champions Play-A-Friend, and even reintroduced competitive Madden gaming with the revival of the Madden Challenge. Well today we're thrilled to announce that we have one more surprise up our sleeve. In the coming weeks, we'll be releasing the next update to Madden NFL 16 which will introduce a brand new mode to Madden Ultimate Team – Salary Cap Ranked.

Salary Cap Ranked is not just a new game mode, it's a fundamental change that is felt throughout the entire Madden Ultimate Team experience by assigning a Cap Value to every player and redefining how to assemble a lineup. When we ran the Madden Challenge on Draft Champions Ranked, we heard your voices. It was clear that there was a major appetite to support competitive games in the Madden Ultimate Team structure. We asked our Continuous Development Team if we could develop Salary Cap Ranked in time to release it during the Madden NFL 16 cycle. The answer was a resounding "yes, we can." However we are anxious to hear what you think and what kind of improvements you would like to see in the future.

Before we go any further, I do want to make it clear that the traditional way of playing MUT has not changed or been excluded. You can still play with the full lineups that you are accustomed to in Solo Challenges and Seasons H2H play. Salary Cap Ranked iis simply a new test of mastery as you'll need to be equally as skilled with building your lineup as you are with playing with them on the field. More on that in a moment…

"De-Coded" Pro-tips by Gamechanger Codexavellum: Pro-tip - Show everyone that you not only have some Madden stick skills, but also at assembling a team under a tight cap! Generating a team by Best Overall is now out the window!

Cap Value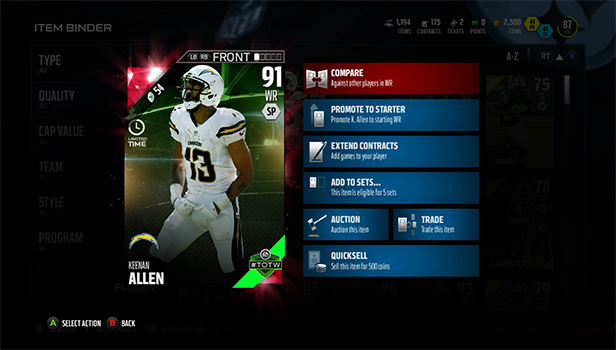 Once the new Salary Cap Title Update is released, you will notice every player item in Madden Ultimate Team now has a new number on the front of the item. This is what we're calling the player's "Cap Value" and that is simply to convey how powerful that particular item is in Madden Ultimate Team.

It's no secret that a player's OVR is not necessarily what to look for when determining if a player is worthy of putting on your team. It's much more about the ratings or attributes that are especially key for that specific position when determining value. So with that in mind, we crafted individual formulas to create a Cap Value for every player in MUT.

What does that mean exactly? Well, you're going to notice plenty of examples where a player with a lower OVR will have a similar (and potentially even higher) Cap Value than another player at the same position with a higher OVR. A perfect example of this would be the Schefter Star version of Za'Darius Smith (87 OVR) which has a Cap Value of 52 compared to the Superlatives version of Cameron Wake (94 OVR) which also has a Cap Value of 46.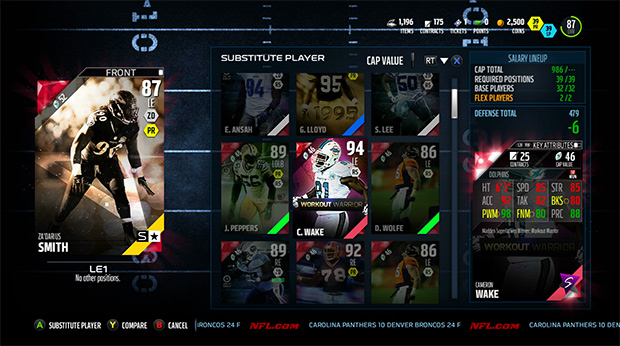 We've done quite a bit of testing internally. But the fact is we will not know if there are any outliers or players that are under/overvalued until the feature is in your hands. So if we start to see any data that suggest we have not assigned a proper Cap Value to a player, we will update the Cap Value to maintain competitive balance.

Code Pro-tip: Madden Ultimate Team is full of great budget players, focus on making your team solid at each position as opposed to trying to fit in the high cap players.

Salary Cap Ranked Events & Lineups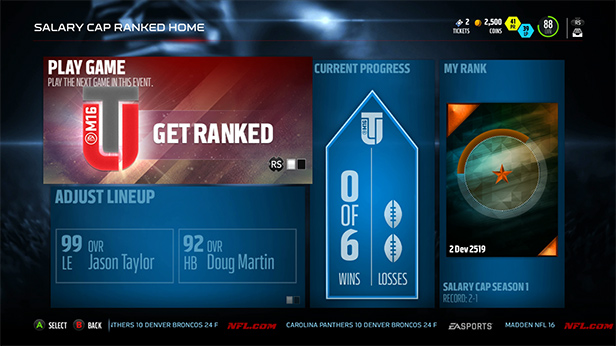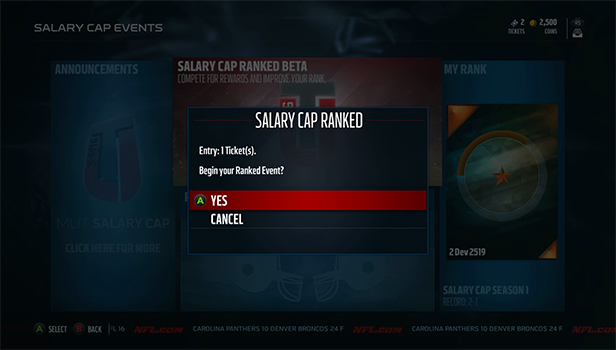 Now that we've talked a little bit about Cap Value, let's move onto where you'll go to play meaningful games – Salary Cap Events.

Salary Cap Events are structured the same way Draft Champions Ranked Events are – play until you've reached 6 wins or 2 losses, whichever comes first. One difference to note between a Salary Cap Event and a Draft Champions Event is the entry fee. It will only cost you 1 "Event Ticket" (which is a re-branding of the existing Draft Champions Ranked Ticket; any Tickets that you already own will be usable in Salary Cap Events) to enter and we'll be giving away 1 Ticket to everyone who logs in after the Salary Cap release goes live. And yes, you'll earn rewards for playing in these Salary Cap Events and they will scale up with each win.

The other major difference is how you build a team to compete. Instead of selecting players from a 15-round Draft Pool, you'll be using Player Items from your Item Binder to assemble a 34-man lineup and the sum of those 34 player's Cap Value cannot exceed a 1000 point Cap Total.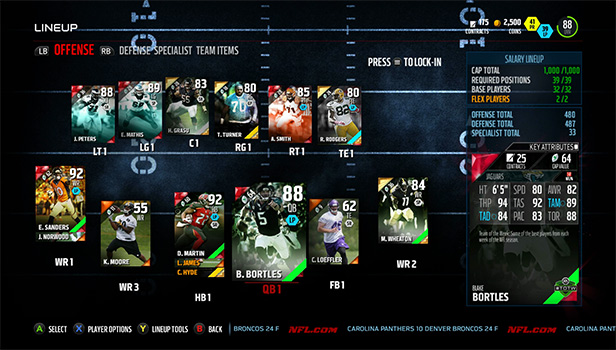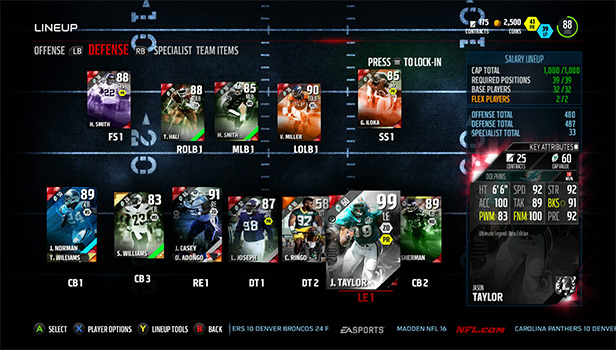 Of that 34-man lineup, 32 of them will be "base players". In Salary Cap Events, we define base players as players at specific positions that are purposefully selected in order for us to ensure you have enough players to fill every offensive and defensive formation.

The full list of these 32 base players are as follows:

QB1
HB1
WR1
WR2
WR3
WR4
TE1
TE2
FB1
LT1
LG1
C1
RG1
RT1
LE1
RE1
RE2
DT1
DT2
LOLB1
ROLB1
MLB1
MLB2
CB1
CB2
CB3
CB4
FS1
SS1
SS2
K1
P1

As you can see, we are intentionally shorting you at some positions and that's where the concept of "flex players" comes into play. The final two players in your lineup will be considered flex players. You can use these players practically anywhere (minus kicker or punter).

Flex players adds another layer of strategy to a format that is all about strategy and scheme. You may rely heavily on the running game. If so, it's probably smart to flex in a backup running back. If you want to make sure you have enough beef on your defensive line during a goal line situation, a 3rd defensive tackle is likely a flex player for you. The choices will ultimately come down to your play style and how you value depth.

Code Pro-tip: Select a versatile player for one of your flex players. For example: A LOLB that can play both DE/OLB.

Gameplay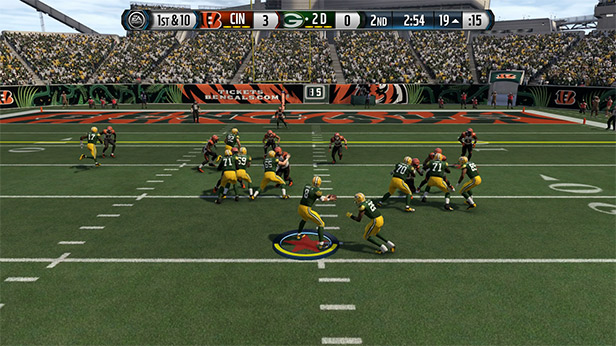 You now have your team of 34-players under the 1000-point Cap Total, it's time to hit the gridiron. However there's a couple of important details before you take that first snap. You're being asked to play a game with a condensed lineup and thus we modified a few gameplay settings.

The first one is very straightforward – we have turned injuries off during a Salary Cap Event. The other aspect we changed was how fatigue affects your players. Your players will fatigue at a slower rate compared to the rest of Madden NFL 16. Choosing your 34 players will make for some difficult decisions and we want you to play with those players but keep in mind that fatigue has only been altered, not turned off. It will not be wise to abuse a consistent no-huddle attack or call the same plays and formations without making any substitutions. Managing fatigue will separate an average player from a great player. Having the depth and gameplan to manage fatigue should be a major factor when deciding on where to use your flex players.

Code Pro-tip: With only 34 players in the lineup, utilize your timeouts! You don't want your CB getting beat deep late in the game, or your HB fumbling the ball when trying to seal a win.

New to MUT/Where Do I Start?
Of course not everyone has played a lot of Madden Ultimate Team so far. If you're someone who falls in that bucket, we are going to help you join the fun. So, we're doing a couple things to help ease the transition. The first thing is we are improving the welcome and starter packs to include more Gold Player items.

Also, we'll be releasing Journey 4 – a series of Solo Challenges that are short experiences (not full games) and will also be Salary Cap-based at the same time the Patch goes live. The Journey Solo's are some of the best ways to quickly earn rewards just by playing the Madden Ultimate Team and this is especially true with Journey 4 as you'll unlock a total of 11 players, including a 96 OVR Aqib Talib as the final "Journey Master" reward.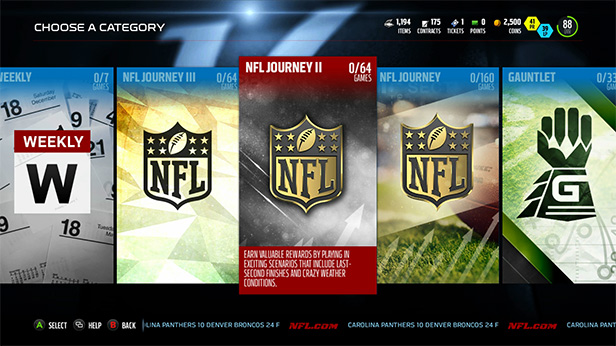 If you're reading this before the Salary Cap Ranked release is launched but want to get started now, I would recommend any of the other three Journey Solo Challenges. My personal favorite is Journey 2 as the Journey Master is one of the best wide receivers you can get with 91 OVR Amari Cooper. He would be the best wide receiver on most up-and-coming lineups and you'll earn plenty of other rewards, coins, and players while on your way to unlocking him.

Code Pro-tip: Play the Weekly Showcase solos each week to gain additional coins and packs that you can use towards assembling your team.

Tips by Adam Seidel "Code"
EA Sports Gamechanger

Jake Stein
Producer
Madden NFL 16