Posted December 2nd at 6:00am.
Day 1 of the Madden Classic Live Finals is in the books. Groups A (SpotMePlzzz in above photo) and B kicked off the action Thursday, Dec. 1 live from Burbank, CA with a shot at $100,000 on the line. The action was intense all day on twitch.tv/eamaddennfl with fans tuning in and cheering for their favorite players.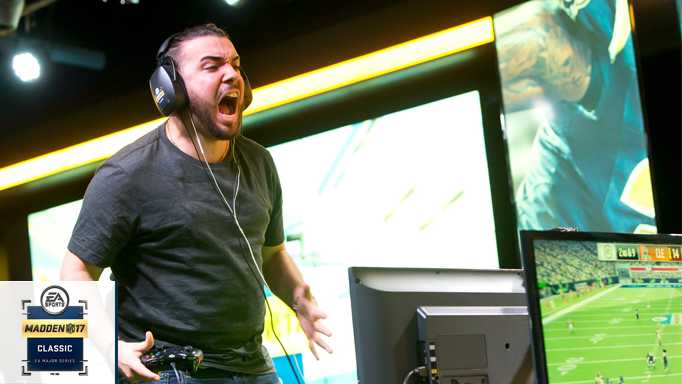 Joke (see above photo) was the underdog of Group A and surprised many people by getting out to a fast start in group play. Group A was packed with great players and nobody knew who would make it out. In group play format, only two players from the group of 4 advance to the finals on Saturday.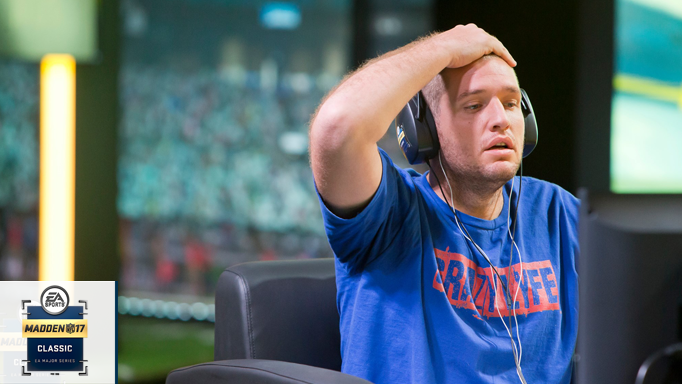 Skimbo (see above photo) was projected by many to make a return to the spotlight after a loss in the Madden Challenge Finals against Serious Moe last year. He put up a big performance against Problem in his second game, but was unable to beat SpotMePlzzz with his destiny on the line. Skimbo fell short 31-28 and finished up the group at 1-2.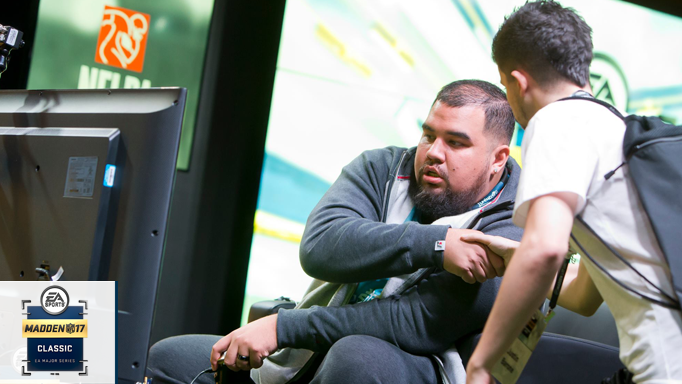 The Greatest Madden Player of all-time struggled to start the day with some uncharacteristic mistakes on special teams. While many thought his run was over, Problem (see above photo) never gave up and turned in a big performance against Joke when it mattered the most. After the dust settled in Group A, Problem had just enough of a point differential between the 3 players at 1-3 to move on. Spotmeplzzz took the top spot in Group A and is looking to build on his run to the final 8 last season at the Madden Championship.
Group A
SpotMePlzzz 3-0
Problem 1-2
Joke 1-2
Skimbo 1-2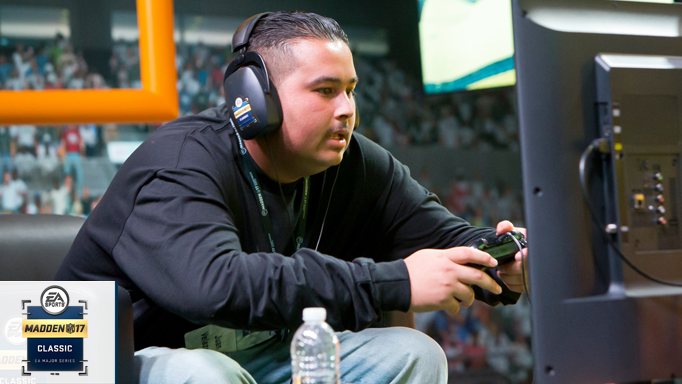 In Group B, a relative newcomer in MonsterGotStick (aka Monster in above photo) made a huge statement in his first game against V-Tech. Monster forced multiple turnovers and showed that he had the skills to dominate Group B. Monster was able to take the momentum from his first victory and ride it into one of the top two spots in the group.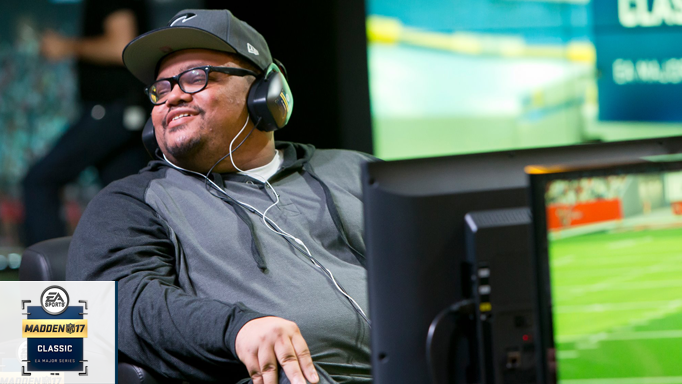 HanSolo (see above photo) had a chance to advance to Saturday with a victory in his final game, but was unable to overcome fumbles and was defeated. HanSolo maintained a great attitude throughout all his games and will look to make a return by qualifying for Season 2 which is currently underway.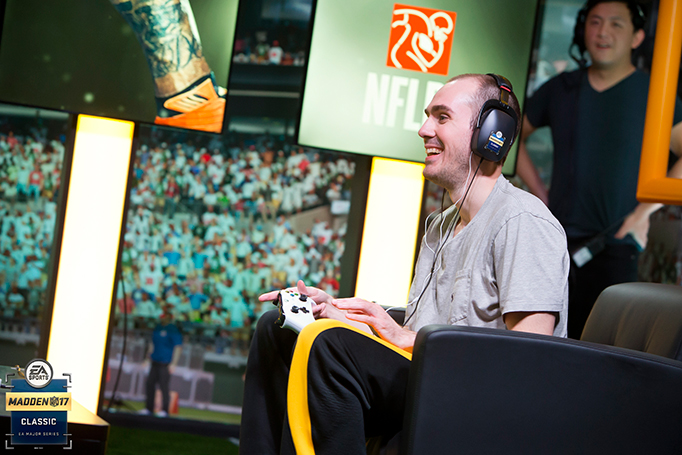 Duke (see above photo) led Group B with a 3-0 record and looked impressive all day long. His biggest moment came in overtime against Monster with the game on the line. Duke dropped back to pass and 4th down and threw deep downfield over the top of the defense.
Group B
Duke 3-0
V-Tech 0-3
Han 1-2
Monster 2-1
Make sure to tune into twitch.tv/eamaddennfl at 12 PM PST tomorrow to see Day 2 action. Group C will kick off the action with Group D to follow.
Don't forget to get involved in the conversation by using the #MaddenClassic hashtag on Twitter.