Posted December 2nd at 10:00am.
Hey there Madden fans, Jake Stein Associate Producer on Madden Ultimate Team and today we're excited to announce the return of Madden NFL 17 Ultimate Team Seasons. Based on your feedback, this mode is the only place you can take your best lineups to the field to win Super Bowls.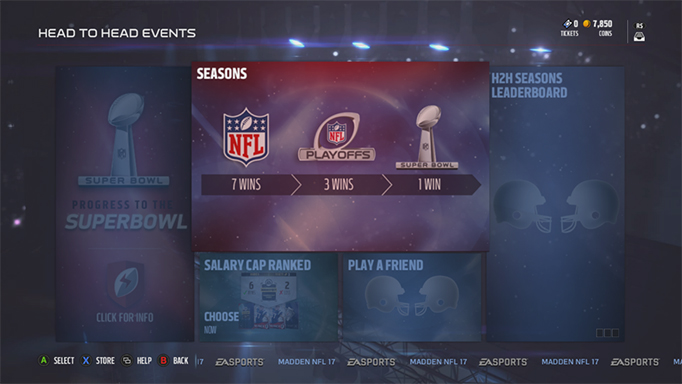 Similar to the NFL season, Madden Ultimate Team Seasons consist of three separate stages, the Regular Season, Playoffs, and the Super Bowl. Each stage has a separate win/loss format with a loss threshold that will automatically end your season. Structures for these stages are as follows:
Regular Season: 7-win or 4-loss format
Playoffs: 3-wins before losing once
Super Bowl: 1-win or 1-loss event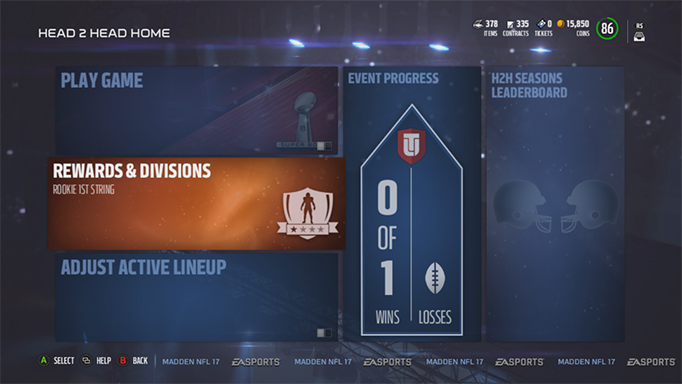 The 8 Seasons Divisions return as you try to advance where the goal is to advance from Rookie 2nd String to All-Madden 1st String. Each time you get promoted, you unlock better rewards. All of these rewards can be viewed from the Rewards and Division screen on the Seasons hub.
New to Seasons and different from Head to Head Unlimited Events, is a coin reward after each game regardless whether you win or lose (however you must finish the first half of your game to earn the loss reward).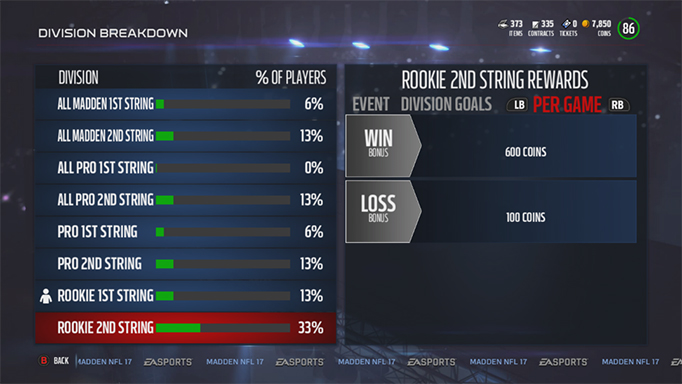 Additionally, a ticket-entry will not be required to play Seasons, but rather the mode will now consume contracts like previous iterations. This includes limited-use players who currently only lose 2 contracts per Event. Those players will now lose 1 contract after each game. In order to achieve the consumption of contracts in Seasons, we have removed the concept of "locking-in" your team. Seasons games are played using your current Madden Ultimate Team lineup.
A few other important facts about the mode include a new H2H Seasons leaderboard which will track your career total of wins, losses, Super Bowl wins, points for/against, and win streak. Also the Super Bowl game will be played in Houston's NRG Stadium with full Super Bowl 51 look and feel.
Last but most important, the rewards you will earn in Seasons get better up as you reach higher divisions. Check out the breakdown of rewards for each division here.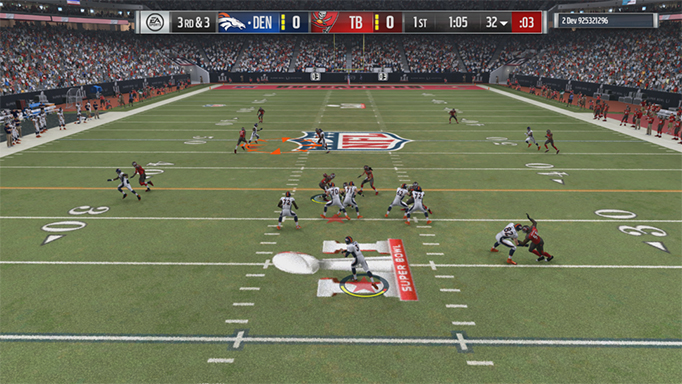 You may be asking: What happens to the Head 2 head Madden Ultimate Team events you're playing now. This mode will expire November 30th with the launch of Season. Once the Event expires, you will be granted the rewards that were available at the win-total you were at. As you're navigating through the Seasons flow, you will see those old Events in a "pending rewards" state and clicking those tiles will give you those rewards and the tile will disappear.
So, there you have it. Madden Ultimate Team Seasons is back, packed with rewards and better than ever. We look forward to seeing all the Lombardi trophies you can stack up in your virtual trophy case.