Posted May 27th at 5:00pm.
Hardcore Madden players have a passion for the game that goes beyond down & distance. Whether it's all-day MUT streams or climbing leaderboards for the Madden NFL 16 Challenge, it's clear these guys enjoy the game as much as we do here at the studio. There's a lot of additions we don't want you to miss, and they're sure to make gameplay fresh for even the most experienced Madden Player. As a former tournament competitor, here's what I'm looking forward to the most in Madden NFL 17on Xbox One and PlayStation®4.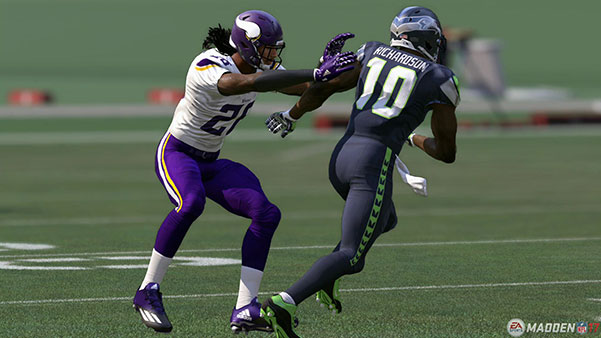 Man coverage is on the top of my list as biggest gameplay improvements. In Madden NFL 16, man press made defensive backs stick to receivers effortlessly. It forced guys to resort to motion routes, and the same type of routes, to beat it. This year, an enhanced Win/Loss system has been created to ensure that any route with a cut has the potential to get open against this coverage. Man press is a two part battle and it all starts with the chuck. Using a slant as an example, when the receiver wins, he'll successfully fight off the corner to gain inside leverage. Just like previous years, this part of the interaction is dictated by "Press" and "Release" ratings. The second portion of this change is the cut move. In the case of a slant, if the receiver wins here, he'll get enough separation when he cuts toward the middle of the field for the quarterback to complete the throw. How often the receiver wins the cut is still based off of "Route Running" ability versus the corner's "Man Coverage." Keep in mind that a receiver who loses the chuck can still win on the cut, and vice versa. Also, just as you can use any route with a cut to beat man now, routes that seemed to get open more often before can easily get locked down. This places an emphasis on a player's ability to quickly recognize if there's enough space following the cut to zip the pass to their guy. The new man coverage system overall results in it being more balanced and true to ratings in Madden NFL 17.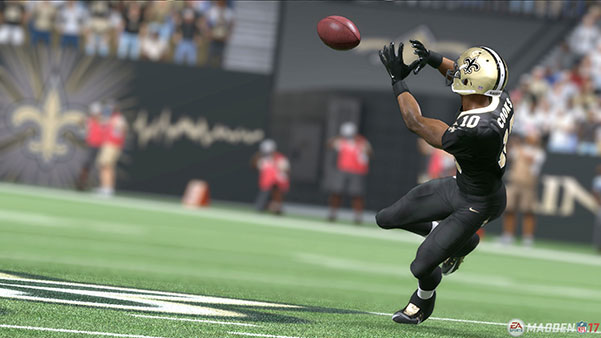 Another great defensive addition is the revamped zone coverage system. If you want an overview of all of the new zones, be sure to check out Madden NFL Designer Anthony White's blog on them. Let's talk about some of the ways this helps counter the popular route combinations competitive players would use in previous years. First, my favorite, the "Hard Flat". The angled out route from the backfield was a common go-to read for many players in Madden '16. An example of this route can be seen in the play "Z Spot" out of "Gun Split Close". Now, telling your corner to stay committed to the shallow area of the field through this zone makes it a perfect counter for this tactic. You'll notice the same thing with a quick out from the end receiver in a play like "Divide" out of "Shotgun Bunch". What I really like is being able to hot route this new zone through global coverage adjustments. Second, we have the flood concept. This combination of a flat, corner, and streak has been used for years to beat zone coverage. Now, this is where the improved curl flat is key. Having a flat underneath will ensure your curl to flat defender stays with the corner route and shadows him all the way out to the sideline. It's worth noting the new play "Cover 3 Mable" will have this zone scheme built into it. Lastly, the deep zone logic has been updated to account for shallow routes players would use to pull these defenders closer to the line of scrimmage. A good example of this is a play such as "PA WR In" out of "Y-Trips Wk". Instead of biting on the deep in route, the deep third safety will maintain depth to keep the post route in front of him. I know a lot of top players jump straight into online matches as soon as they get the game, but the players who spend time learning the new zones will be ahead of the curve in Madden NFL 17.
Continuing with defense improvements, I'm hyped for the opportunity to stop the QB scramble more effectively than previous years. The "Spy Crash" feature has now been updated to also include any players in coverage. By clicking R3, you can send your closest defender rushing after the quarterback. There's an added strategy here, as you might be leaving part of the field or a receiver wide open when your guy bails. The "Coverage Crash" also ties in well with the improved defensive line logic. Defensive ends who see a QB getting outside of the tackles are more adept than ever in Madden NFL 17 of shedding the block and chasing him down. Not having to put contains or a spy on the field every down when you play a mobile QB is a relief, and allows players to focus more on their coverage adjustments.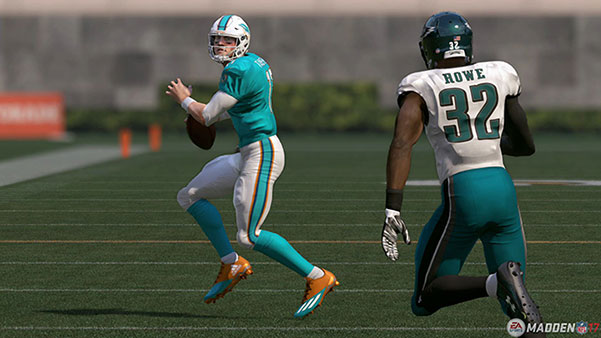 What's also a relief from a competitive standpoint this year is that "Quarter", and other formations like it, have been recreated to be more authentic in terms of how they defend the run. The biggest issue here was the defensive backs. They would unrealistically shoot in to blow up run plays. By making them more realistically able to read run vs. pass first, and improving open field blocking for the offensive line, this is the last defense you'll want to be caught in against the run. This is not the case if your opponent is in a pass heavy formation. When tuning these defenses, we made sure it applied to max coverage defenses as well, where only one or two defensive linemen would be rushing. All of these changes result in stopping the run being grounded more in real life concepts, even at the highest levels of Madden. I can imagine some players who typically use one defensive formation the whole game might find themselves using a variety of personnel groups to match the offense this year.

Moving over to offense, every hardcore player can agree the Double Juke was the most effective move in Madden NFL 16. It got to the point where players on defense would anticipate someone doing it when pursuing in the open field, which made just running straight forward an actual decent strategy on offense. While it was cool to see some of the breakaway runs that resulted from it in the Madden Challenge, head to head is more engaging when there's a variety of fakes that are all effective, depending on how skilled a player is with them. That's exactly what the new ball carrier moves bring to the table in Madden NFL 17. Like the new zones, even the veteran guys are smart to take their time learning these. Mastering which angles to do which moves, and with which player, is going to pay dividends for anyone who puts the time in. Be sure to check out Madden NFL Designer Clint Oldenburg's BC Special Moves blog for a more in-depth look at each move.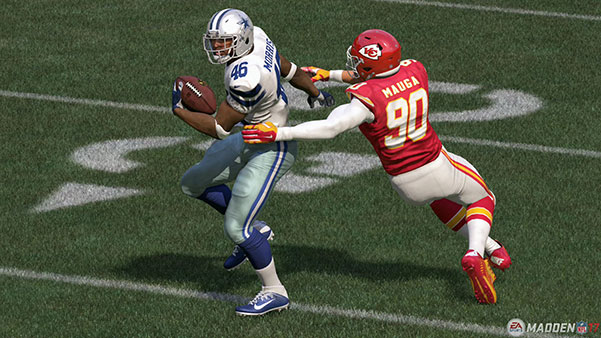 When you're sifting through offensive playbooks to find one that will help elevate your game to the next level, the quick audibles for a given book can be a deal-breaker. This is especially true in modes like Draft Champions and Madden Ultimate Team. Knowing this, we tweaked the default audibles across the entire game this year. One thing players will notice here is that run heavy sets now have two run audibles, one that attacks the inside, and another that pushes the ball outside.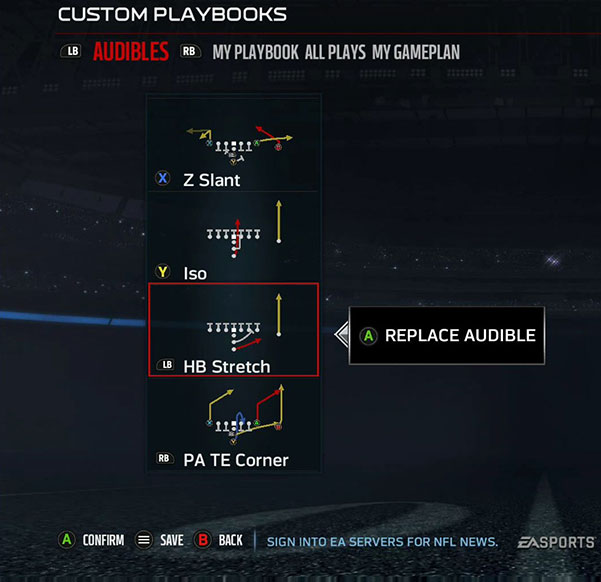 Every year on offense the pass blocking logic gets upgraded. This year is certainly no exception. Turbo blitzes, as well as looping blitzes, have been addressed. The line is also better at handling the max coverage defenses we went over earlier.

Finally, we've made improvements to online play that should result in users encountering less lag. These changes also include preventing players from attempting to boot opponents out of game sessions and forcing a loss.

Hardcore Madden players have a burning passion for the game. These changes are from them, for them. As a former competitive player, I'm looking forward to seeing how these gameplay improvements make the head to head experience the best it's ever been in Madden NFL 17 on Xbox One and PlayStation®4!