Posted December 6th at 10:00am.
Control your Madden NFL Franchise while on the go, check out exclusive content like developer blogs, videos, and images; watch Madden NFL streams on Twitch, and keep up with the Madden NFL 17 Championship Series using the new Madden NFL 17 Companion App, available for iOS and Android.
FRANCHISE MODE
Use the Madden Companion app to advance the week, view the weekly schedule, utilize commissioner controls, receive important notifications, and even export stats to third party websites all from the palm of your hand.
Franchise Notifications
When you open the M17 Companion App for the first time, make sure to enable Notifications. This will ensure you are notified any time the league advances or when games are played. When you are in a league with several friends, knowing when the week has advanced, so you can play your game is key. Enabling notifications will also keep you informed of Trade Proposals and League Invitations.
To Dos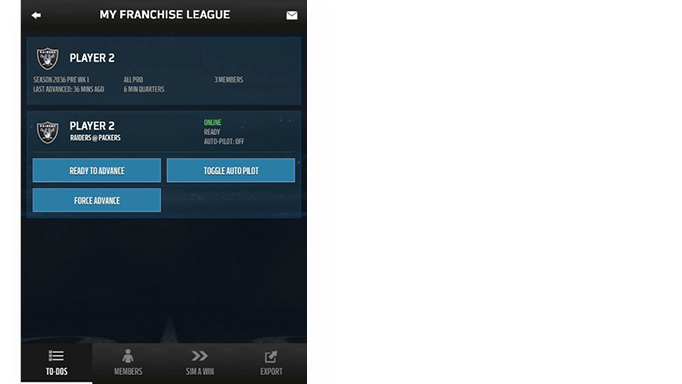 You can set yourself as ready, toggle autopilot, or force advance the week right from the app. Your commissioner now has no excuse for not advancing the week on time!
Commissioner Controls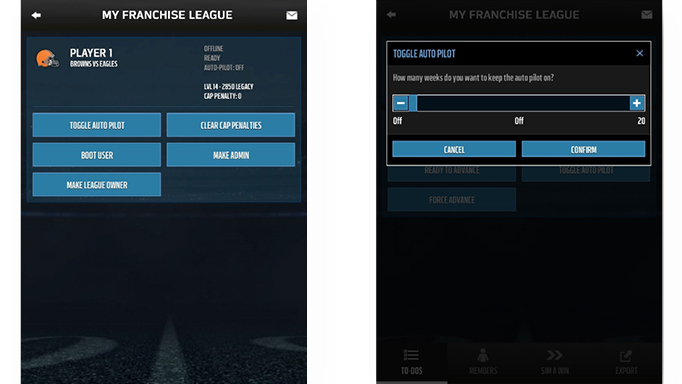 From the members tab, you can see all the other people in your Franchise and as a commissioner you can toggle auto pilot, clear cap penalties, boot users, make admin, and transfer commissioner status. In situations where one person isn't available to play a game, the commish can now turn on auto pilot, while on the go, so the league can continue to run smoothly.
Weekly Schedule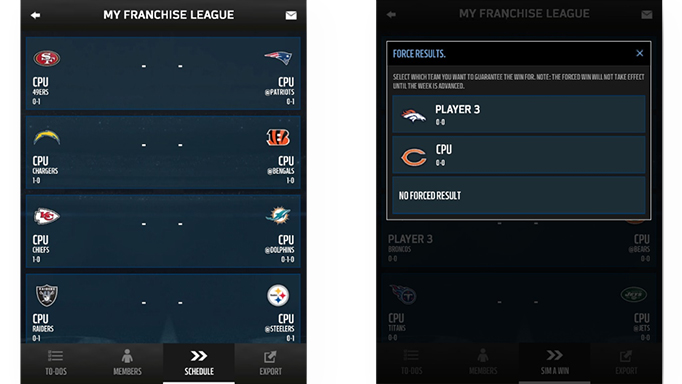 See scores and matchups for the week easily on the Schedule page. If you are the commissioner, then you can easily force a home or away win right from the app.
League Stats Export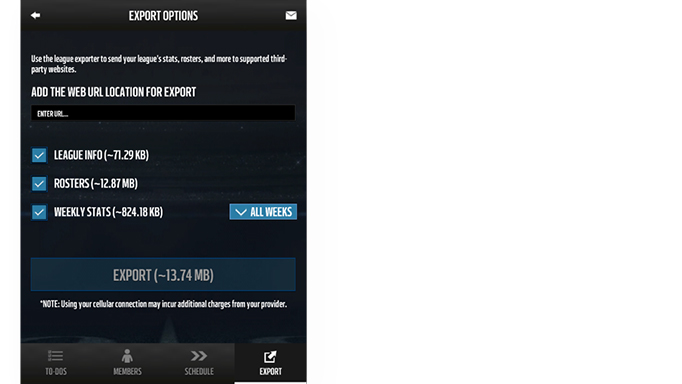 There are many Franchise fansites that provide a great service to the community, and now you can safely integrate stats from your league into these websites using the new Stats Export feature. You simply put in the URL for your favorite fan website that supports this functionality and then press Export. Once the process is complete, the fan website will have all the player stats and rosters for the entire league. A big "thank you" goes out to DaddyLeagues for working with us on this feature.
MUT REWARDS
Start earning rewards for opening packs in Madden Ultimate Team. All packs you open will count towards your total. MUT Rewards members can receive Coins, Packs, and other great surprises throughout the Madden Season.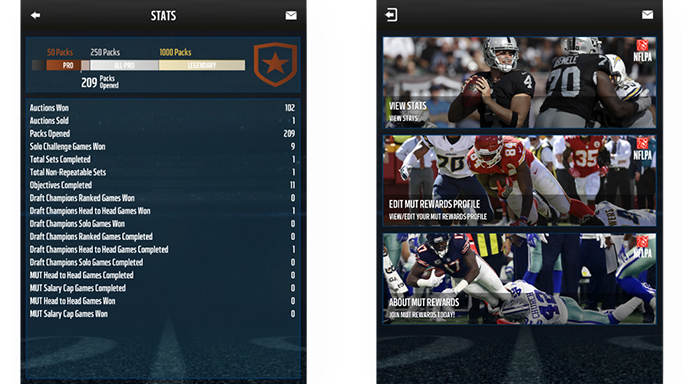 New players can sign up for MUT Rewards in the Madden Companion App, while existing members can view exclusive Ultimate Team stats, see the number of packs they've opened, and update the email address associated with their account.
MORE FEATURES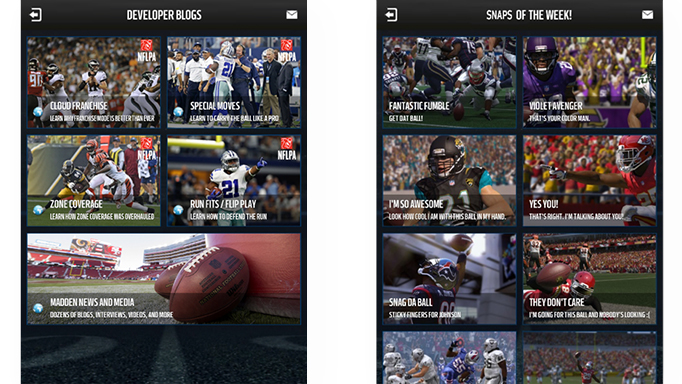 The Madden Companion App was built to house Franchise features but that's not all it can do! Stay connected to Madden all year long with fresh content being updated all the time. New videos, gameplay screenshots, dev blogs, and other exclusive content will be served on-demand, direct to your device. As the Madden NFL 17 Championship Series heats up, Live Streams will provide an inside look at the championship action. As a production team we are committed to providing a valuable experience in the Madden Companion App no matter how often you use it.
THINKING ABOUT THE FUTURE
The Madden Companion App is in response to a top request from our community. Madden fans want to interact with their Franchise while on the go and this App lets you do that.
You as the fans have a big voice in what we build. Not only do your words matter but also your actions. The more you use the Companion App, then the more we will improve it. We want to make sure we are always focusing on and improving the most important features, and we look at what you use to help us make these decisions. We build Madden for the fans and that means YOU decide the future.
The Madden Companion App is available now on iOS and Android.