Top 5 WR Player Ratings in Madden NFL 17
Posted July 23rd at 11:00am.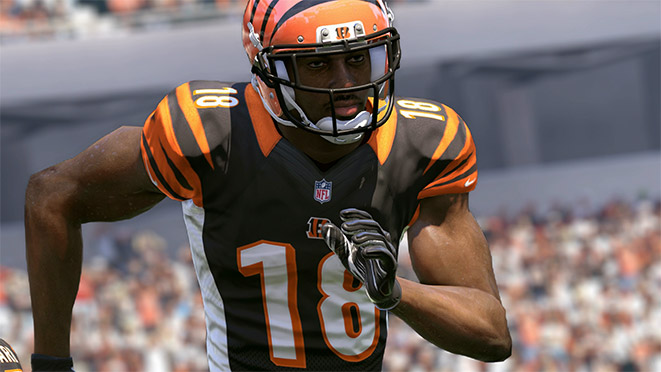 The NFL is now a passing league and for good reason. The skill set of these top athletes allows teams to put points in bunches.
Here are the leagues top-rated wide receivers in Madden NFL 17.
The premiere receiver in the NFL can do it all. With 98 route running you can anticipate him to be open on many plays and with 98 catch in traffic he will hold on to the ball in the game's biggest moments. He even has 69 throw power for this looking to use him in Wildcat packages.
---
The size to dominate you in the red zone and the athleticism to beat you vertically, Julio Jones is one of the most complete receivers in the game. Get the ball to him downfield where his 97 spectacular catch will take over games.
---
Green plays similarly to the #2 man on our list, but lacks the top end speed Julio Jones has. What Green lacks in speed he makes up with ability to make big plays with 97 spectacular catch, 95 catch in traffic, and 94 route running.
---
Cover athlete for Madden NFL 16, Beckham Jr. brings a swagger to the field most receivers don't. He backs up his swagger with highlight reel plays due to his 99 spectacular catch rating, 92 catch in traffic and 96 route running.
---
Hopkins had the opportunity to be the go to man in Houston last season and he took advantage of it. He caught 111 passes for 1,521 yards and 11 TD's which paid off with his ratings this season. 92 speed and 93 acceleration ranks Hopkins as one of the quickest receivers in the game.

---
IN-GAME SCREENSHOTS ARE FROM XBOX ONE AND PLAYSTATION®4.