Top 5 QB Player Ratings in Madden NFL 17
Posted July 21st at 2:00pm.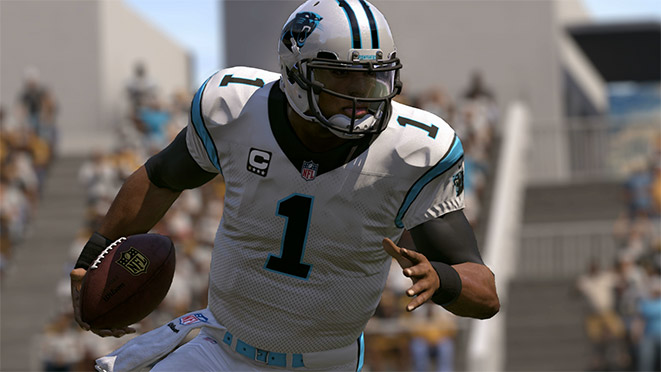 No surprise here with the Top 5 Quarterbacks in Madden NFL 17. These players are vital to their teams success in helping to take their team all the way.
Here are the top-rated quarterbacks in Madden NFL 17.
What can't Aaron Rodgers do? With 78 speed, 98 throw power and 95 throw on the run, Rodgers can make any throw on the field. This two-time NFL MVP is the ideal quarterback because of his mobility, allowing you to run any style of offense. Make sure to use all of your different throw types to really take advantage of Rodgers pinpoint accuracy in Madden NFL 17.
---
Newton has the size and speed to take over games with his legs. 86 speed at quarterback is a rare rating to have, so be sure to utilize his 90 agility, and 89 acceleration in the open field. Newton will be best throwing downfield with his 97 throw power and 87 throw accuracy-deep. Look to target vertical routes to your TE and WR to best utilize Newton's skill set.
---
Brady has been shredding NFL defenses for almost two decades and in Madden NFL 17 you can anticipate much more of the same. With 94 throw power and the best throw accuracy-short (98) in the game, you will be able to put the ball in places where only your receivers can catch it. Will the 2016 NFL season be another MVP caliber performance for this four-time Super Bowl Champion?
---
Big Ben brings toughness to the quarterback position with an 82 strength rating. He still has mobility left in his legs with 73 speed, which will be enough for him to evade defenders outside the pocket and with 95 throw power he still ranks among the best in the league.
---
Wilson is a smaller version of our #2 quarterback on this list, Cam Newton. With 85 speed he will force defenses to gameplan around his unique skill set, taking advantage of them with his passing abilities. 93 throw power, 93 throw accuracy-short, 91 throw accuracy-mid and 88 throw accuracy-deep, allows him to make every throw on the field.

---
IN-GAME SCREENSHOTS ARE FROM XBOX ONE AND PLAYSTATION®4.