Posted June 10th at 2:00pm.
I once asked a friend if he was looking forward to the next Madden NFL, as he is a huge Raiders fan. He told me he can't play Madden due to vision problems; he couldn't see anything that moved quickly and was small – like the pass icons. I decided that if I ever had the chance, I would try to improve the game so a wider audience could play Madden.
A couple years ago, Tiburon had an internal game jam to brainstorm new ideas. I took my accessibility research and put together a concept list. Madden NFL Game Accessibility won as the best new feature set.
Here's what made it into Madden NFL 17 on Xbox One and PlayStation 4.
Optional Settings
All accessibility settings in Madden NFL 17 are available on the "Visual Feedback" screen, via the "Settings" menu. These new options are all at the bottom of the list; you'll go directly to them if you hit "up" once. All settings are optional, and your online opponent will not see whatever settings you have chosen.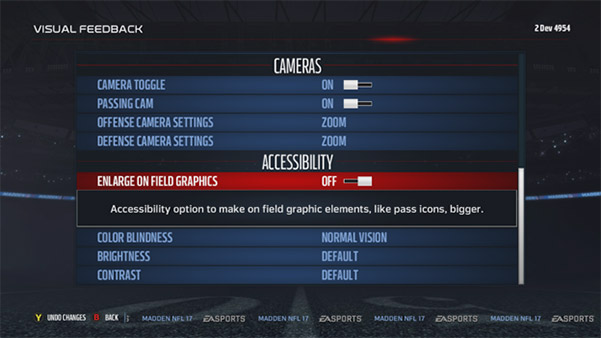 When any accessibility settings are turned on, a small watermark will appear at the bottom left corner of the screen. If you ever feel that the game looks a bit off, check for the watermark.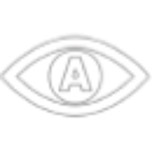 Enlarge On-Field Graphics
First up is enlarging on field graphics. Any in-world icon that is prompting user interaction (pass, catch, tackle battle, etc.) will be about twice as big. Augmented UI banners will gracefully enlarge, but will still be prevented from filling too much of the screen. The kick meter is larger and it pins itself to the screen, instead of being placed in the world. These changes have been tested by internal Madden NFL developers that also have vision issues, such as macular degeneration.
Here's what the pass icons look like with default settings.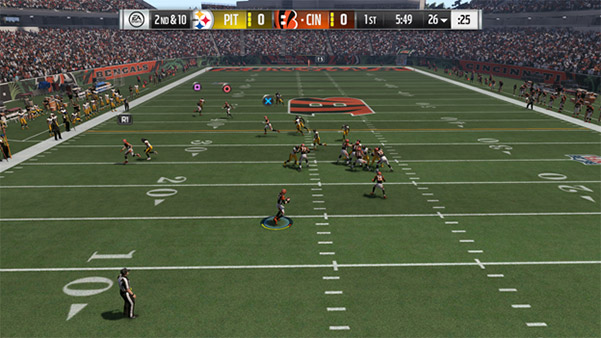 This is what pass icons look like with enlarge turned on.
Here's what a default catch icon looks like.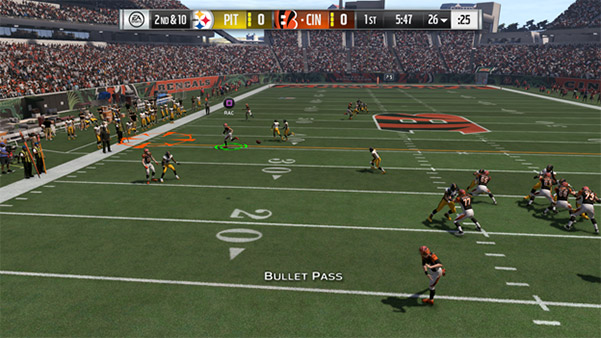 This is what a catch icon looks like with enlarge enabled.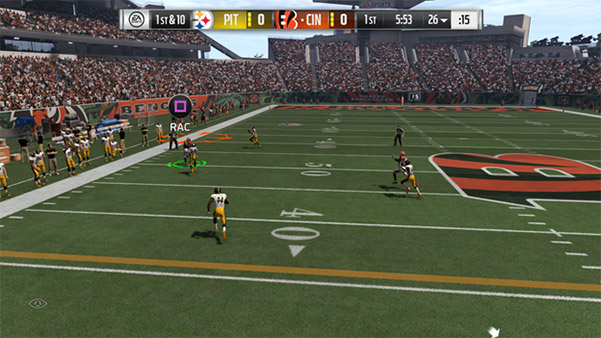 The standard kick meter is on the field, aligned with the ball. It changes size depending on how close it is to the camera.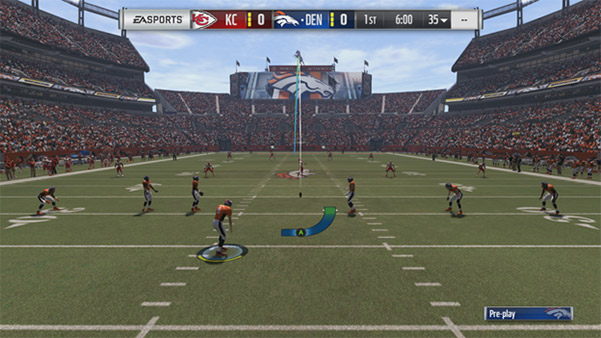 When enlarge is turned on, the kick meter moves off the field and into the UI, so it is always the same size.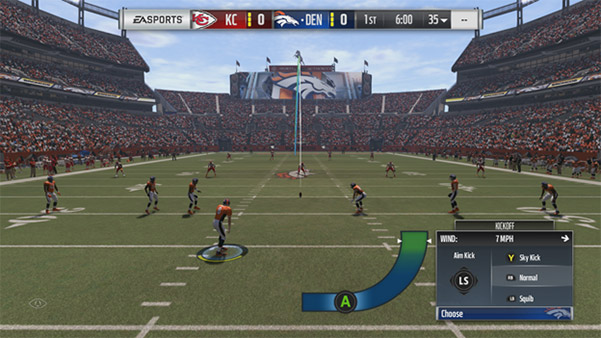 Enlarged graphics are popular internally as it's easier to play the game from a couch. However, if you feel the enlarged graphics are too big, keep the setting off for a classic Madden NFL experience.
Colorblind Support
We estimate that over half a million current Madden NFL users are colorblind*. Bright primary colors are used all over Madden NFL, so there were issues with many menus and on-field art. Filters seemed to be a great way to go, as they cover the entire game, including all menus. Red, green, and blue weak colorblindness are all supported and tested, with great results.
Here's what the play call looks like with default visual settings and normal color vision.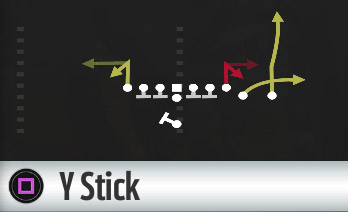 This is what someone with Protanopia (red-weak colorblindness) would see. Red text and arrows become more difficult to make out. Dark red arrows practically vanish.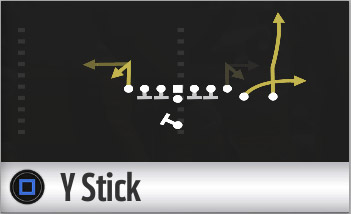 Here's what someone with Protanopia would see with colorblind filters turned on. Red is much brighter and the arrows are all clearly visible.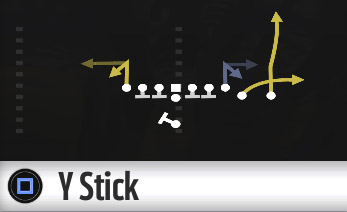 This is what Protanopia's filter looks like to someone with normal color vision, across the entire game. It's possible for players with and without colorblindness to play on the same console together, with the feature turned on.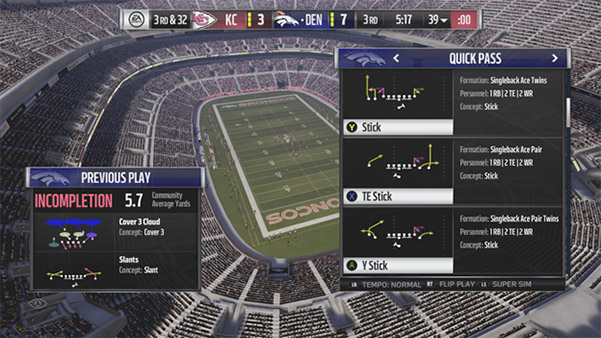 Brightness and Contrast Controls
Many games already support brightness and contrast controls, and it's time Madden NFL upped its game.
There are 5 levels of brightness. This image created from merged screen captures.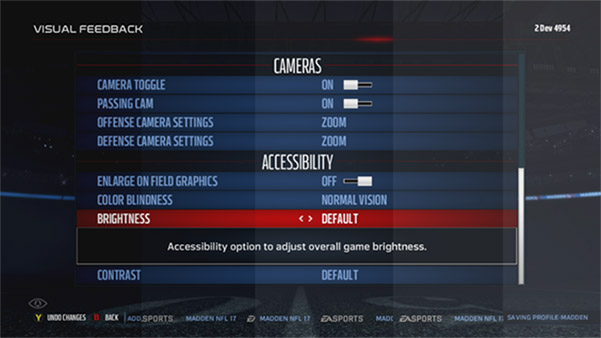 There are also 5 levels of contrast. Here's another screen capture merge.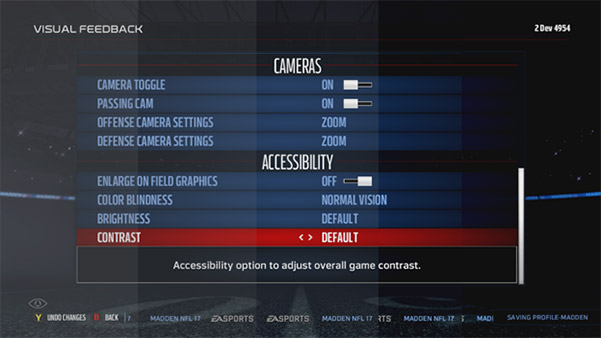 Choose whatever settings are the most comfortable for you.
The Future
The future of Madden NFL Accessibility depends on our audience. To contribute, send feedback to ea_accessible on twitter. All feedback will be taken into account when we decide what to tackle next.