Posted January 20th at 1:00pm.
Madden Ultimate Team (MUT) Team of the Week (TOTW) brings together the best players each week during the real-world NFL season.
New this season is MUT Team of the Year, which commemorates some of the most impressive players and stats from this season. Items ranging from 95 overall to 97 overall have been released into Packs.
Compete against the TOTY in a MUT Solo Challenge and see if your squad can hang with the best.
However, that's not the only way to catch these players, as Plays of the Year Collectibles have also been released. Collect them all in a Set and you'll get rewarded with a TOTY Player.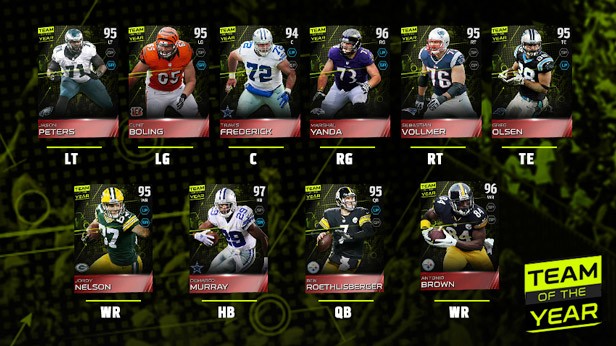 MUT TEAM OF THE YEAR - OFFENSE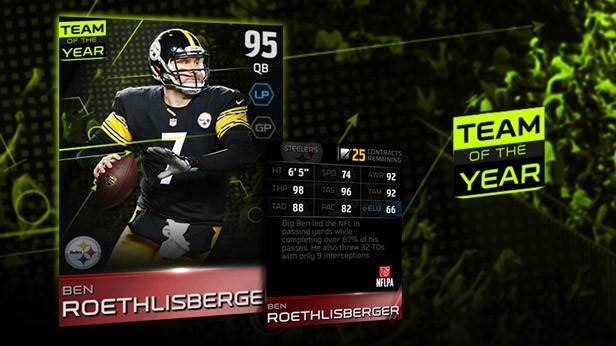 BEN ROETHLISBERGER - PITTSBURGH STEELERS QB
Big Ben led the NFL in passing yards while completing over 67% of his passes. He threw 32 touchdowns with only nine interceptions.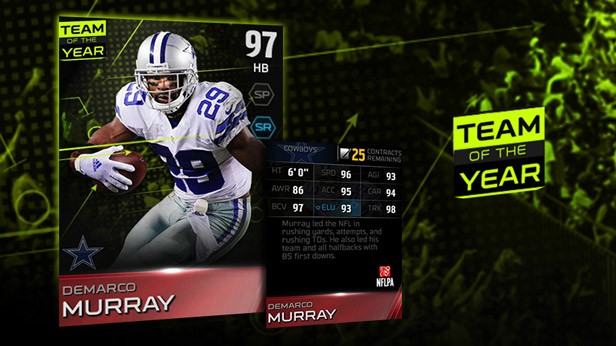 DEMARCO MURRAY - DALLAS COWBOYS HB
Murray led the NFL in rushing yards, attempts, and rushing touchdowns. He also led his team and all half backs with 85 first downs.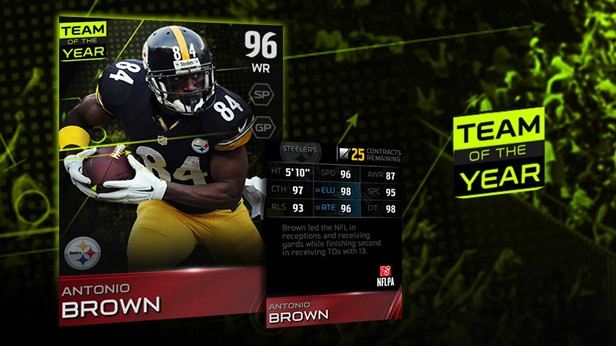 ANTONIO BROWN - PITTSBURGH STEELERS WR
Brown led the NFL in receptions and receiving yards while finishing second with 13 receiving touchdowns.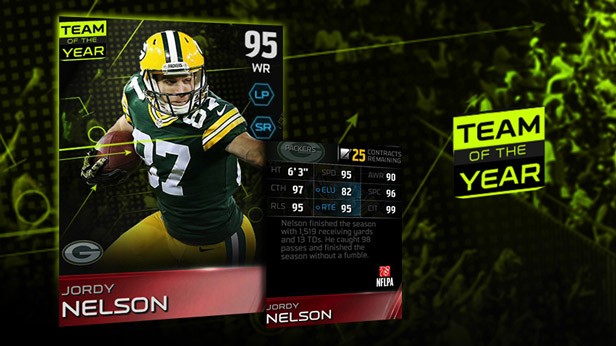 JORDY NELSON - GREEN BAY PACKERS WR
Nelson finished with 1,519 receiving yards and 13 touchdowns. He caught 98 passes and finished the season without a single fumble.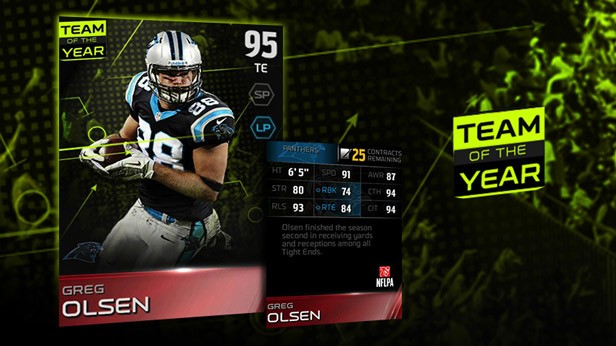 GREG OLSEN - CAROLINA PANTHERS TE
Olsen finished the season second in receiving yards and receptions among all tight ends.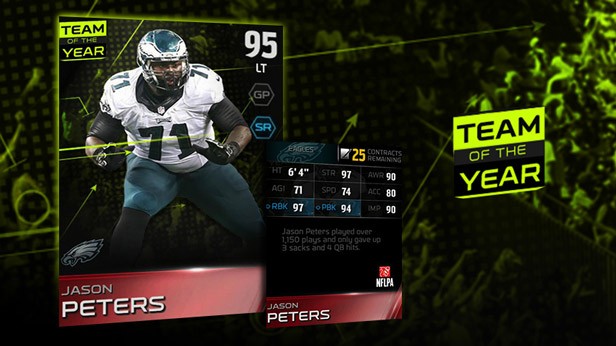 JASON PETERS - PHILADELPHIA EAGLES LT
Peters played more than 1,150 plays and gave up just three sacks and four QB hits..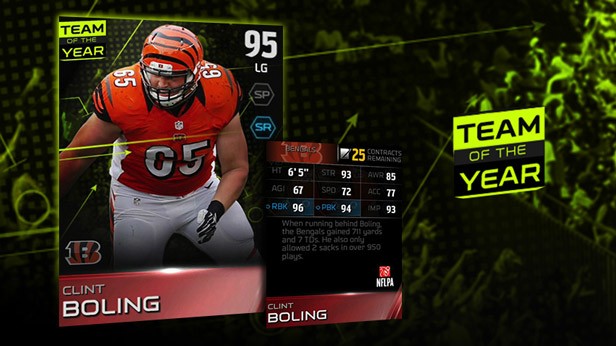 CLINT BOLING - CINCINNATI BENGALS LG
When running behind Boling, the Bengals gained 711 yards and seven touchdowns. He only allowed allowed two sacks in more than 950 plays.
TRAVIS FREDERICK - DALLAS COWBOYS C
The Cowboys offensive line dominated all year. They gained 912 yards with ten TDs when running behind the center.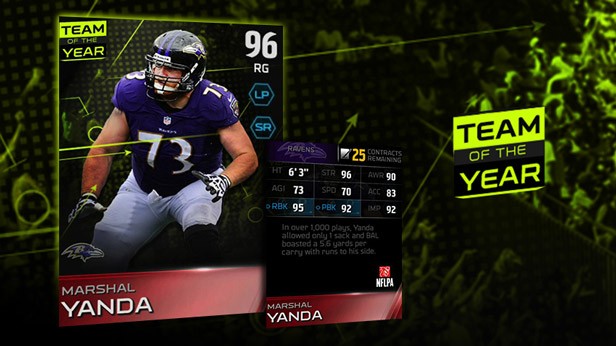 MARSHALL YANDA - BALTIMORE RAVENS RG
In more than 1,000 plays, Yanda allowed only one sack. Baltimore boasted a 5.6 yards per carry with runs to his side.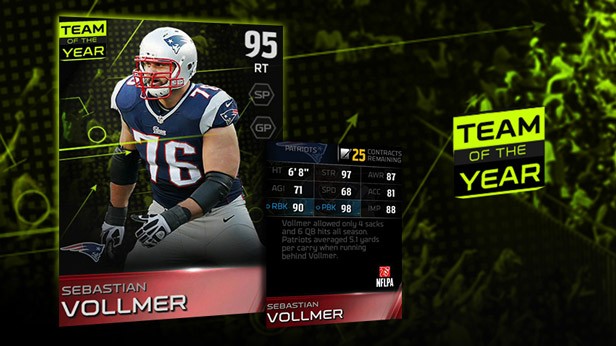 SEBASTIAN VOLLMER - NEW ENGLAND PATRIOTS RT
Vollmer allowed just four sacks and six QB hits all season, and the Pats averaged 5.1 yards per carry when running behind him.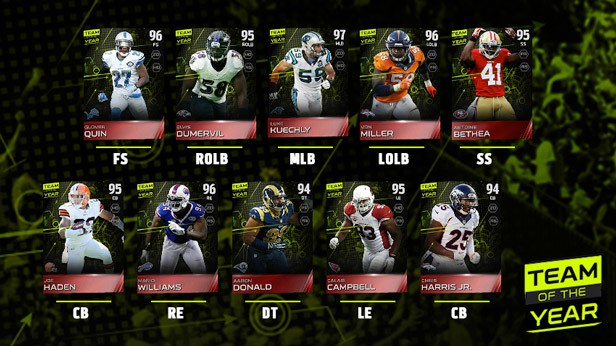 MUT TEAM OF THE YEAR - DEFENSE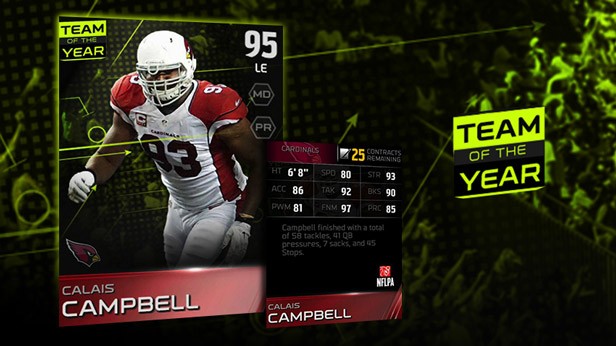 CALAIS CAMPBELL - ARIZONA CARDINALS DE
Campbell finished with a total of 58 tackles, 41 QB pressures, and seven sacks for a stingy Cardinals defense.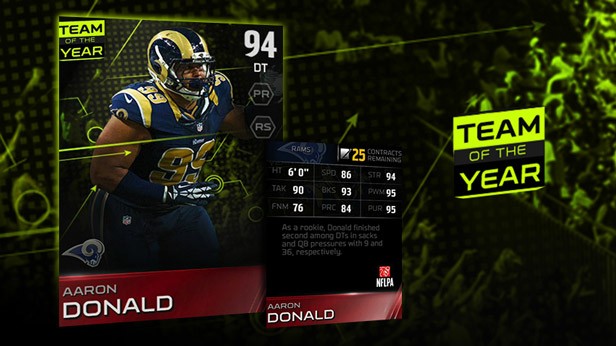 AARON DONALD - ST. LOUIS RAMS DT
As a rookie, Donald finished second among DTs in sacks and QB pressures with nine and 36, respectively.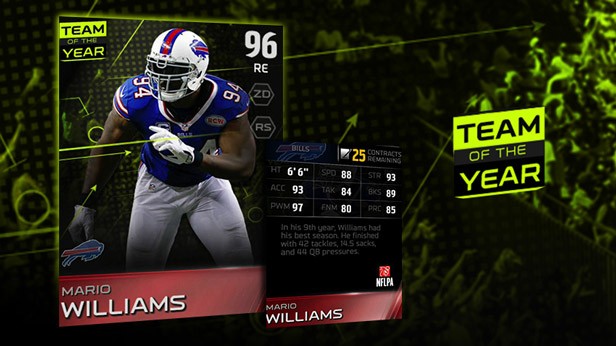 MARIO WILLIAMS - BUFFALO BILLS DE
In his ninth year, Williams had his best season. He finished with 42 tackles, 14.5 sacks, and 44 QB pressures.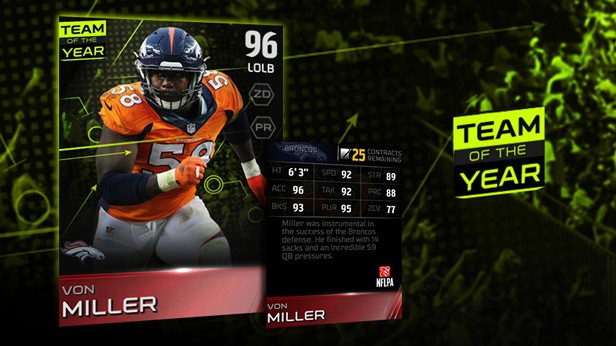 VON MILLER - DENVER BRONCOS OLB
Miller was a vital part of the Broncos' dominant defense, finishing with 14 sacks and an incredible 59 QB pressures.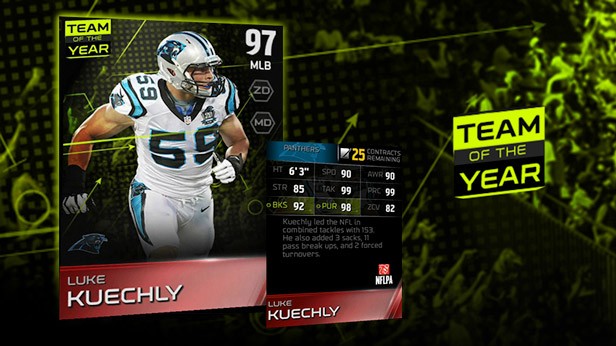 LUKE KUECHLY - CAROLINA PANTHERS MLB
Kuechly led the NFL in combined tackles with 153, and also added 11 pass breakups, three sacks and a forced fumble.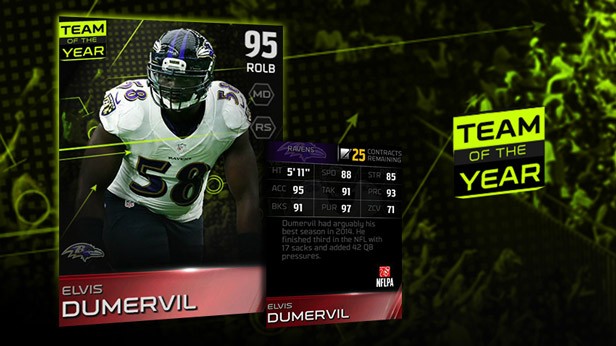 ELVIS DUMERVIL - BALTIMORE RAVENS OLB
Dumervil had arguably his best season in 2014. He finished third in the NFL with 17 sacks and added 42 QB pressures.
CHRIS HARRIS JR. - DENVER BRONCOS CB
Harris Jr. allowed the least amount of receiving yards among all starting CBs, and did not allow a touchdown all season.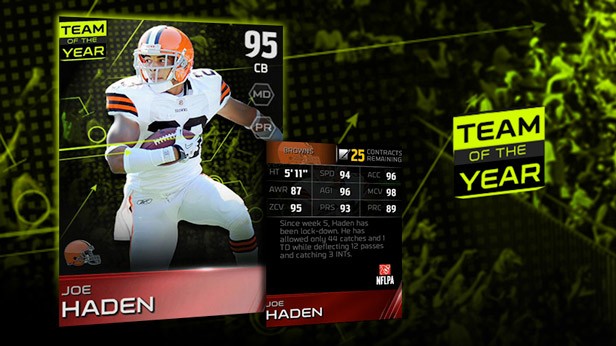 JOE HADEN - CLEVELAND BROWNS CB
Since Week 5, Haden has been a lockdown corner. He allowed just 44 catches and one touchdown with 12 pass deflections and three interceptions.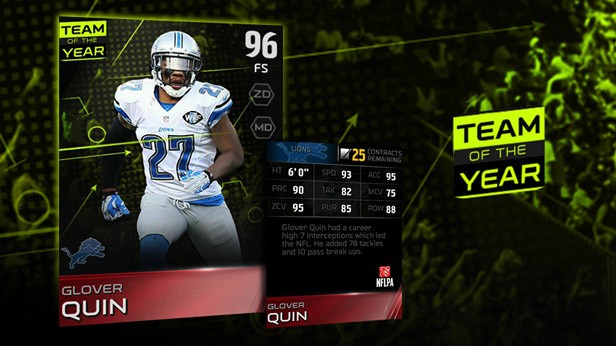 GLOVER QUIN - DETROIT LIONS FS
Quin's career-high seven interceptions led the NFL, and he also added 78 tackles and 10 pass break ups.
ANTOINE BETHEA - SAN FRANCISCO 49ERS SS
Bethea led all safeties with 35 Stops. When passing in his zone, opposing quarterbacks had an average QB Rating of just 50.2.