Posted August 18th at 5:00am.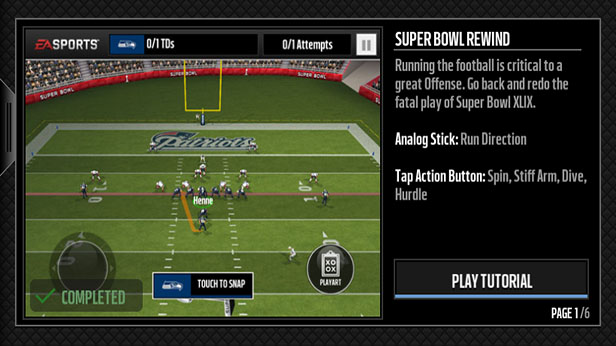 REWRITE HISTORY JUST TO GET STARTED
After beginning the new season of Madden NFL Mobile, players will see a few quick drills to help teach the basic controls and some of the new features.
The first of these drills is called "Super Bowl Rewind," giving players the chance to call a run play instead of that ill-fated pass. Now's your chance to find out the result.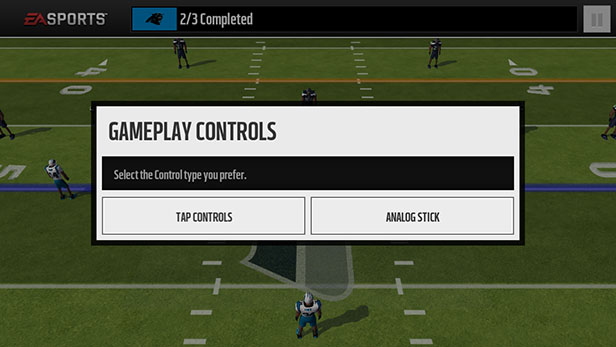 PLAY THE GAME YOUR WAY
The Rushing Tutorial shows how to run with the ball, and teaches how to make cuts and blast through for extra yardage.
This tutorial gets players acquainted with both the analog stick and tap controls. Check them both out and choose the one that suits your play style.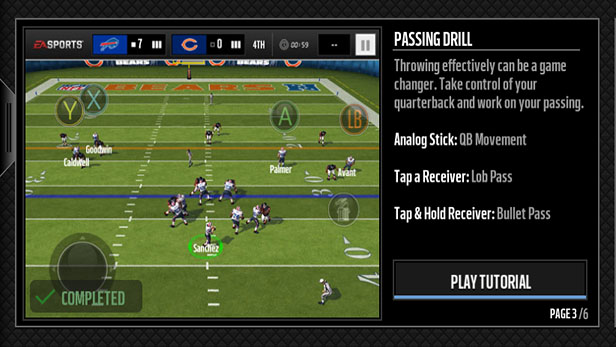 LEARN TOUCH PASSES AND BULLET PASSES
The next drill hones your skills as a quarterback. Learn to make a lob throw over the linebackers, or throw a bullet between defenders.
Other drills include aiming and swiping for extra power on field goals, boosting defensive players, and making plays in pass coverage.
BE THE PLAYMAKER AND CALL FOR THE BALL
There's also a drill for the new Wide Receiver Control feature. Start the play as a wideout and learn how to call for the ball, cut left and right, and even make a quick stop to confuse a defender.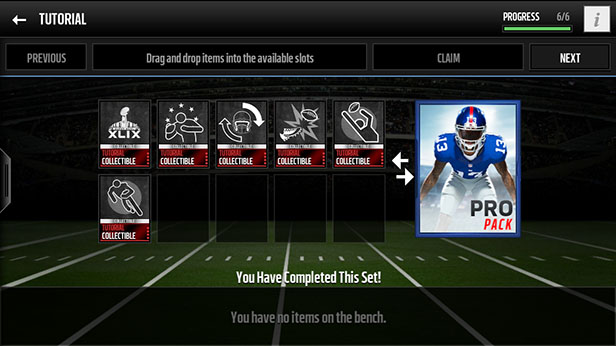 COMPLETE THE TUTORIAL SET
Players receive a special Collectible for each of the six tutorials after they've completed them. Take all six of those to Sets to complete the Tutorial Set for a pack reward.
Return to the tutorials at any time for more practice, or to try out a new control scheme.