Posted August 18th at 5:00am.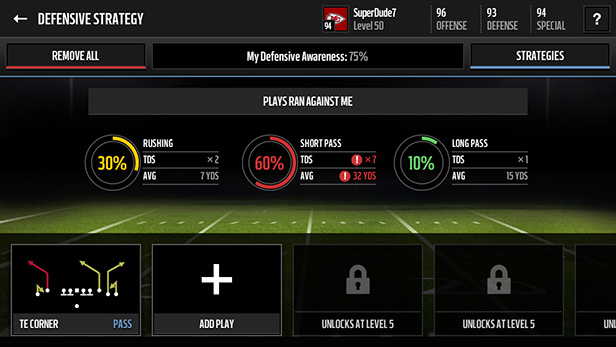 DEFENSIVE STRATEGY UPDATED
The new season of Madden NFL Mobile includes improved tools that make it easier to analyze and prepare Defensive Strategy.
The number of plays that can be selected is based on the player's Level. While last year's game included a long, scrolling display, the new season shows a handy Selected Plays bar to inform the player with a used/total count like 1/3.
The game didn't provide much information beyond the three categories of Short Pass, Long Pass, and Run. With the new season, players can sort plays in each category based on how often they've been run, the average yards gained per play, and how many touchdowns have been scored with that play.
NEW PLAYER MATCHUPS FEATURE
Players can now decide where to send the ball based on better information. How does that wideout match up with the corner he's facing? Users will be able to see primary players – including wide receivers, quarterbacks, and halfbacks – and their corresponding defenders on the field.
Select a player to see his defensive matchup. Tapping a player on the field displays his Player Item, so you can see which version of that player your opponent has on the field. Tap to turn off the Item, or toggle the option in Settings.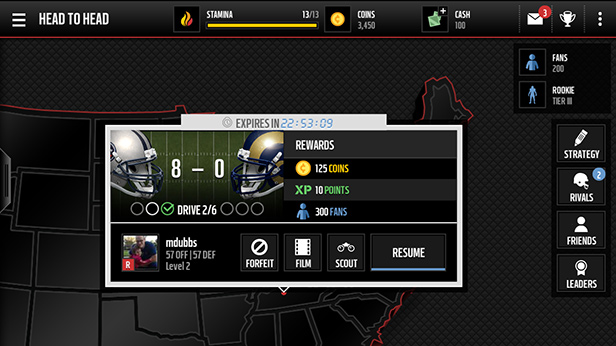 HEAD-TO-HEAD IMPROVEMENTS
New updates have been designed to address exploits and glitches, including turnovers in Head-to-Head play.
For example, players can no longer replay the down whenever a drive ends (for any reason) and force-close the app before the play is whistled dead. Now, the play will end properly and the drive will be correctly switched to the opponent's turn.
MADDEN NFL MOBILE SEASON RESET IS COMING AUGUST 19
A new Season of Madden NFL Mobile occurs August 19. Learn more about what the season reset means for your team, coins, and more: http://o.ea.com/40395.