Posted June 9th at 12:00am.
Madden NFL 15 improves presentation with all-new broadcast-style presentation, authentic NFL jumbotrons, Player Spotlight Montages, as well as new pregame and halftime shows from Orlando-area Sports Director Larry Ridley.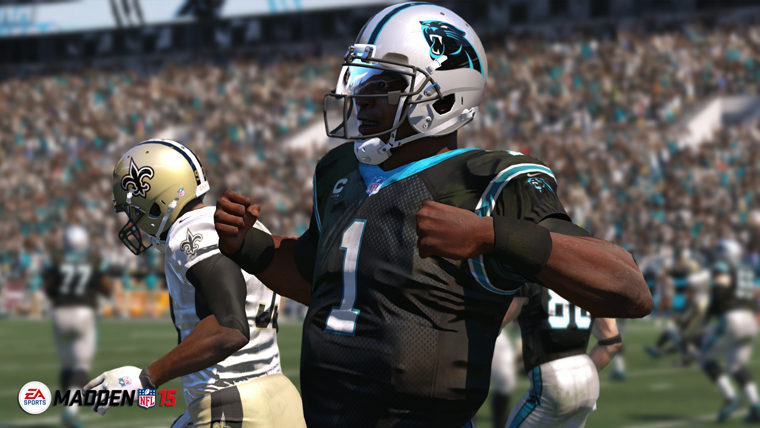 AUTHENTIC NFL-STYLE BROADCAST
Former NFL Films Senior Cinematographer Brian Murray serves as Presentation Director of Madden NFL 15, and his goal was to shoot Madden like an authentic broadcast. Scripted celebrations and on-field moments have been phased out to allow for emotional moments to be shown with variety and energy. Players now celebrate big plays (even by their teammates) with organic, unscripted excitement.
The improvements are also evident with polished transitions coming in and out of timeouts. Quarterbacks can now jog towards the sideline while music plays, just like you'd see on TV heading into a commercial break.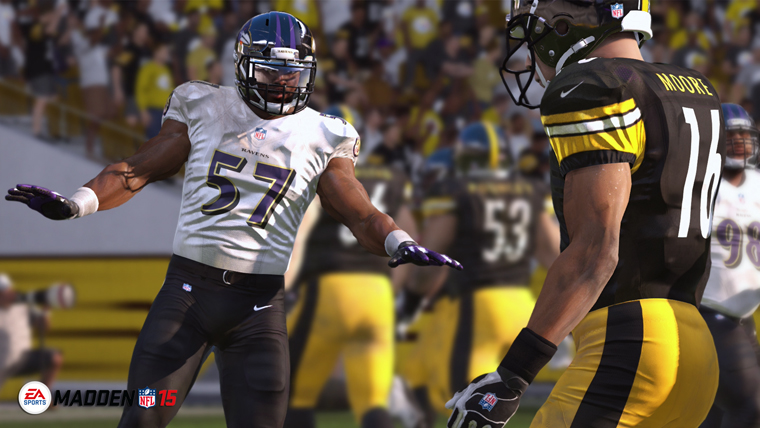 NEW BROADCAST ELEMENTS
The Madden development team placed a heavy emphasis on broadcast banners, and tying new commentary back to them. Every banner in the game has been retouched to reflect the look and feel of an authentic NFL broadcast, and players will see a variety of new broadcast wipes that provide context to in-game performances.
A refined drop-down system will provide consistent updates on player performances. These additions help provide context to games in Connected Franchise mode, making them feel like a living, breathing season. Pregame and halftime banners tie together events from the season, including new Playoff Chase and Divisional Standings banners.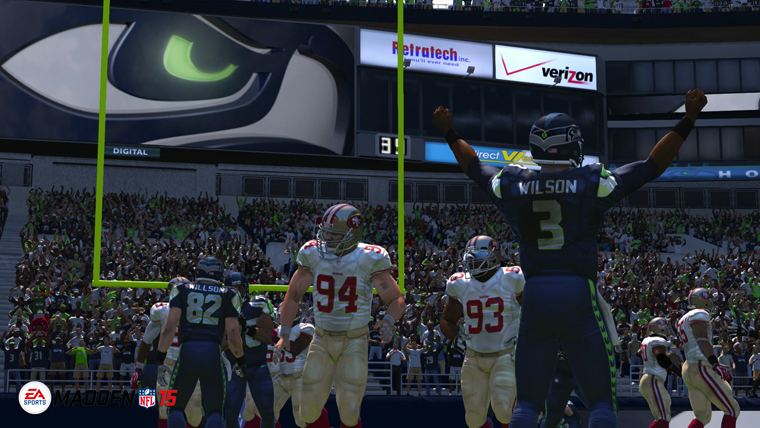 REAL NFL JUMBOTRONS
Gone are the days of generic "LOSE LOSE LOSE" messages on Madden NFL scoreboards. Madden NFL 15 features authentic jumbotrons messaging and imagery from a number of NFL teams, displaying more than 20 events including touchdowns and crowd cues (get loud on defense, be quiet on offense).
This new treatment is extended to Super Bowls as well, giving them a more "neutral" feel. Super Bowl scoreboard images are no longer be subject to the game's home team. Instead, the winner now sees their team's logo alongside the Lombardi Trophy.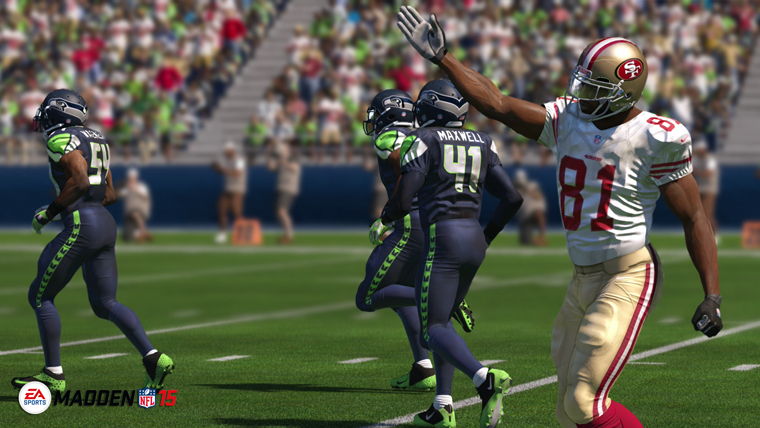 PLAYER SPOTLIGHT MONTAGES
New broadcast banners and montages tell dynamic stories about how players are performing, making every game feel fresh. If a quarterback like Colin Kaepernick or Robert Griffin III is making big plays with their legs, gamers may see a montage of some of their biggest runs. If a pass rush is making life difficult on an opposing quarterback, you might see a few of their biggest plays. It's all about telling a story.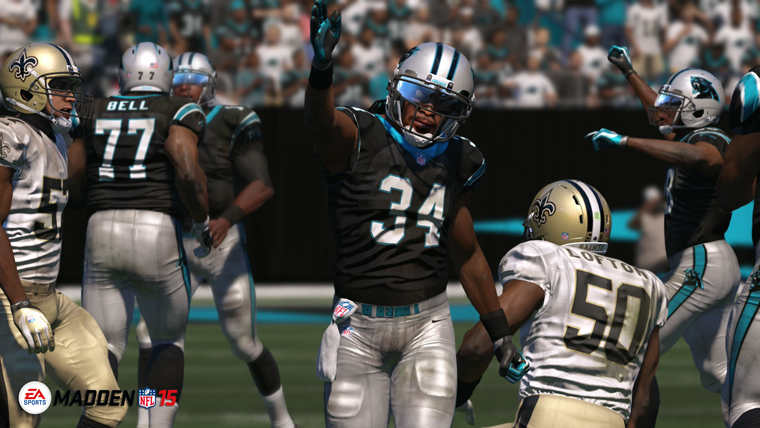 COMMENTARY IMPROVEMENTS
Madden NFL 15 features more than 80 hours of new commentary between play-by-play announcer Jim Nantz and color commentator Phil Simms. Some of the recording focused primarily on player names, so that Jim and Phil will call out more names during and after the play.
Jim Nantz has re-recorded much of his mid-play commentary so that it fits more comfortable with the rest of his dialogue. This results in a smoother, more cohesive broadcast as Jim calls out the action on the field.
PREGAME AND HALFTIME
Local sports director Larry Ridley leads an all-new intro sequence before games, calling out specific matchups and other tidbits to keep an eye on during the game. The halftime show also includes broadcast-style graphics, as well as a fantasy ticker with player stats on the bottom of the screen.
During halftime, Larry will also break down some of the game's highlights with all-new audio recordings.
DISCOVER NEW MADDEN NFL 15 FEATURES
Enhanced Graphics
New Playcalling System
All-New Tackling Mechanics
Player Sense 2.0
War in the Trenches 2.0
Catch Variety and Pass Inaccuracy