Madden NFL 15 Feature Overview: Enhanced Graphics
Posted June 9th at 12:00am.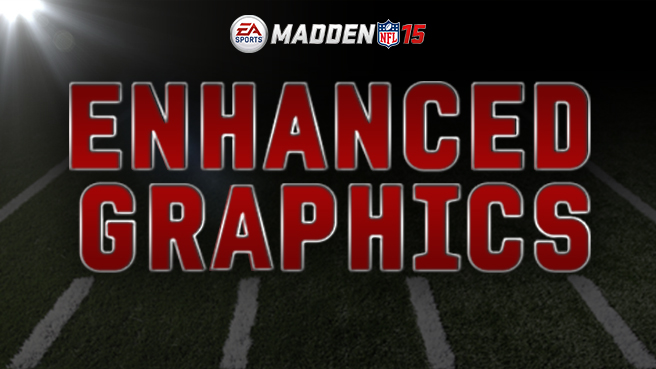 Featuring 10x the detail of its predecessors and high-fidelity animations, Madden NFL 25 built a foundation of next definition visuals on Xbox One and PlayStation 4.
Thanks to improved lighting, richer detail on player likeness, and three-dimensional grass, Madden NFL 15 is the best looking Madden ever.
IMPROVED LIGHTING
The Madden NFL team reworked the game's exposure system to create better lighting and colors in all weather conditions. Improvements have also been made to the game's stadium night lighting, as well as ambient lighting.
Characters are now fully reflective, and will reflect light bounced from the environment itself. This creates richer, more realistic lighting that brings player/material details to life like never before.
RICHER DETAIL
Heavy improvements have been made to player and coach likeness thanks to player scanning. Upgrades have been made to player and coach heads, as well as Colin Kaepernick's tattoos.
Thanks to the improvements made with lighting and dynamic shadows, player details are more evident than ever, right down to the players' pores.
The sweat of the players on the field has been tweaked to be reflective of the game's environment, creating more realistic reflections off the players.
3D GRASS
The playing field itself comes to life in Madden NFL 15 with 3D-enabled grass during gameplay. In past versions, grass was merely a texture. This year, the game now features full "infinite grass" technology.

DISCOVER NEW MADDEN NFL 15 FEATURES
Improved Presentation
New Playcalling System
All-New Tackling Mechanics
Player Sense 2.0
War in the Trenches 2.0
Catch Variety and Pass Inaccuracy