Posted August 12th at 4:30pm.
By Chuck Kallenbach, EA SPORTS Tiburon Game Designer
One goal throughout the Madden Ultimate Team (MUT) 15 development process has been to streamline the menu screens, and keep the user interface (UI) out of the way.
Throughout our reveal of new Ultimate Team features, whether it's organizing the Item Binder or completing Sets, an emphasis has been placed on simplifying MUT's appearance and navigation.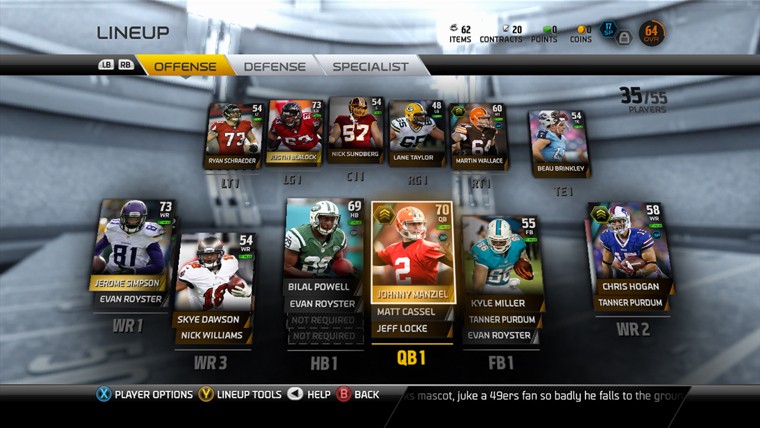 NEW LINEUP SCREEN
Let's take a look at that new lineup screen. What's new about it? Just about everything.
All of the offensive/defensive positions are now on one screen, eliminating the need to shuffle through pages to see all of your players.
The depth chart is now integrated into the lineup screen, allowing players to see their entire roster at a glance. It's now much easier to get a high-level overview of a team and bench.
Each slot on the lineup screen is labeled as "Required" (if that slot must be filled to play a game) or "Not Required" (for non-essential backups). If there's a gap in the lineup, a red "Gap" message will appear. For example, if you have players at QB1, QB2, and QB3, removing QB2 creates a gap. Simply moving QB3 to QB2 will remedy this.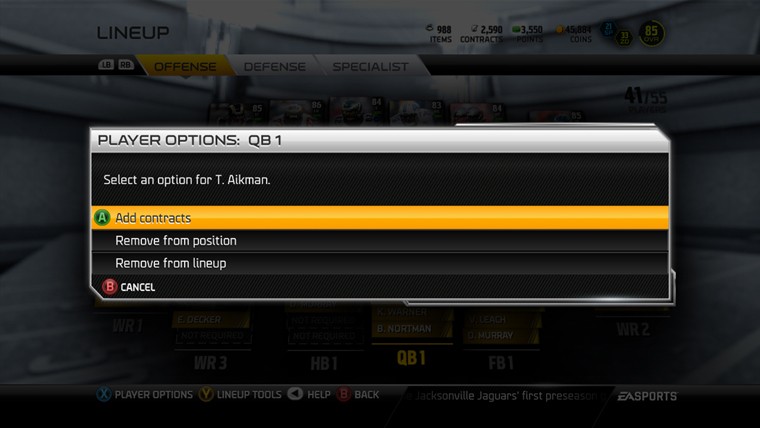 CONTRACTS ARE CURRENCY
Players and coaches still need Contracts to play games, but managing Contracts is easier than ever. There are no more Contract Extension items cluttering up Packs. Contracts have become a type of currency connected to your account. Players can get more Contracts when opening a regular Pack, and can also purchase them from the Store inside the Marketplace.
An "Extend Contracts" option is also available when viewing a player or coach in the New Items Screen or Item Binder. Players can add one game to a player or coach by spending one contract. There's also a Player Options button on the lineup screen to add contracts as well.
PLAYER OPTIONS
Player Options also provide two options for taking a player out of the lineup. "Remove from Position" takes that player out from the current slot. For example, an HB may be in the lineup as HB1, PR1, KR2, and 3DRB2. The "Remove from Position" function removes him from only one of those slots.
Another option, "Remove from lineup," takes the player out from all of those positional slots. Doing this may create a position gap that will need to be fixed. Removed players can be found (and added back into the lineup) in the Item Binder.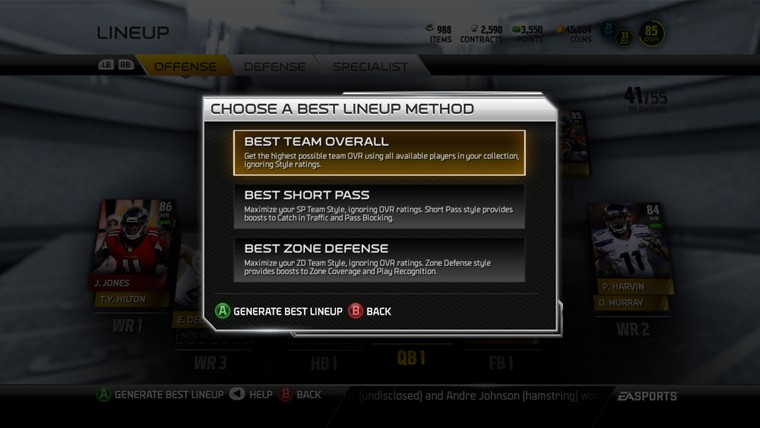 LINEUP TOOLS
Lineup Tools lets you change your team style and manage multiple lineups, but the coolest new feature is found in Best Lineup.
Unlike last year, Best Lineup does not fill up the roster and leaves some space to move players around. Also, players can now choose one of two active Team Styles to build a best lineup from. For example, if a Solo Challenge requires something like 90 Short Pass style, creating a Best Lineup Short Pass allows you to build a team that specializes in a particular style, rather than just the best possible OVR lineup.
There's also a tile on the Team Hub called "Coaching & Equipment," which allows players to make changes to their Head Coach, uniforms, playbooks, and stadium. Head Coaches with the proper team style boost will help maximize the effectiveness of different lineups.
Like the rest of Madden Ultimate Team, we think the changes to the lineup screen make it easier and more fun to play MUT 15.
Start your MUT journey today and preorder Madden 15 Special Edition, which includes 30 MUT Pro Packs and a Draft Class Pack featuring 10 first-round picks from the 2014 NFL Draft.