Posted August 5th at 4:41pm.
Written by EA SPORTS Tiburon UX Designer Dan Henuber
If you love Madden Ultimate Team (MUT), then you know the joy of ripping packs and building up a truly great collection.
But with every great collection, there is one eternal challenge to overcome: organization. And longtime MUT players know this challenge well.
THE OLD WAY
Up until now, there were several different places in MUT where a particular Item could live:
Current Roster (100 Items max)
Items had to be here in order to be slotted in your lineup, placed on Auction or Trade, or moved to Pending Collections.
Pending Collections (20 max)
Only Items in Pending Collections could be added to a Collection (re-named Sets inMadden NFL 15).
My Auctions (20 max) and My Trades (10 max)
Items up for auction or trade go to a separate place, almost like an escrow account.
Reserves (1,000 max)
Essentially an Item warehouse. If an Item was in Reserves, it had to be moved to Current Roster before being moved anywhere else.
So that's five total locations, and a lot of convoluted rules about transferring Item between them. Chuck chronicled the complicated process of adding an Item to a Collection in last week's blog.
In Madden 15 Ultimate Team, these headaches are a thing of the past. There is now one location for all of your Items, whether they are in your Lineup, in an Auction, or up for Trade: the Item Binder.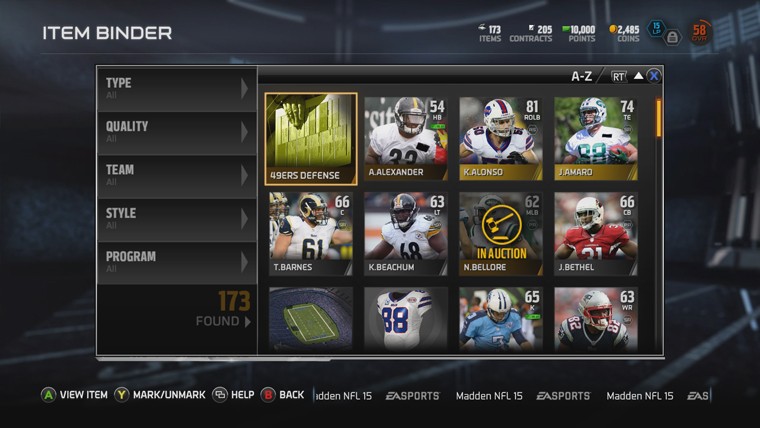 THE NEW WAY
The Item Binder is a visual overview of everything in an Ultimate Team Collection. And everything truly means everything, including Items currently in an active lineup, or currently up for auction/trade (see Alvester Alexander and Nick Bellore in the above screenshot).
You can simply browse the Item Binder, or perform a variety of actions on any individual Item. Auction, Trade, and Quicksell will be familiar to MUT players. But now, you can also add Items to Sets, compare them against similar Items in your collection, extend the contracts of players and coaches, and even send Items to your lineup—all right from the Binder. It's a streamlined experience that will make MUT players very, very happy.
But, that's not all the Binder can do. The filtering and sorting tools make it easy to find what you're looking for.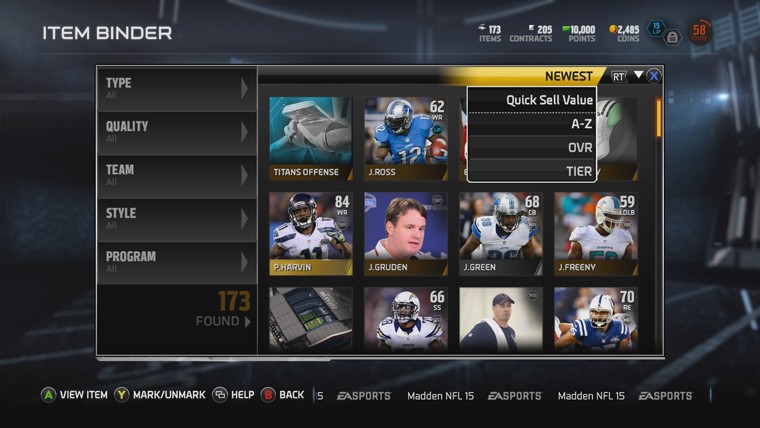 Binder Pro Tip #1: Sort by Newest
In Madden 15 Ultimate Team, new Items from packs, rewards, and auctions go directly to the Item Binder. It's a huge convenience to not have to decide where to send every single new Item. But where do you find all the new Items? Simply use one of the new sorting methods: 'Newest.'
Binder Pro Tip #2: Filter BY Quality
Along the left side of the Item Binder are some big, friendly Filter tools. By navigating over to them and pressing A/X with one highlighted, the available choices will slide out.
The 'Quality' filter is a particularly versatile tool, and can break down players by Tiers or an OVR range. Both come in handy in different ways.
For example, choose the Bronze tier or the <70 OVR range to get a list of potential low-value Trades or Auctions, or quick-sell them in batches to free up space in your Binder.
Conversely, find only Elite tiers or the >90 OVR ranges to see the crème de la crème of your players and other items.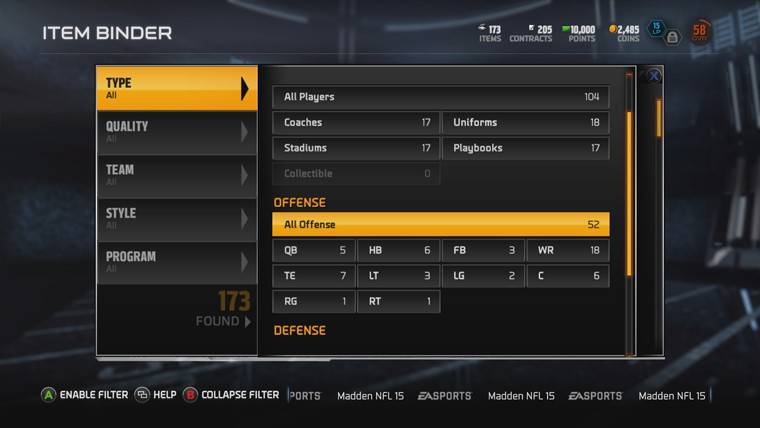 Binder Pro Tip #3: Positional Coverage
Because each filter option shows accurate counts of your Items, the slide-out filter menus double as an informational breakdown of a Collection. This is already pretty cool, but you can go even deeper and break down Collections by styles such as Long Pass.
More To Come
Fans have voiced frustrations over the old, convoluted MUT system. Our team heard you loud and clear, and the first goal this year was simple: get the UI out of your way.
We have only just scratched the surface of what's new in Madden 15 Ultimate Team, so stay connected to the MUT Hub for even more details in the coming weeks.