Posted November 6th at 6:40pm.
IT'S A NEW MADDEN ULTIMATE TEAM
NFL players have gotten bigger, stronger, faster, and smarter during the first eight games of the season, and the same will happen with players in Madden Ultimate Team (MUT).
The Road to the Playoffs begins Thursday, November 6, and MUT fans will see new players in Packs, new Solo Challenges, and new Sets to collect, with many new, exclusive rewards.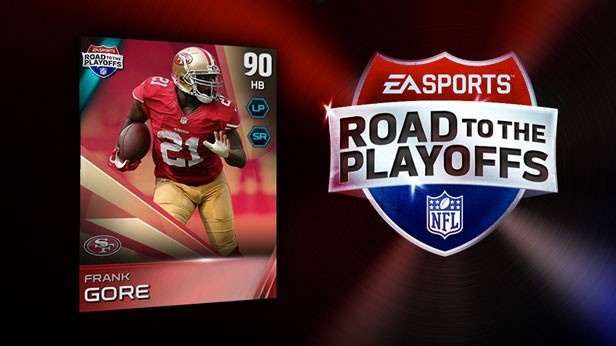 NEW ELITES IN PACKS
Many players have improved enough to get brand-new alternate versions of their Player Items. Some outstanding performers that were Gold tier are rewarded with Elite versions.
Along with new images and new art treatments, many of these will have two Team Styles instead of just one, and their OVRs range from 87 to 92. There are 25 new Elite versions for Road to the Playoffs, but old Elites are still available to help players complete Sets.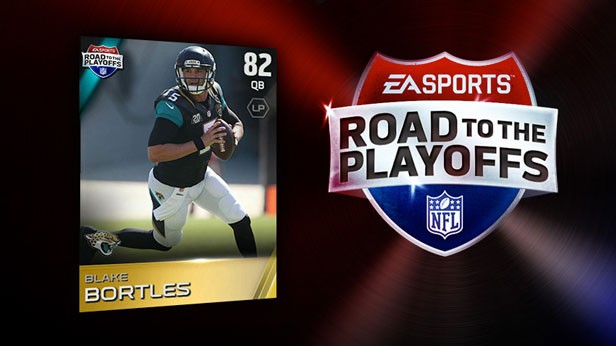 NEW GOLDS IN PACKS
Elites aren't the only new additions. Some Silver tier items have been upgraded to Gold. Road to the Playoffs includes more than 100 new Golds that have OVRs above 80.
In addition, more than 500 of these new Gold versions feature a different Team Style from the previous Items. Previous Gold Player Items will remain in packs to help complete Sets.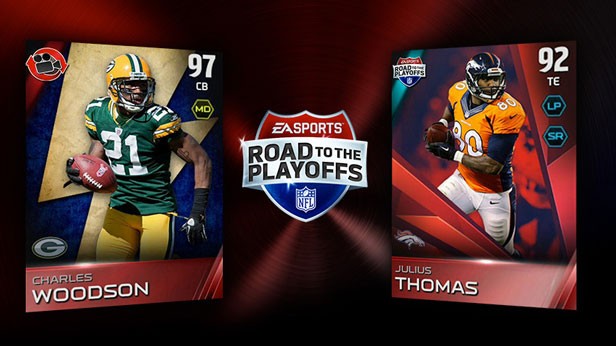 NEW TRIAL VERSION PLAYERS
A few Elite Player Items are also available on a trial basis. These are identical to the regular version found in Packs. There is a time limit on these Items, and their attributes will revert to their original version after a few days.
Two trial version players will be offered with boosted OVRs, lasting from Thursday until the morning of Monday, November 10. They are a Julius Thomas RTTP Edition at 7,500 Coins, and Charles Woodson Flashback Edition for 15,000 Coins.
NEW SOLO CHALLENGES
Road to the Playoffs finishes the regular season schedule for each NFL team. That's eight new Solo Challenges for each team! Difficulty for these new sequences are just like the early-season groups, and Badge Packs are included in the rewards. Players don't have to complete the first eight games of the season to unlock the Road to the Playoffs.
MVP Solo Challenges are similar to the Elite Solo Challenges from the first half of the season. That's 32 new All-Madden Solo Challenges with excellent rewards including five-Badge Packs, a large Coin reward, and Elite Collectibles needed for the MVP Set. Players aren't required to complete the original Elite Challenges to unlock the MVP Solos.
Dual Style Solo Challenges are added to the Style category in Solo Challenges. Players must build teams that feature a pair of offensive or defensive Styles in order to compete. That's 12 sequences of four games each, for a total of 48 new Solo Challenges. Exclusive new rewards include Dual Style Items from Silver, Gold, and Elite tiers. Winning the final game in each sequence earns a Dual Style Coach with a +2 Team Boost to an important attribute.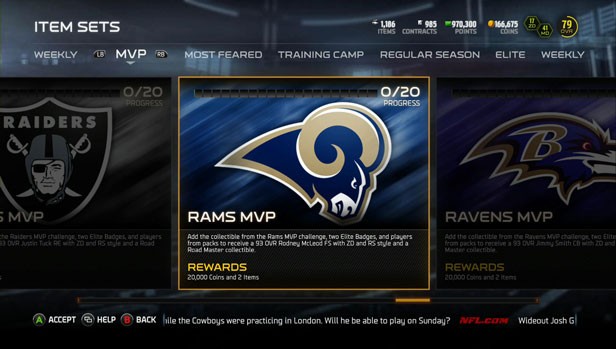 NEW MVP SETS
Players that complete the MVP Solo Challenges can earn Collectible rewards to finish new MVP Sets. These Sets unlock new 93 OVR MVP Elite Player Items, and there's one for each NFL team.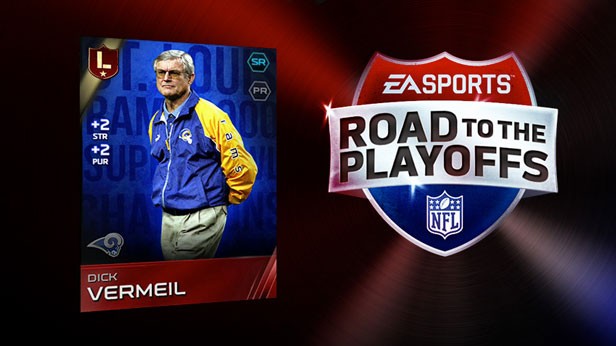 COACHING LEGEND SETS
Achieving milestones in Head-to-Head Seasons gives players the chance to receive special Road to the Playoffs Legacy Collectibles.
When players collect a Legacy Coach and a corresponding Collectible in new Coaching Legend sets, players receive improved versions of those coaches featuring two different Styles and Boosts.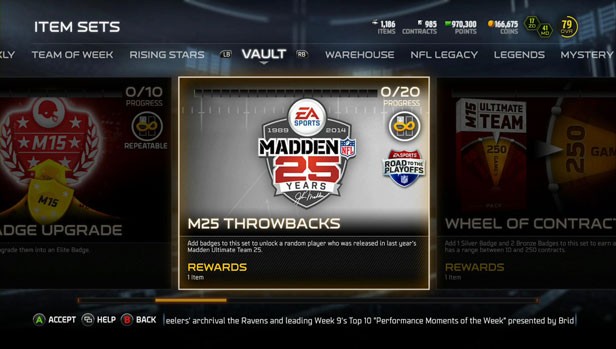 NEW VAULT SETS
Three Sets in the Vault category add new rewards: Flashback, MNF Heroes, and Premium Alternates. Monday Night Heroes will have their boosted versions improve by 2-3 points.
Brand-new Vault Sets for Road to the Playoffs include Madden NFL 25 Throwbacks, providing rewards from previous versions of Madden Ultimate Team.
In addition, Premium Alternates now earn two alternate Items for each completed Set (instead of just one).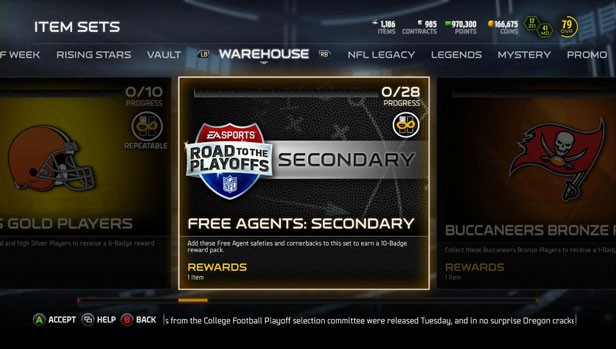 NEW WAREHOUSE SETS
Due to player demand, five Free Agent Sets have been added to the Warehouse, and players can add Free Agent players to receive 10-Badge Packs.
The new Seasons Pro Set requires ten Head-to-Head Seasons Collectibles, and provides an Elite Veteran Player reward.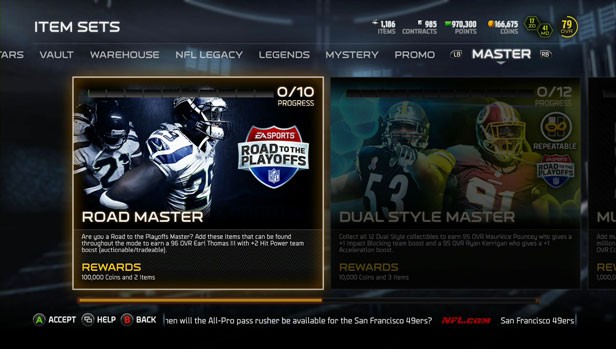 NEW ROAD MASTER SET
The new Road Master set requires five Head-to-Head Seasons Collectibles and four of the 32 Collectibles from the MVP Sets, as well as the single Dual Style Champion Collectible. Players will not need the MUT Master collectible to complete the Road Master Set.
Completing the Road Master Set is not as difficult at the MUT Master Set that was available upon release of Madden NFL 15.
SEE YOU ON THE ROAD!
Road to the Playoffs updates Ultimate Team in Madden 15 with hundreds and hundreds of Items, Solo challenges, and Sets. If you haven't started your Madden Ultimate Team legacy with a free Starter Team, now is a great time to jump on board!