Posted January 2nd at 10:00am.
Playoffs? Playoffs! Let's get started with the Wild Card round this weekend.
Some of the best QBs in the league are taking the week off, but let's take a look at the eight that will take the field this weekend.
Who will throw for the most yards? With apologies to Tony Romo, Andy Dalton, and Ryan Lindley, here are predictions for the top five.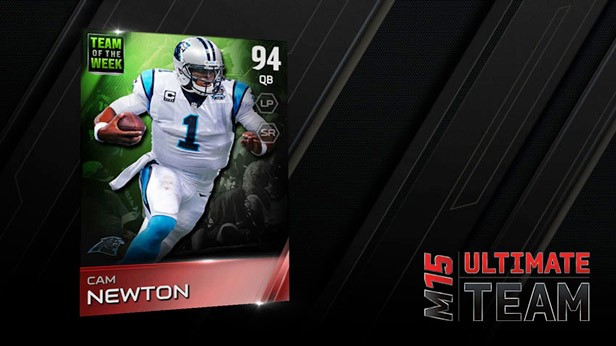 5. CAM NEWTON, CAROLINA PANTHERS QB (241 YARDS)
Cam's at home against a struggling Arizona Cardinals team that gives up piles of yards through the air.
Players can get his MUT Week 14 Team of the Week Item in the Auction House for 233,000 Coins.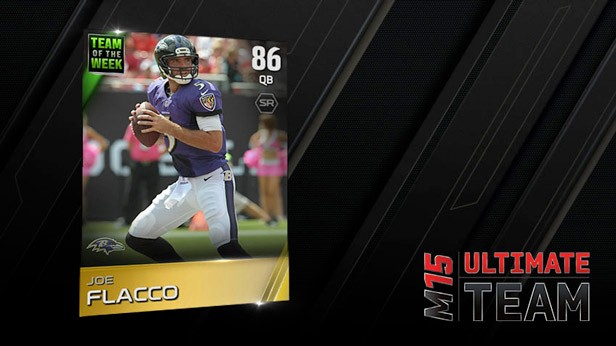 4. JOE FLACCO, BALTIMORE RAVENS QB, 251 YARDS
Flacco has quietly put together a solid season, and he could be the difference maker against the rival Pittsburgh Steelers.
His MUT Week 6 Team of the Week Item is 6,500 Coins in the Auction House.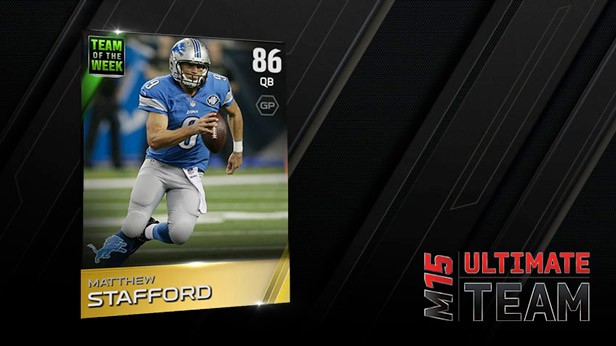 3. MATTHEW STAFFORD, DETROIT LIONS QB, 259 YARDS
Detroit's stingy pass defense could limit Dallas Cowboys QB Tony Romo and provide more opportunities for Stafford to shine.
MUT players can find Stafford's Week 10 Team of the Week Item in the Auction House for 12,000 Coins.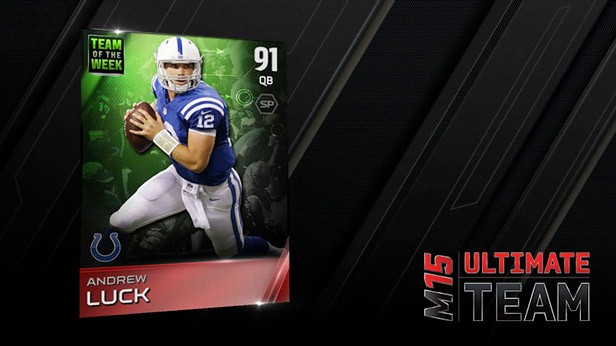 2. ANDREW LUCK, INDIANAPOLIS COLTS QB, 270 YARDS
Luck has a terrific yards-per-game average, and the Bengals' 20th-ranked pass defense will struggle to slow him down.
You can get his MUT Week 3 Team of the Week Item for 82,000 Coins in the Auction House.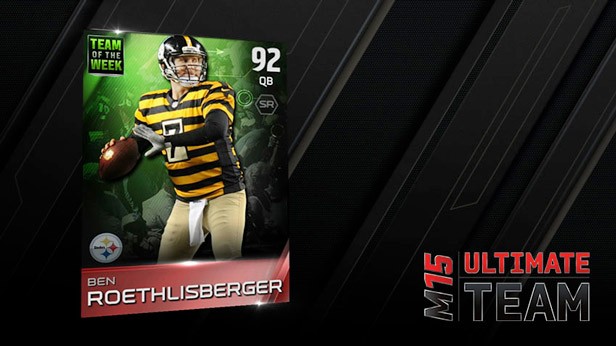 1. BEN ROETHLISBERGER, PITTSBURGH STEELERS QB, 279 YARDS
Who finished tied for the league lead in passing yards with New Orleans Saints QB Drew Brees? That's right, it's Big Ben with 4,952. His deep threat receivers will seal the deal against a struggling Ravens secondary.
Ben's MUT Week 8 Team of the Week Item goes for 50,000 Coins.