Posted December 30th at 3:00pm.
When the NFL season begins, Madden Ultimate Team (MUT) releases its first "base set" of items for hundreds of players.
During the year, many players receive updated editions, to reflect their on-field achievements.
These Items have identical player data (such as height and weight), but significant gameplay improvements (such as Overall Rating or Spectacular Catch).
Sometimes a player emerges from obscurity into the bright light of superstardom. Such a player is rookie wide receiver Odell Beckham Jr of the New York Giants.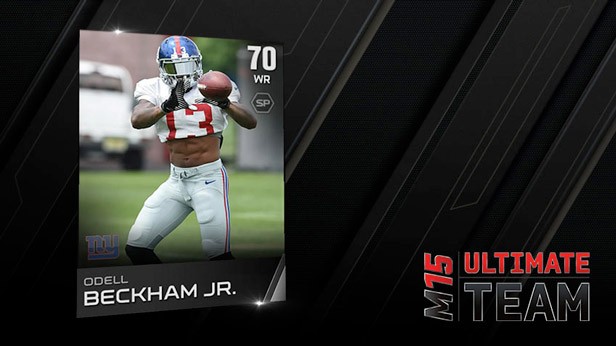 BASE SET (70 OVR, SILVER)
Many NFL rookies begin the year with lower OVRs such as Beckham's 70. As the 12th pick in the 2014 NFL draft, Beckham was filled with promise, but without accomplishments.
Beckham's Base Set edition sells for about 4,100 Coins in the MUT Auction House.
SIGNATURE SERIES (70 OVR, SILVER)
The MUT Signature Series features popular players with special image enhancements that include that player's actual autograph. These player Items also provide enhanced Team Style gameplay bonuses.
Beckham's Signature Series edition sells for about 3,300 Coins in the MUT Auction House.
TEAM OF THE WEEK (90 OVR, ELITE)
In Week 10, Beckham had seven receptions on nine targets for 108 yards, and also added one rush for 11 yards. This was commemorated with MUT Team of the Week honors, boosting his OVR 20 points all the way to 90.
Beckham's Team of the Week edition sells for about 109,000 Coins in the MUT Auction House.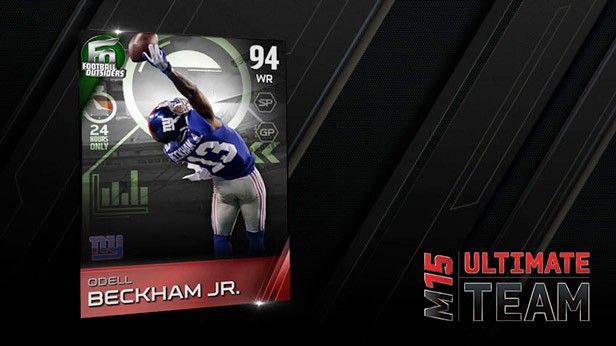 FOOTBALL OUTSIDERS (94 OVR, ELITE)
In Week 12, Beckham made a spectacular, one-handed reception that became one of the signature plays of the 2014 season.
He finished with ten catches on 11 targets for 146 yards and two touchdowns. MUT honored Beckham again with a Football Outsiders edition that boosted his OVR even further to 94. It also paid tribute to that catch in the Item image.
Beckham's Football Outsiders edition sells for about 268,000 Coins in the MUT Auction House.
MUT is more than just a game mode in Madden. It helps tell the story of the real-world NFL season, and the players that become stars.