Posted November 25th at 8:30pm.
There are two types of currency in Madden Ultimate Team (MUT) that are used to purchase items, packs, and bundles in the mode.
While many items can be acquired by finishing Solo Challenges, completing Sets, or winning Head-to-Head Seasons games, others can only be purchased with Coins or Points.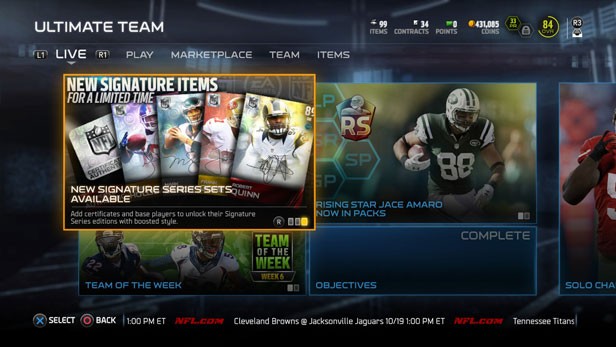 WHAT ARE COINS?
Coins are the in-game currency of MUT. They can be earned by completing many different kinds of game activities. The current Coins total is shown in the user bar strip at the upper right of most screens in the mode. Any time a user earns or spends Coins in MUT, this total is updated to reflect the change.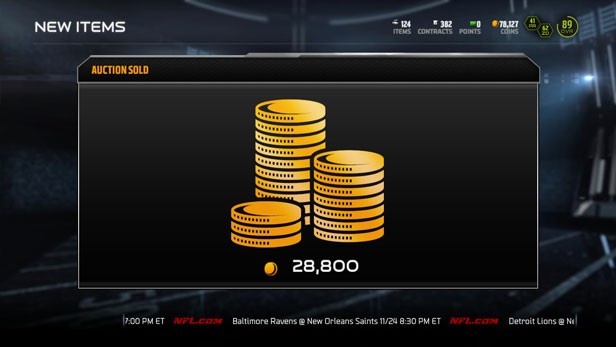 HOW CAN I EARN COINS?
There are many ways to earn coins in MUT. Here are some examples:
- Auctions – When a user wins an Auction for an Item, the Item's owner is awarded the Coins that were bid, minus a small transaction fee.
- Quicksell – Most Items have the option to quicksell them right away for a small amount of Coins. The Coin Up program allows users to earn large amounts of Coins based on the outcomes of real NFL games.
- Completing Sets – Many Sets offer a Coin reward for completion.
- Solo Challenges – A single-player Solo Challenge game often includes Coins as a reward.
- Head-to-Head Seasons – When playing Seasons games against other players, one of several milestones may be achieved with rewards of Packs or Coins.
- EA SPORTS Gridiron Club – When a new MUT team is started, the user may have earned Coins for playing previous Madden games.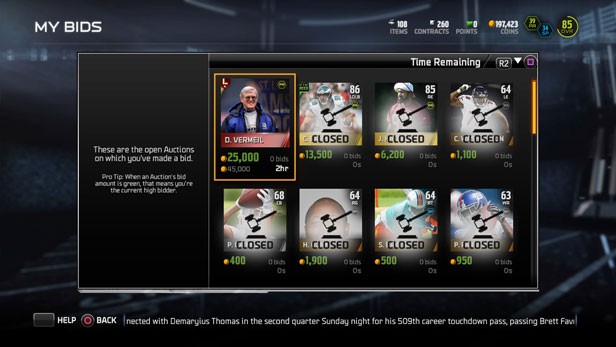 WHAT CAN I BUY WITH COINS?
Coins can be used in the Store to purchase Packs, replacement Player Items, and Contracts. They are also used to place bids in the Auction House for Items that have been submitted by other players.
Pro Tip: When a bid is placed on an Auction Item, those Coins are not available for use until that Auction is completed. If the bid doesn't win the Auction, those Coins are returned to the user's account.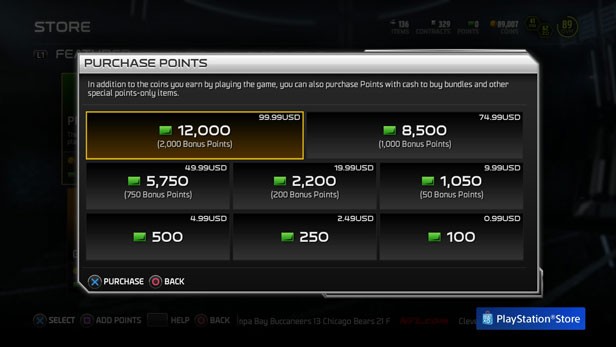 WHAT ARE POINTS?
Points are another kind of currency that can purchase Items, Packs, and Bundles inside MUT. MUT Points can only be purchased by using Xbox Live or PlayStation Network. Those Points are stored in the user's account.
The Points total is displayed in the user bar, next to the Coins total. Some Items, Packs, and Bundles can only be purchased using Points (they can't be purchased with Coins).
Pro Tip: Coins can never be used to purchase Points. Points can never be used to purchase Coins. Players can't earn Points with in-game activities like Solo Challenges, Sets, or Seasons games.