Posted December 26th at 3:00pm.
Many criteria can be used to evaluate an NFL defensive back. Is the best at Man Coverage? Zone Coverage? Can he tackle? Does he bring the pain when he hits the ball carrier?
Here are the five best defensive backs in five different categories: Man Coverage (MCV), Zone Coverage (ZCV), Speed (SPD), Hit Power (POW) and Tackling (TAK).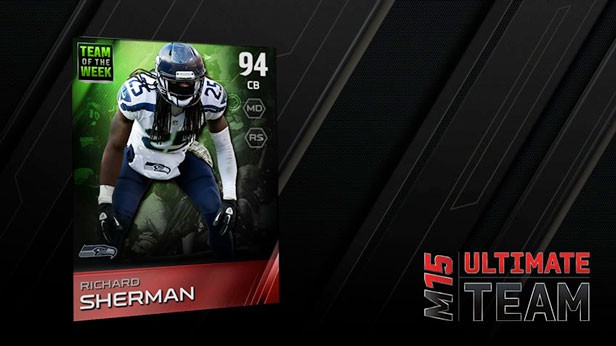 RICHARD SHERMAN, SEATTLE SEAHAWKS CB (97 MAN COVERAGE)
Sherman is the best cornerback in the league (if you're not sure, just ask him). The QB Rating of passes into his coverage this year is a low 48.7.
Sherman's Week 13 Team of the Week (TOTW) edition features 97 Man Coverage and 95 Zone Coverage, and sells for about 359,000 Coins in the MUT Auction House.
Honorable Mention: Patrick Peterson also has 97 Man Coverage. Joe Haden and Brent Grimes have 96 Man Coverage.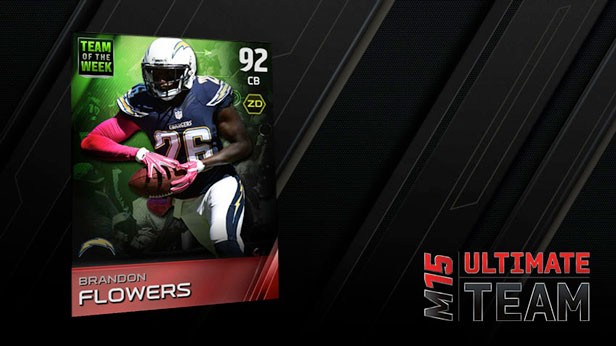 BRANDON FLOWERS, SAN DIEGO CHARGERS CB (96 ZONE COVERAGE)
Flowers can be a shutdown corner and has a knack for making clutch tackles. His 55.6% Percentage Caught ranks high for 2014.
Flowers' Week 5 TOTW Item has 96 Zone Coverage, 94 Man Coverage, and 81 Hit Power. It sells for 133,000 Coins in the Auction House.
Honorable Mention: Richard Sherman, Byron Maxwell, Casey Hayward, and Jason McCourty all have 95 Zone Coverage.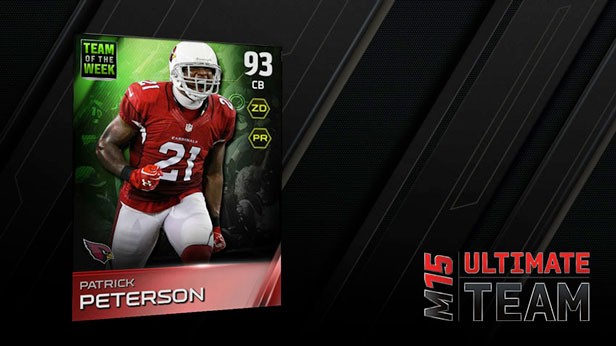 PATRICK PETERSON, ARIZONA CARDINALS CB (97 SPEED)
Pat Pete's biggest advantage over rival Richard Sherman is his blazing speed. He has 48 tackles and 3 interceptions on the year.
Peterson's Week 10 TOTW features 97 Speed, 97 Man Coverage and 93 Zone Coverage, and sells for 450,000 Coins in the MUT Auction House.
Honorable Mentions: Eric Berry has 94 Speed. Richard Sherman, Byron Maxwell, and Devon McCourty have 93 Speed.
MAJOR WRIGHT, TAMPA BAY BUCCANEERS SS (95 HIT POWER)
Wright has allowed only 11 receptions in coverage this year, and that's due to his hard-hitting nature.
His MUT MVP edition features 95 Hit Power, 90 Zone Coverage, and 90 Play Recognition, and sells for 154,000 Coins in the Auction House.
Honorable Mention: Kam Chancellor, Kenny Vaccaro, Eric Berry, and Antoine Bethea.
KAM CHANCELLOR, SEATTLE SEAHAWKS SS (86 TACKLE)
Chancellor's 71 tackles and low 8.0 average yards on completions into his coverage show that you won't get far throwing (or running) against him.
His Week 3 TOTW edition has 86 Tackle, 96 Hit Power, and 91 Pursuit. It sells in the Auction House for 112,000 Coins.
Honorable Mention: Eric Berry has 84 Tackle, Antoine Bethea has 77 Tackle, Major Wright has 76, and Kenny Vaccaro has 71.