Posted October 28th at 4:40pm.
Madden Ultimate Team (MUT) players purchase packs in the Store and post bids in the Auction House with coins earned in-game. The MUT Grinder's Guide offers tips on earning more coins for both rookies and veterans.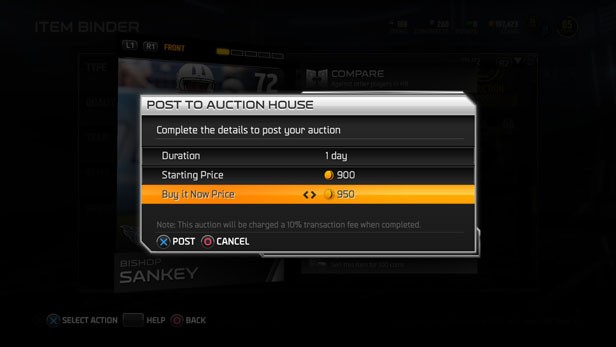 AUCTION HOUSE BASICS
Packs in MUT usually have random Items inside; so if a user is looking for a specific Item, one place to make that happen is the Auction House.
Auctions allow the player to post an Item for sale, and auctions can be specified by duration, starting price, and Buy it Now price. Note that a 10 percent transaction fee will be deducted from the final sale amount.
Pro Tip: When selling an Item, check the Add to Set button to see if that Item is required to complete any Sets. If so, then that Item should be priced higher.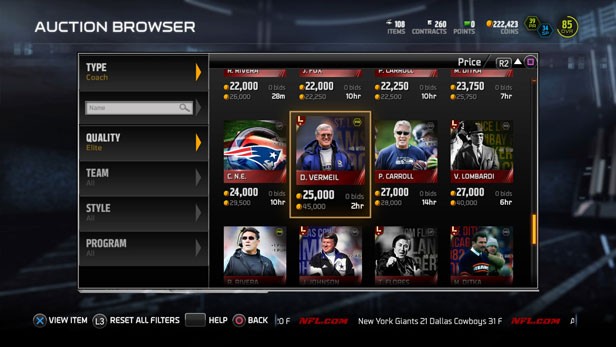 LOOKING FOR BARGAINS
The Auction House has the same powerful filters that are found in the Item Binder, with an additional "search by name" filter.
Users can filter and narrow the search to just the Items they're looking for.
Sort options allow the user to choose auctions ending soon, the lowest current price, the lowest Buy it Now price, or OVR (overall rating) for player Items.
Pro Tip: Before selling an Item, it's a good idea to look for similar Items for sale in the Auction House to estimate the current market value.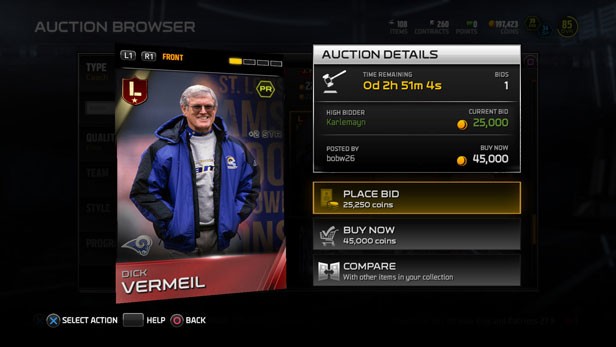 PLACING A BID
When the user places a bid, the auction price is green as long as the user holds the highest bid. When the user is outbid, a notification is received in Madden Messenger (even if the user is not in MUT).
As time winds down in an auction, each new bid adds a few seconds to the remaining time. When there are two or more users bidding on the same item, a prolonged bidding war can ensue.
Pro Tip: Users can research market prices on valuable items, and then look for those items at lower prices in the auction house. These bargains can then be "flipped" and sold at market value to make a profit.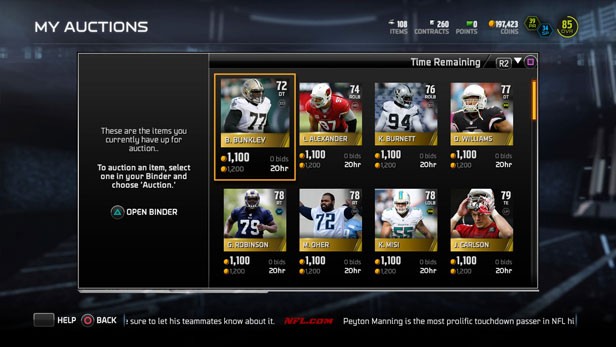 MONITORING AUCTION ACTIVITY
Auctions selling the user's Items can be monitored with the My Auctions screen. The user can cancel an auction if there have been no bids on that item yet, and also keep track of pending bids in the The My Bids screen.
Madden Messenger notifies the user if a sale is completed, or an auction is won. MUT's powerful Auction House tools help users find key Items to make Ultimate Teams truly Ultimate.
MUTHEAD COMMUNITY SLEEPERS
Each week, we'll showcase "sleeper" players that are inexpensive, but effective choices for building your team. These players are chosen by community members from Muthead.com.
Our sleepers compare favorably against their more expensive (and well-known) counterparts.
BRIAN MOORMAN - BUFFALO BILLS P (66 OVR - SILVER)
VendettaRebel has an unusual, but risky suggestion: "Go get Brian Moorman and make him your punter, then run fakes all day with his 87 Speed, 83 Acceleration, and 59 Throw Power.
"You can hit the slant on the fake if you roll right and wait till he's open. If you practice it, you can also throw it deep, take control of your receiver, and go get the jump ball (change your subs to get a jumper/spectacular catch guy to run the slant or the streak).
"Or just roll out and run for it, make the running/throwing choice I'm successful about 80% of the time. Plus, he has some cool accessories."
Moorman's Auction House price is about 362 Coins. He's a sleeper compared to Marquette King, who sells for 4,000 Coins.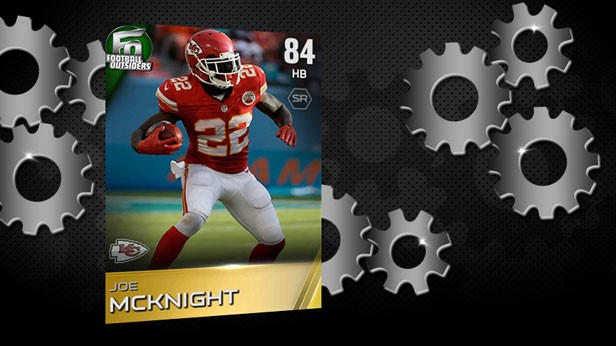 JOE MCKNIGHT - KANSAS CITY CHIEFS HB (85 OVR, GOLD)
Zimm2213 added this: "TOTW 84 Joe McKnight has been amazing for me, He shares time as my speed back with 87 DeMarco Murray. Also, he is an excellent returner that doesn't fumble."
McKnight's speed, agility, and acceleration are all top notch. His Auction House price is about 6,500 Coins, and he's a sleeper compared to TOTW Giovani Bernard, who sells for 9,200 Coins.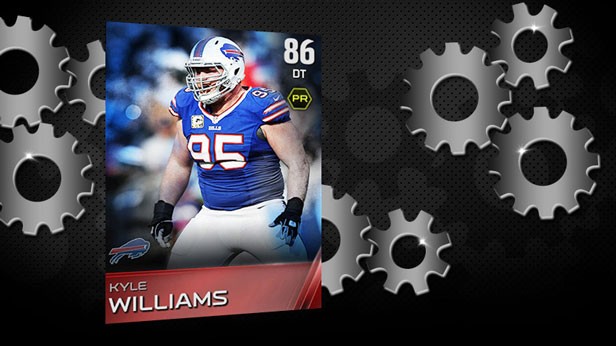 KYLE WILLIAMS, BUFFALO BILLS DT (86 OVR, ELITE)
burntfire: "While I know he is an elite... he's still rather cheap at roughly 25k. He plays WELL beyond his stats at DT. I would say he makes at least one huge play per game, whether it be a quarterback sack for a fumble (which he can take to the house), or just jumping on the ball before anyone else.
"If you need help inside, put him in the DT2 spot and watch him work."
Williams' auction price is about 29,600 coins. He's a sleeper compared to Gerald McCoy, who sells for 76,300 coins.