Posted October 2nd at 9:14pm.
Madden NFL Mobile will feature new, exciting features and content during the season that all levels of players can to enjoy.
It's time to get social. Madden NFL Mobile now includes leagues supporting up to 32 players.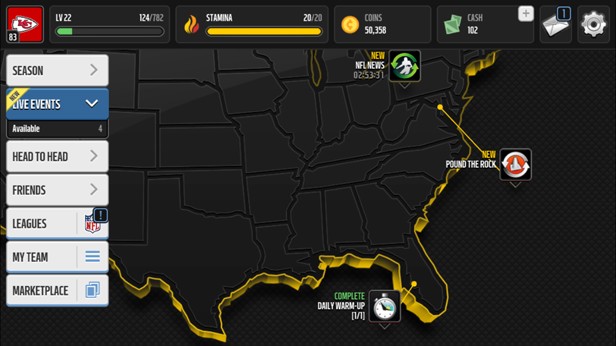 LEAGUES
Leagues are a 32-member social group that allows players to join up with their friends to play against each other and chat.
To access the mode, simply tap the Leagues button from the main HUB from the main HUB. Leagues are available once players reach Level 5 in Madden Mobile.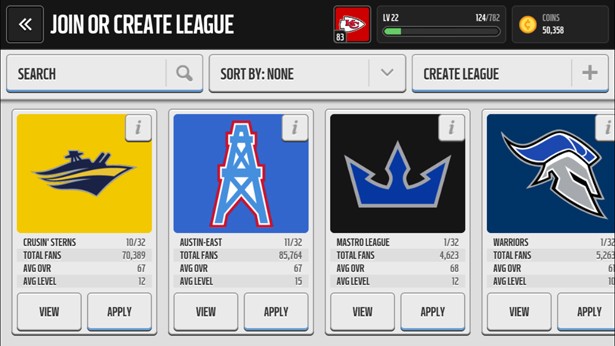 Once inside, simply choose from a wide assortment of player-created leagues, or narrow down the options by using the search and sorting.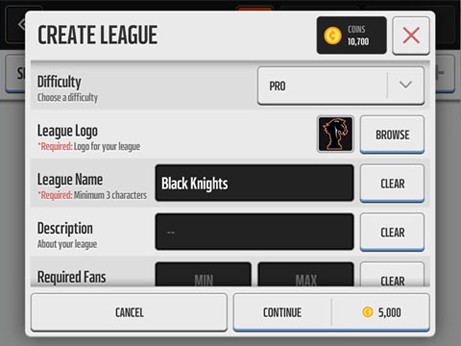 MAKE IT YOUR OWN
The fun starts when you create your own league. Players can set any requirements for their league, and can choose from a wide assortment of logos ranging from primary NFL team logos to fantasy football logos.
Leagues can be edited at any time.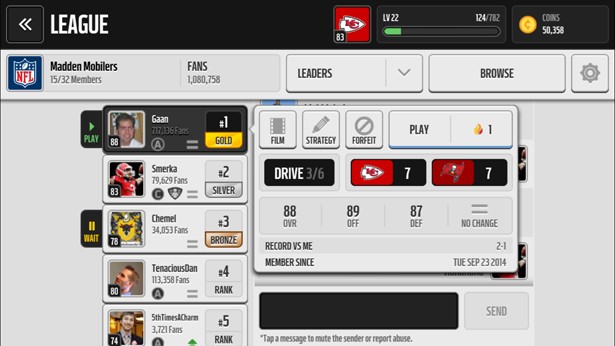 INTRA-LEAGUE HEAD-TO-HEAD
League members can play against each other in a ladder format. You can challenge the two members ranked above you to a Head-to-Head game, and also set up defensive strategies, watch drive replays, and track records against them.
After defeating a league member, players take over their ranking slot on the ladder. The top-ranked member assumes a "King of the Mountain" role, and must defend against all challengers.
Players can only participate in two games at once (one started by you, and one started against you). Games are automatically forfeited if they are not completed within 24 hours.
What makes intra-league Head-to-Head even more exciting is the potential to "sling shot" in the rankings by defeating a higher-ranked league member.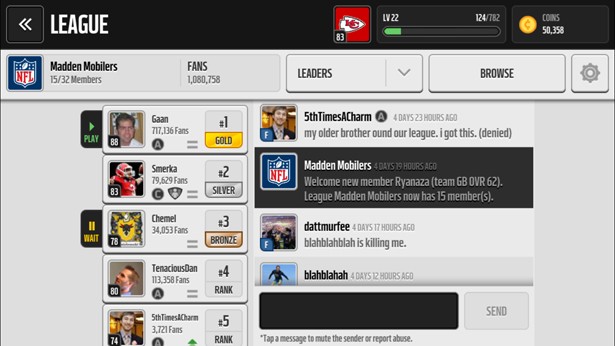 TALK IT OUT
No social group would be complete without a chat feature. Players in leagues can chat with one another in order to set up games, or talk some trash about their latest win.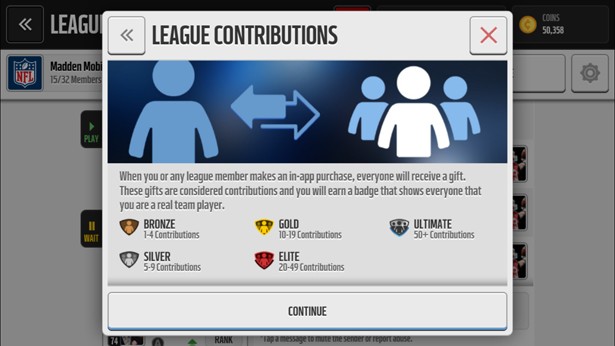 LEAGUE CONTRIBUTIONS
One last thing to mention is League Contributions. Whenever a league member makes an in-app purchase, the rest of the league will receive a gift ranging from Coins to Card Packs.
Players that make League Contributions receive a badge to let everyone know that they are a team player.
The Madden Mobile team has more plans in the future. Look for more additions, tweaks and fixes in the weeks to come. See you on the gridiron.
Take your Madden game on the road with Madden NFL Mobile, now available on iOS and Android.