Posted August 27th at 1:00pm.
Written by Mobile Designer Steve Merka
It's time to take your Madden game on the road. Madden NFL Mobile is now available on iOS and Android.
The team has worked hard in the off season to make improvements, so let's take a look at what is new this year.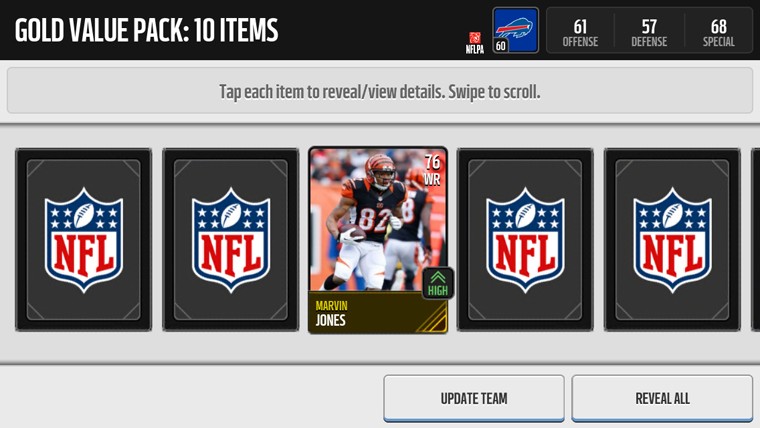 WELCOME TO MADDEN NFL MOBILE 15
Before hitting the field in Madden NFL Mobile, there are a few things to accomplish. After starting the game for the first time, players must choose a favorite team, uniform, field and then complete a short tutorial. Once the tutorial is complete, it's time to purchase the first player pack.
We have taken steps to message when there are better players available that can impact lineups. Players with a "High" icon are better than the players currently in your lineup. Simply tap the Update Team button to auto-switch them.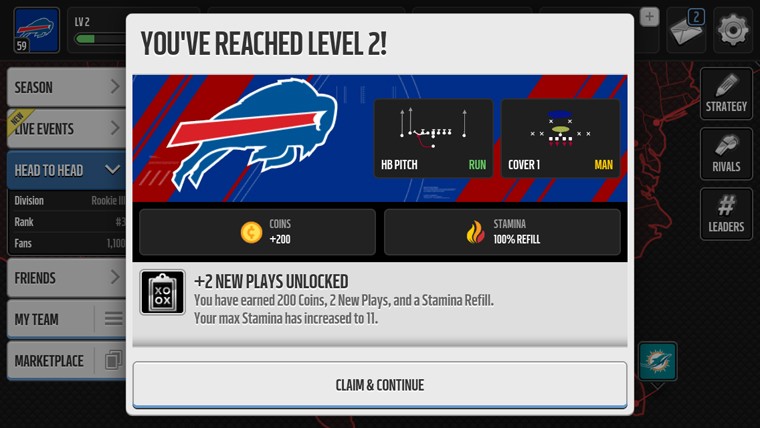 LEVEL UP!
As players accrue more experience points in Madden Mobile, they can gain levels to unlock players, earn rewards, and refill stamina.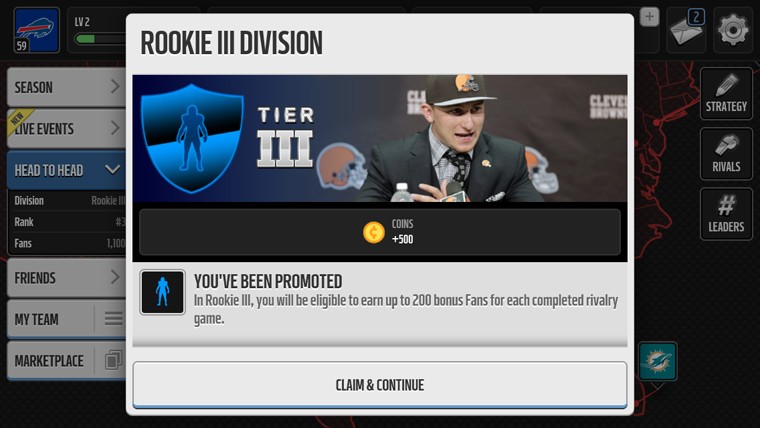 HEAD-TO-HEAD
Head- to-Head play allows players to compete against each other in an offense-only experience. The more fans you earn, the higher your rank in the leaderboards.
After gaining a certain amount of fans, players are promoted to new divisions to earn rewards. Losing fans can cause teams to be demoted. Don't worry about reaching zero fans. Hardcore fans will never abandon ship.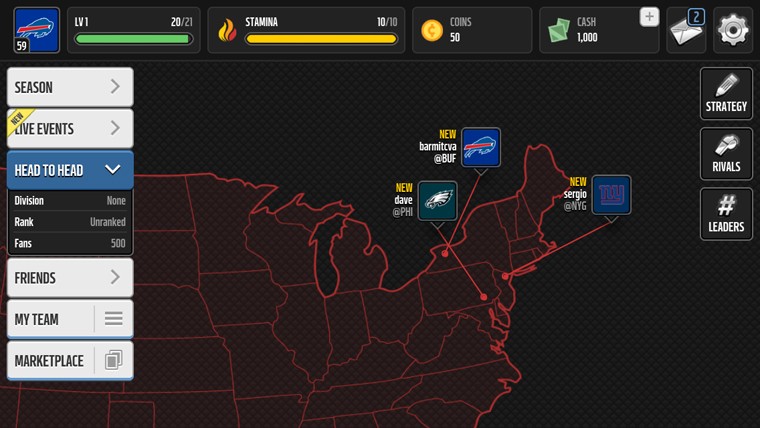 Head-to-Head play provides you with a selection of players to challenge and displays them on a map. Locations are based on the player's city. Simply tap on the map icon to start a drive.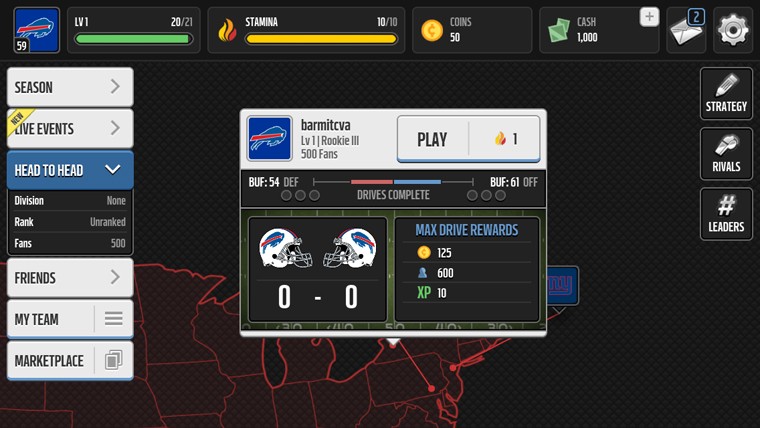 Players can see how their offense stacks up to their defense by comparing overall ratings. Check to see if their OVR ratings change before each drive and see what rewards you can earn.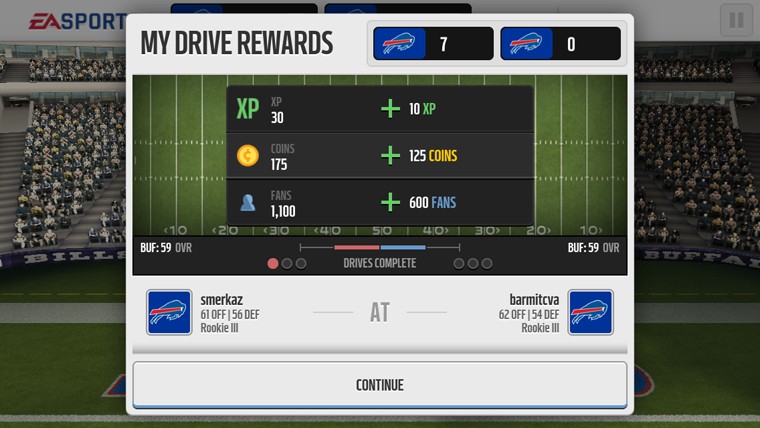 Head-to-Head play is very flexible and allows players to compete without having to commit to a full game (three drives apiece). However, it's beneficial to complete games in order to earn full rewards. Returning a drive against another player, within a certain amount of time, grants bonus rewards.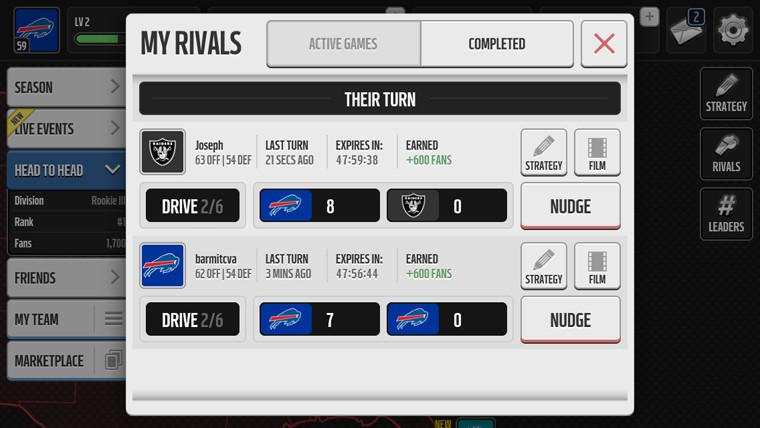 We also added a Rivals List, which allows players to track ongoing game progress and total fans earned. Players can track up to 50 in-progress games at once, and also watch replays of previous drives from you or your opponent.
Although there's no "active defense" in Madden Mobile, you still have some control of play-calling by accessing Defensive Strategy. Utilizing Defensive Strategy gives the defense certain plays to look out for and counter.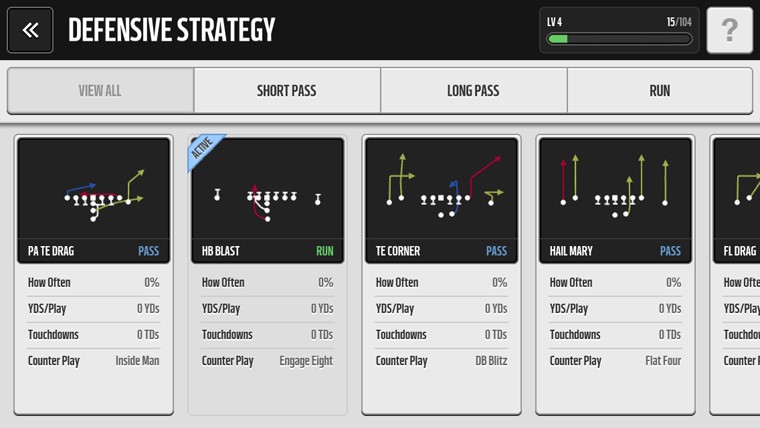 Defensive Strategy provides information about the success of each play type, including how often a certain play type was called and how successful it was.
The breakdown does not end there. Players can track which plays have been called, as well as their individual success numbers. Set a Defensive Strategy for both random opponents and current rivals.
LIVE EVENTS
Madden NFL Mobile 15 takes the challenges from last year's Season Mode and places them into their own mode called Live Events.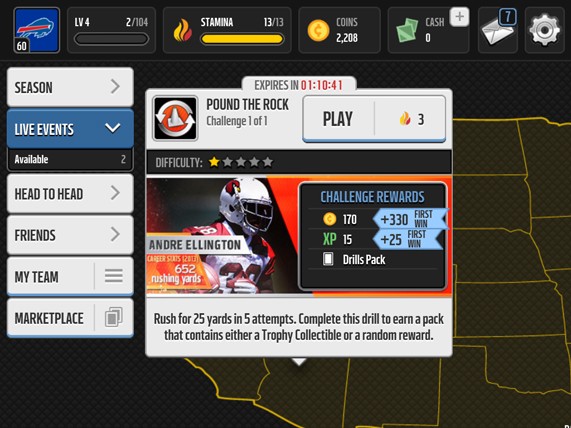 Live Events put the intensity of the NFL season right in the hands of the player. Follow along with the real-world NFL by completing challenges to earn Players, Trophies, and Rare Items.
Players can take their game to Facebook and challenge their friends from a convenient map overlay. You can also invite your Facebook contacts to join you and play.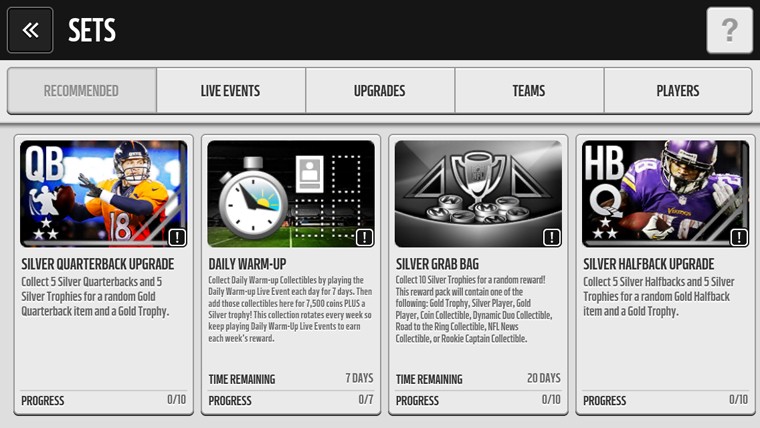 SETS
Madden NFL Mobile 15 also marks the return of Sets, which are Collections that can be completed for awesome rewards.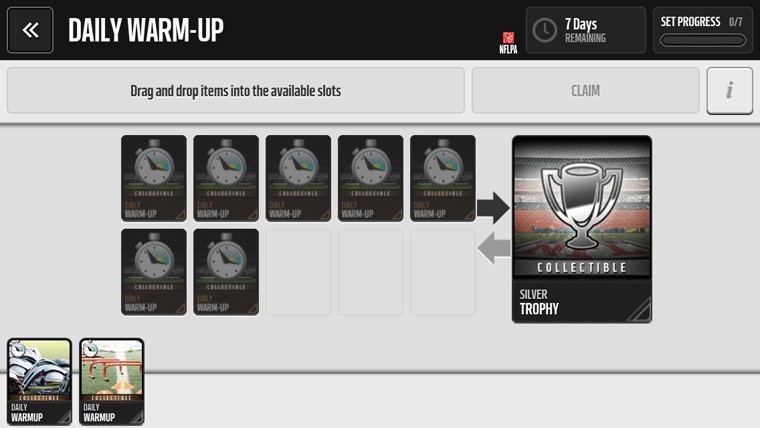 Some Sets are available for a limited amount of time, so make sure to get those needed Items quickly to complete them.
Madden Mobile also includes Season mode, which allows players to progress through their favorite team's 2014 schedule, and then play unlimited seasons with different schedules.