Posted May 9th at 12:00am.
The Madden NFL Cover Vote is underway, and 16 of the game's brightest stars will be vying for the honor of cover athlete of Madden NFL 15. Each athlete bio also includes tips on how to use each player in Madden NFL, courtesy of ZFarls and SGibs.
ZFarls and SGibs are pro gamers and authors of the Official Madden NFL 25 Strategy Guide by Prima Games. They are trusted Madden NFL community leaders, past tournament champions and active members of the EA SPORTS Game Changers program. Check out their site, MaddenTips.com, as well as their weekly "This Week in Madden" web show.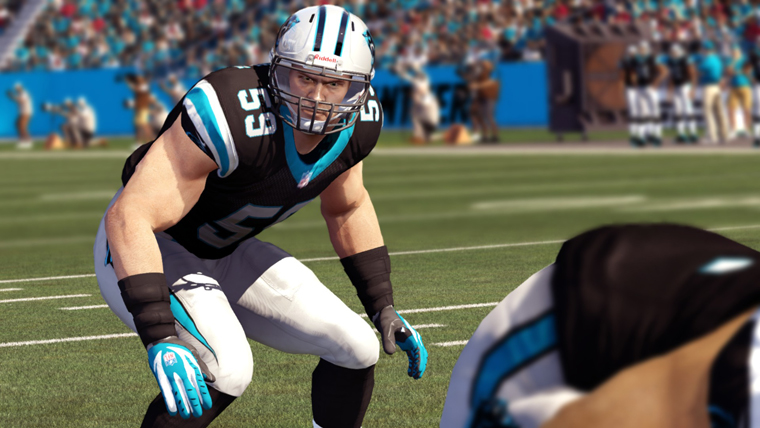 LUKE KUECHLY, CAROLINA PANTHERS LB
The third-year tackling machine out of Boston College spearheaded a Carolina Panthers defense that finished second in both total defense and scoring defense behind eventual Super Bowl Champion Seattle. Kuechly finished fourth in the NFL with 156 tackles to go with four interceptions and seven pass deflections en route to Defensive Player of the Year honors. This came one year after he took home the Defensive Rookie of the Year award in 2012.
KUECHLY IN MADDEN NFL 25 (94 OVR, 99 PRC, 99 TAK, 99 PUR)
The reigning Defensive Player of the Year could be the first LB to grace the Madden cover since Ray Lewis in Madden NFL 2005. Kuechly has the ability to hold down the middle of the field with an amazing 99 Tackle rating. With a great blend of pursuit and play recognition, Kuechly can quickly figure out where a play is going and get there in a flash. No matter what the situation is, Kuechly has the skill set to stay on the field and make plays in Madden NFL 25.
KEY PLAY: 4-3 UNDER – EDGE STING
Blitzing your opponent is risky, but not with Kuechly holding down the middle of the defense. The edge sting will bring quick pressure, while the middle of the field will be locked down with great pursuit, tackle and play recognition.
Pro Tip: Advanced players can control Kuechly and rush the quarterback if the running back stays in to block.

For more on the Madden NFL 15 Cover Vote, click here.
Madden NFL 15 is available Tuesday, August 26. Click here to pre-order, and join the conversation on Facebook and Twitter.