Posted May 9th at 12:00am.
The Madden NFL Cover Vote is underway, and 16 of the game's brightest stars will be vying for the honor of cover athlete of Madden NFL 15. Each athlete bio also includes tips on how to use each player in Madden NFL, courtesy of ZFarls and SGibs.
ZFarls and SGibs are pro gamers and authors of the Official Madden NFL 25 Strategy Guide by Prima Games. They are trusted Madden NFL community leaders, past tournament champions and active members of the EA SPORTS Game Changers program. Check out their site, MaddenTips.com, as well as their weekly "This Week in Madden" web show.
EDDIE LACY, GREEN BAY PACKERS RB
Eddie Lacy began his NFL career as a training camp punchline after being photographed from an unfortunate angle during positional drills. But once the dust settled, he was the NFL's Offensive Rookie of the Year after rushing for 1,178 yards and 11 touchdowns. Five of those touchdowns came in the season's last four games as the Packers fought their way to an NFC North title.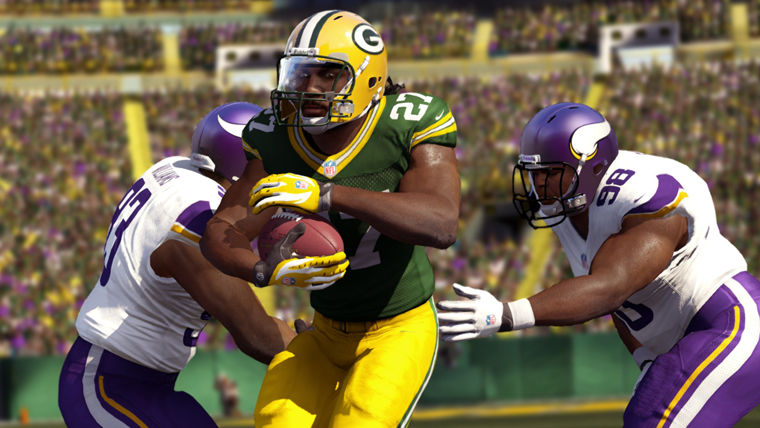 LACY IN MADDEN NFL 25 (86 OVR, 95 TRK, 97 SPM, 96 CAR)
Lacy has solid speed and is capable of running over defenders with his 95 Trucking rating. While many consider Lacy a power back, his ability to pull off great spin moves with the Precision Modifier in Madden NFL 25 adds a second weapon to his arsenal. Lacy earned the trust of the fans in Green Bay and with a 96 Carry rating, he should earn your trust in late-game situations to seal victories.
KEY PLAY: SINGLEBACK ACE TWINS – HB STRETCH
Use this unbalanced formation to clear a path to the edge. Don't forget that you can spin back inside if the edge isn't open, or simply lean the right stick forward to clear a path.
Pro Tip: If the defense takes the edge away, the run audible is a HB Dive where Lacy can put his head down and move the chains.

For more on the Madden NFL 15 Cover Vote, click here.
Madden NFL 15 is available Tuesday, August 26. Click here to pre-order, and join the conversation on Facebook and Twitter.