Posted May 9th at 12:00am.
The Madden NFL Cover Vote is underway, and 16 of the game's brightest stars will be vying for the honor of cover athlete of Madden NFL 15. Each athlete bio also includes tips on how to use each player in Madden NFL, courtesy of ZFarls and SGibs.
ZFarls and SGibs are pro gamers and authors of the Official Madden NFL 25 Strategy Guide by Prima Games. They are trusted Madden NFL community leaders, past tournament champions and active members of the EA SPORTS Game Changers program. Check out their site, MaddenTips.com, as well as their weekly "This Week in Madden" web show.
DEMARYIUS THOMAS, DENVER BRONCOS WR
Despite catching 92 passes for 1,430 yards and 14 touchdowns, Demaryius Thomas' 2013 performance seemed slightly overshadowed by the MVP performance of Peyton Manning, breakout campaign from Julius Thomas, and the addition of Wes Welker. Now that Eric Decker (87 catches, 1,288 yards, 11 touchdowns) has joined the Jets via free agency, Thomas' role could get even bigger. That's a scary thought for AFC defenses.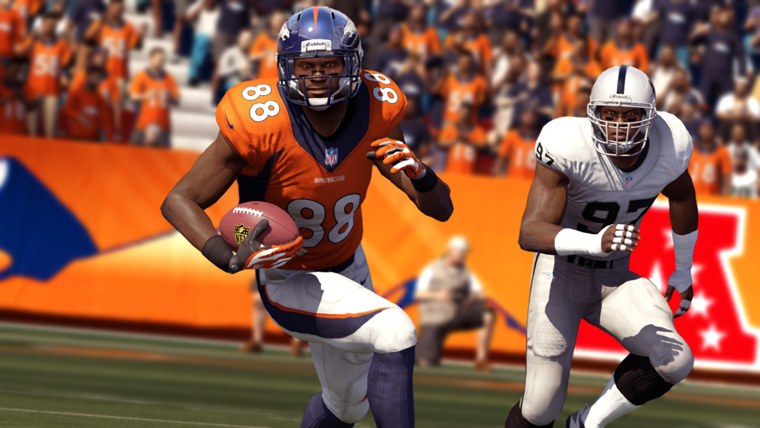 THOMAS IN MADDEN NFL 25 (93 OVR, 96 SPD, 95 JMP, 95 RLS)
With elite size (6'3, 230 pounds) and a Speed rating of 96, covering Thomas is a nightmare. Do you risk playing physical and getting beat deep? Or do you play off and risk getting beat by a short pass that he turns into a long TD? Good luck!
KEY PLAY: SINGLEBACK Y-TRIPS – WR SCREEN
While Thomas is a great threat downfield, he can also beat a conservative defense with yards after the catch. Look to catch defenders that sag off with this quick play, and make them pay.
Pro Tip:This can also be a great call against blitzing defenses on third down.

For more on the Madden NFL 15 Cover Vote, click here.
Madden NFL 15 is available Tuesday, August 26. Click here to pre-order, and join the conversation on Facebook and Twitter.