Posted May 9th at 12:00am.
The Madden NFL Cover Vote is underway, and 16 of the game's brightest stars will be vying for the honor of cover athlete of Madden NFL 15. Each athlete bio also includes tips on how to use each player in Madden NFL, courtesy of ZFarls and SGibs.
ZFarls and SGibs are pro gamers and authors of the Official Madden NFL 25 Strategy Guide by Prima Games. They are trusted Madden NFL community leaders, past tournament champions and active members of the EA SPORTS Game Changers program. Check out their site, MaddenTips.com, as well as their weekly "This Week in Madden" web show.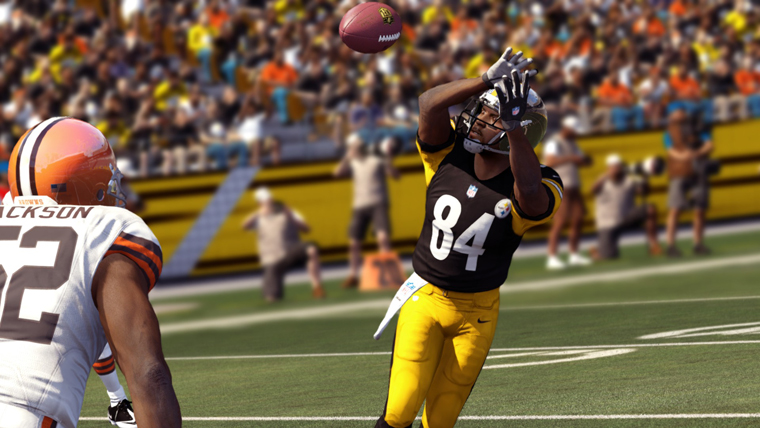 ANTONIO BROWN, PITTSBURGH STEELERS WR
After the departure of Mike Wallace in free agency, big things were expected of Antonio Brown as he ascended to the role of #1 option in the Steelers passing game. He didn't disappoint, finishing second in the league in both receptions (110) and yards (1,4999) while displaying his usual deep speed (23 catches of 20+ yards). Perhaps the most impressive thing of all was his consistency. Brown became the first player in NFL history to post at least five catches for 50 yards in every game.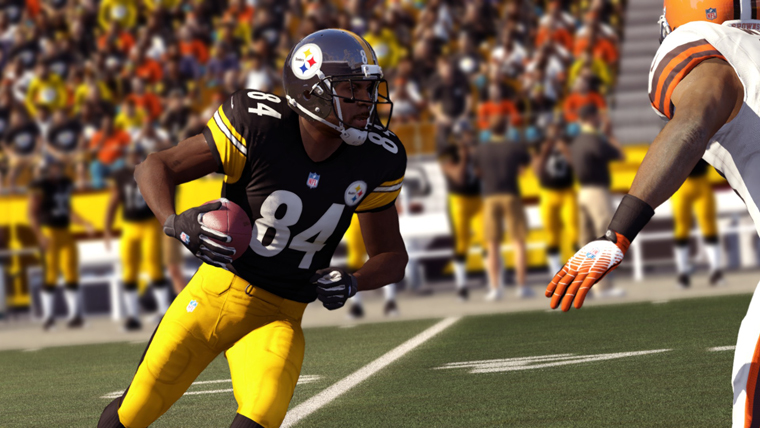 BROWN IN MADDEN NFL 25 (92 OVR, 96 ELU, 97 CTH, 97 RTE)
Brown is a threat to break huge plays any time he gets the ball. With a 96 Elusiveness rating, Brown can make big plays in a number of ways, including special teams. Brown also gets plenty of separation on routes with 97 Route Running, and can make any catch look routine with a 97 Catch rating. With these skills at his disposal, Brown is quickly becoming one of the most exciting players to watch on Sunday and play with in Madden NFL.
KEY PLAY: STRONG CLOSE – INSIDE POST
Brown lines up tight in this formation, which will force the defenders inside. Make sure to wait until Brown makes his cut and deliver the ball inside to carve up zone defenses. Mixing in power runs with this play will make this a great formation to use.
Pro Tip: Brown has the perfect skill set to excel as a punt returner, so make sure to practice special teams.

For more on the Madden NFL 15 Cover Vote, click here.
Madden NFL 15 is available Tuesday, August 26. Click here to pre-order, and join the conversation on Facebook and Twitter.