Posted May 9th at 12:00am.
The Madden NFL Cover Vote is underway, and 16 of the game's brightest stars will be vying for the honor of cover athlete of Madden NFL 15. Each athlete bio also includes tips on how to use each player in Madden NFL, courtesy of ZFarls and SGibs.
ZFarls and SGibs are pro gamers and authors of the Official Madden NFL 25 Strategy Guide by Prima Games. They are trusted Madden NFL community leaders, past tournament champions and active members of the EA SPORTS Game Changers program. Check out their site, MaddenTips.com, as well as their weekly "This Week in Madden" web show.
ANDREW LUCK, INDIANAPOLIS COLTS QB
It's only been two years, but Andrew Luck is already well on his way to superstardom. In his second season, Luck increased his completion percentage from 54.1 to 60.2 percent, and also cut his interceptions in half from 18 to nine. The Colts also progressed, going from one-and-done in Luck's rookie season to winning a playoff game in 2013-14. Luck was heroic in the Colts' 28-point comeback against the Chiefs in the Wild Card Round, throwing for 443 yards and four touchdowns.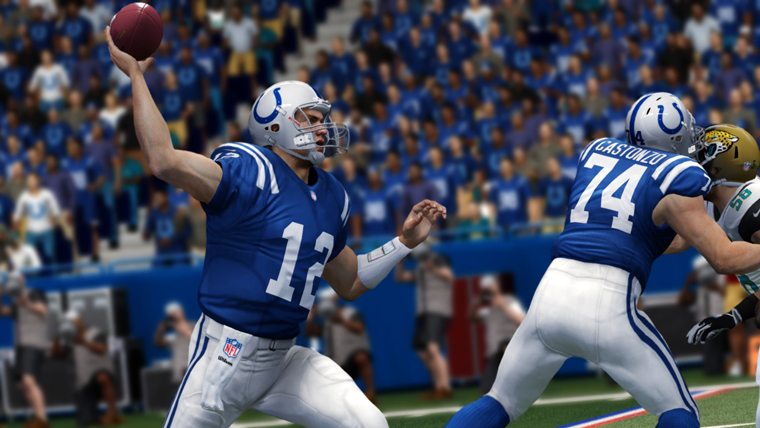 LUCK IN MADDEN NFL 25 (90 OVR, 83 SPD, 92 THP, 89 STA)
With a great arm and quick decision-making, Luck led the Colts to many victories that have Colts fans excited for the future. Luck is also a threat in the red zone with his legs; his 83 Speed and great Acceleration forces defense to think twice about an all-out rush.
KEY PLAY: PISTOL FULL HOUSE – PA BOOT
This is the perfect red zone play for Andrew Luck. Once the handoff is faked, the defense will bite down. Look to flow right with the play and hit the crossing pattern.
Pro Tip: If the defense covers the crossing pattern, simply keep rolling and run it in for six with Luck.

For more on the Madden NFL 15 Cover Vote, click here.
Madden NFL 15 is available Tuesday, August 26. Click here to pre-order, and join the conversation on Facebook and Twitter.