Posted July 1st at 12:00am.
NFL Training Camps are fast approaching, and EA SPORTS is here to break down some of the best new defensive duos in Madden NFL 15.
Look for these newly minted teammates to make an impact on the field, as well as in Madden.
This blog also contains insights from Madden Ratings Czar Donny Moore.
J.J. WATT AND JADEVEON CLOWNEY – HOUSTON TEXANS
Beware, AFC South quarterbacks. The Texans selected Clowney with the first pick of the 2014 NFL Draft, and immediately boast one of the most feared pass-rushing duos in the league. Clowney amassed 24 sacks in three seasons at South Carolina, while Watt already has an NFL Defensive Player of the Year award (2012) to his credit. Utilize the abilities of Watt and Clowney with Madden NFL 15's all-new pass rush mechanics for both finesse and power moves.
Moore: Watt does with an array of 95+ ratings for Power Moves and Block Shedding. Clowney does with his sub 4.5 speed and tremendous burst off the snap.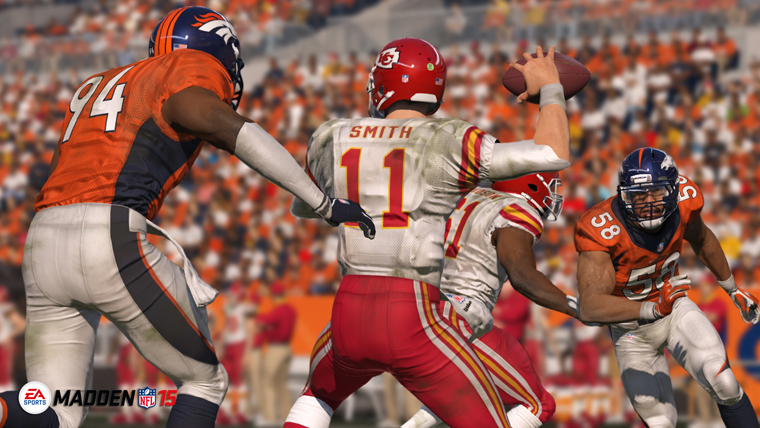 VON MILLER AND DEMARCUS WARE – DENVER BRONCOS
For all of the Denver Broncos' record-breaking performances in 2013, they finished just 27th in the league in passing defense (257.4). The acquisition of Ware should help boost the Broncos pass rush and take pressure off Miller. While Ware's best days may be behind him, he still comes to Denver with 117 career sacks. Learn more about how best to utilize Miller's quick first step in Madden NFL 15.
Moore: Ware might be getting a bit old in the tooth, but he displays 90+ ratings in both Acceleration and Power Moves. Von Miller is an absolute terror for opposing offensive tackles to face off against with OLB-best Finesse Moves and Pursuit ratings.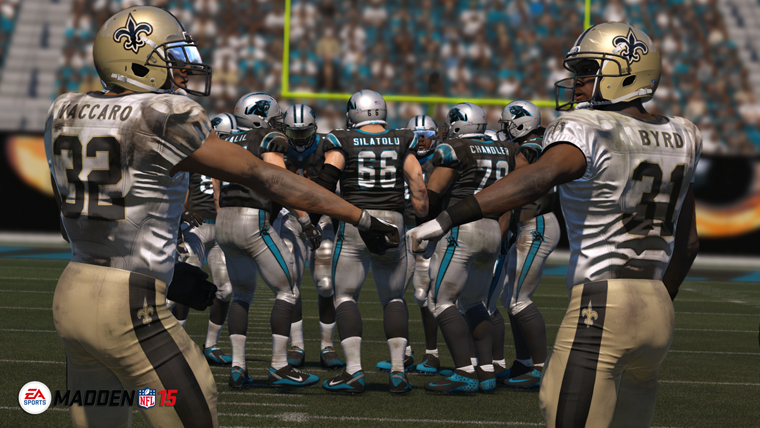 JAIRUS BYRD AND KENNY VACCARO – NEW ORLEANS SAINTS
The Saints have often struggled to slow down opposing quarterbacks. That should change soon, as the Saints inked Byrd to a monster six-year, $56 million contract. Byrd will pair with second-year safety Kenny Vaccaro to form one of the best safety tandems in the NFL. Byrd is a three-time Pro Bowler, while Vaccaro was impressive in his rookie year before injury ended his season in Week 15. With all-new tackling mechanics in Madden NFL 15, the Saints' physical secondary should give you the chance to make big plays.
Moore: Byrd is the top rated Zone Coverage player in Madden 15 (Spoiler alert). Vaccaro does it with outstanding man coverage ability for a SS and 90+ Hit Power which allows him to make big-time plays on defense.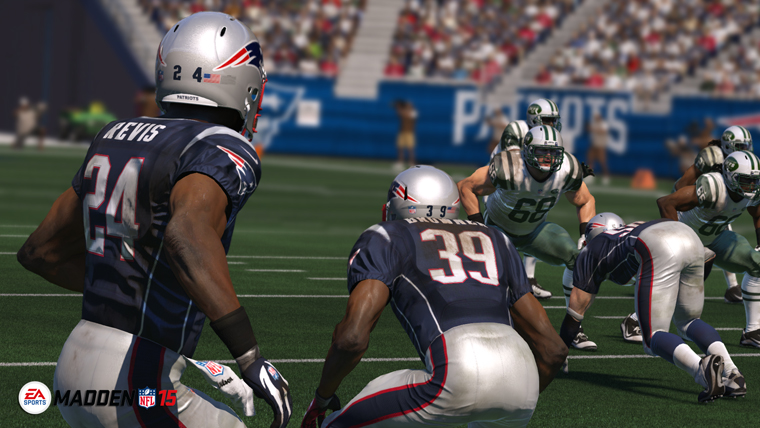 DARRELLE REVIS AND BRANDON BROWNER – NEW ENGLAND PATRIOTS
Following the surprising departure of Aqib Talib to the Broncos, the Patriots entered the offseason with massive needs at cornerback. They addressed them in a big way, signing the five-time Pro Bowler Revis and Browner. Revis needs no introduction as one of the game's elite defensive players, while Browner will bring increased physicality to the Pats secondary. Cornerback duos like Revis and Browner will shine in this year's Madden thanks to Player Sense 2.0, which allows for smarter defensive players in both man and zone coverages.
Moore: Revis is tied as the top Man Coverage rated CB in Madden NFL15, and Browner is a guy you want to use in lots of zone schemes with his top-five Zone Coverage rating for cornerbacks.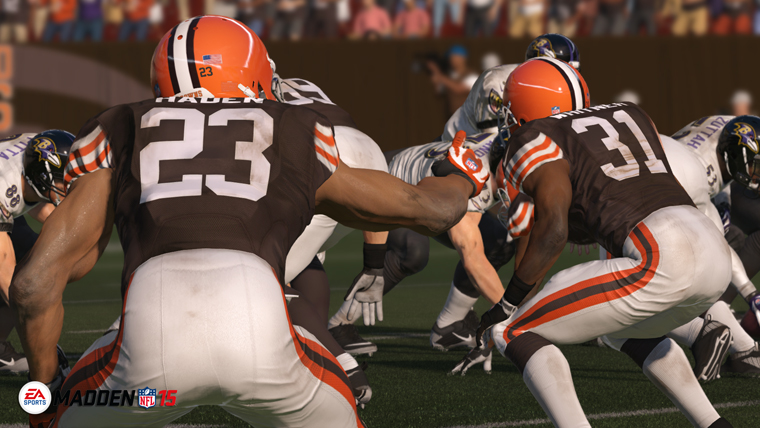 JOE HADEN AND DONTE WHITNER – CLEVELAND BROWNS
The Browns already boasted one of the NFL's best young cornerbacks in Joe Haden, and now they've added an elite safety to go with him. Former 49ers Pro Bowler Donte Hitner Whitner signed a four-year deal with the Browns for $28 million, adding to an impressive secondary that ranked eighth in passing defense last season.
Moore: Haden is one of the best cornerbacks in Madden NFL 15 thanks to his 95+ Man Coverage rating. Donte Whitner does it against the run with his Hit Power, Tackle, and Pursuit ratings.
Madden NFL 15 is available August 26 for Xbox One, PlayStation 4, Xbox 360 and PlayStation 3. Click here to pre-order, and join the conversation on Facebook and Twitter.
DISCOVER NEW MADDEN NFL 15 FEATURES
Enhanced Graphics
Improved Presentation
New Playcalling System
All-New Tackling Mechanics
Player Sense 2.0
War in the Trenches 2.0
Catch Variety and Pass Inaccuracy